On Thursday Fred Camillo presented his first budget as Greenwich First Selectman to the BET, a $457.5 million operating and capital package for the fiscal year starting July 1, 2020 and ending on June 30, 2021.
The proposal would increase spending about 3% over the 2019-20 budget of $444.1 million.
Also, Greenwich schools Superintendent Toni Jones put forward a $198 million operating and capital budget which the BOE had voted to approve last month.
Camillo said the budget, which is available on the town website, is "not a status quo budget."
"We're proposing some things that are pretty bold, but have to be done. If we don't do anything we'd be looking at a huge, not big, a huge tax increase in coming years," Camillo said Friday morning on WGCH 1490. "We addressed all of the guidelines."
Some of the context includes the 2.5% ‐3.5%  BET guideline for a mill rate increase, and as proposed, the budget falls within that guideline with a 2.53% mill rate increase.
That means a homeowner with an assessed home value of $1 million would see an increase in property taxes of about $295.00.
Cybersecurity, Soil Remediation
The $79 million proposed capital budget features town and school projects including an increase in spending on the Town's Cybersecurity program, with $551,000 for the town and $50,000 for Greenwich Library.
The proposal also includes $8.5 million for soil remediation at Western Middle School and $2 million for remediation at Greenwich High School.
Cardinal Field
The capital budget includes $8.1 million to fully fund Option B for Cardinal Field improvements: new bleachers and construction of buildings underneath them, toilet facilities, handicapped parking and an access road from the back of the high school to route 1.
On Jan 16 the BOE voted to go forward in a phased approach. There are two parts: the bleacher part and the road part, which will involve the State Dept of Transportation. There are also Wetlands questions which need to be answered.  The BOE hopes to get the bleachers installed as soon as possible.
"In a perfect world we'd be shovel ready in the ground when school ends in June and have bleachers ready for the fall season," said BOE chair Peter Bernstein on WGCH, adding that the town is now paying by the month to rent the bleacher scaffolding. (The GAF paid to install the scaffolding and for six months of their rental that ended in December). "Not everything might be ready underneath, but it's not a time frame we can control," Bernstein said.
"Two Years of Hell"
At that Jan 16 BOE meeting at ISD, GHS neighbor Elizabeth Dempsey of Hillside Road urged the Board to approve the Cardinal Field plan with the access road onto East Putnam Ave.
"Neighbors are advocating for it because it would reduce traffic, pressure and mayhem on Hillside Road," said Dempsey who was a member of the Traffic and Parking Committee along with GHS staff, Greenwich Police and security staff.
Dempsey said the state plans to start a major repair of the bridge under East Putnam Ave at Hillside in 2022, which will limit traffic to one lane in each direction for two years.
"For two years traffic will be reduced to a single lane each way. If you can only imagine parents night, graduation, or an emergency. It's going to be two years of hell." – Elizabeth Dempsey,  Hillside Road on value of second egress at GHS
"Meanwhile there is also supposed to be a projected bubble of enrollment around the same time," Dempsey added. "Having the second access point will be helpful during remediation. Lastly, there are security issues to be addressed at GHS and having a community of 3,000 people with one egress just doesn't make sense."
The egress road had previously come up at a January 7 special BOE meeting at Central Middle School.
The meeting was scantly attended, but  key stakeholders were present, including Police Chief Heavey who said police had worked with security and traffic personnel, as well as the architect and were in support of the road.
"We think it would be okay," he said, adding that police would work with the Dept of Transportation. "One of our concerns was with parking adjacent to the home side of the stadium,  but that has been taken out of the final plan. That was one of the major concerns our physical security experts had. … This will improve security. That's a positive for us."
Reduced Head Count
The budget proposes to eliminate funding for police officers on Greenwich Avenue, which would reflect a savings of $265,194, not including benefits.
According to Lt Slusarz at Greenwich Police Dept, previously there were three officers stationed on Greenwich Ave: one at intersection of Lewis Street, one at Elm Street and one at Havemeyer (pictured).
He said that under former Police Chief David Ridberg, the officer at stationed at Lewis Street was eliminated.
"At certain times of the year we put an officer back there, including during sidewalk sales and during the holidays for part of the day," Slusarz said. "In my 27 years, we've never broken away from having police officers on the Avenue."
Camillo's budget also proposes to eliminate one fleet mechanic position for a $73,536 savings, not including benefits.
Lastly, the First Selectman proposes to reduce part time positions in about ten different departments.
Relocate DPW Facility from Greenwich Harbor, GEMS
There is $1 million to relocate the DPW work facility by Roger Sherman Baldwin Park.
The building, which is on valuable waterfront property is used to store trucks and equipment, and Camillo campaigned on the promise to enhance both Greenwich Harbor and the park, including expanding the land by taking dredge material and using it as fill.
For the GEMS station on King Street, housed in a trailer by the town's golf course, the first selectman included $2,150,000 for a permanent solution.
Julian Curtiss School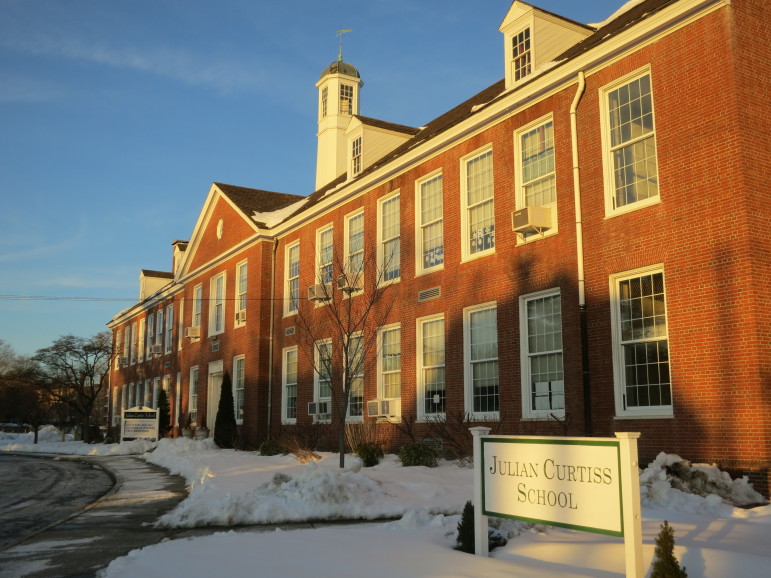 Also included is $2.6 million for the design and creation of ed specifications for a possible renovation of Julian Curtiss School in downtown, which was constructed back in the 40s, and is not ADA compliant.
Superintendent Jones had pointed out, for example, that if a 4th grader breaks a leg, they have to either be moved downstairs or move up and down the stairs on their bottom because there is no elevator.
Pay As You Throw
A new idea Camillo proposed by Camillo is "Pay as you Throw" at Holly Hill, the town's recycling and transfer station where there is no tipping fee.
Camillo, who worked in hauling and recycling in the past, and the Holly Hill superintendent Patrick Collins have both warned of increased costs of waste management and recycling.
While Greenwich is noted for having low levels of contamination in its collected recyclables, the market in China for purchasing them is evaporating.
Meanwhile the State has is imposing new targets for municipalities to increase the ratio of recycling to trash.
---
Sign up for the free Greenwich Free Press newsletter
---
Camillo said the idea is to treat trash like other utilities, with fees reflecting use. As a result there would be an estimated reduction of roughly 13,000+ tons of trash and significant environmental benefit.
Camillo said Pay As You Throw would be fair and add no new cost to the town.
Residents would not have to pay to to recycle, but would be required to purchase special bags for their trash at local retailers, with proceeds benefiting the town.
The proposal assumes a large (33 gallon) bag would cost $2.00 and a small (13/15 gallon) bag would cost $1.25.
Pay As You Throw would not change how haulers operate, and the Town would be responsible for enforcement.
Camillo has said that residents have gotten used to bringing reusable bags in response to the ordinance passed in March 2018.
Eastern Greenwich Civic Center & Hamill Rink
The proposed capital budget includes $230,000 for Eastern Greenwich Civic Center replacement design, and a $17 million placeholder for construction the following year.
Another long overdue capital project would be improvements to Dorothy Hamill Skating Rink in Byram with $230,000 for replacement design in Camillo's proposed budget and an anticipated $16 million for construction in financial year 2023.
Hamill Rink was originally an outdoor rink atop a concrete slab.
Over the years a ceiling and later walls were added. There are no team rooms, no showers, and just a single stall in men's room and single stall in the ladies' room.
And, again, Camillo emphasized he anticipates that public-private partnerships will drive down the costs of some of these projects.Central Middle School Field
On January 8th, Camillo held a public hearing for input on the budget. That hearing was dominated by Opponents of Artificial Turf.
Camillo was listening. On Thursday, his proposed budget included $1.01 million for an engineered grass field at CMS rather than artificial turf.
Another topic has been the fields at CMS, Camillo proposed funds in the budget for an engineered real grass field.
"I spoke to a few gym teachers the other day who had a good point: Those fields are their classroom. Because the fields are unplayable, they're doing their classes on tennis courts. These grass fields take 25-30 hours a week. That leaves no time on weekends or at night."
Still, he said, his view is that middle school age children don't have a choice because they're in school. "As you get older you have a choice," he said.
"The people for the grass at middle schools, their argument is there is a lot of evidence that turf fields aren't the best for kids health-wise," he said.
The Nathaniel Witherell
As proposed the budget reflects a cut to the budget of The Nathaniel Witherell, the town owned nursing and rehabilitation facility, which Camillo suggested was urgent.
"Nathaniel Witherell expenses were becoming more of a problem every year," he said. "It's not getting better or stabilizing."
"It's a town treasure," he said, but he added that the deficits were hard to tolerate year after year, and possibly worse than people understand. "I don't want to kick the can down the road. Instead of a $3 million subsidy like we did last year, I cut it to $1.5 million and told them to go find the savings."
Net steps? The BET Budget Committee will hold hearings beginning Tuesday and continuing next month and into March. Then the committee will the budget to the full BET for consideration. The budget also needs the approval of the Representative Town Meeting.  Both the BET and the RTM have the ability to make cuts. Stay tuned.