The Scarpelli family of Cos Cob have have hit the jackpot multiple times if you talk to Patricia "Pat" Scarpelli, 88, who owns the building at 45 Bible Street and the legendary Scarpelli's Sausage shop it houses.
Not only is the shop grandfathered in its residential neighborhood, but Pat also retains a permit to sell beer.
Pat, whose maiden name is Barrett, learned an early lesson in prejudice when she married Carlo Scarpelli in in Greenwich in 1949.
Carlo, shortened to Carl, like many Italian men, also had a nickname. His nickname was Isaac. In fact, there was even a nickname for his nickname: Ike.
Cos Cob neighborhood children played in the Bible Street park across from Scarpelli's. Sometimes they played hookie there. Sometimes they smoked cigarettes along the Park's stone wall. In those instances, Carl Scarpelli was known simply as "Scarp," and it was uttered with trepidation. While Carl Scarpelli kept a well-stocked first aid kit handy to tend to kids' cuts and scrapes, the phone in the store, which was always a safe haven, was available for kids to call home.
After all these years, the Scarpelli landline, 869-2771, established in 1920, is still in service today!
Carl, in his self-appointed neighborhood-watch function, brought fear to the hearts of  the neighborhood bullies when he would emerge from the sausage shop in his apron, holding his meat cleaver.
According to Carl's daughter Rona, if "Scarp" caught you smoking cigarettes, "He'd say, 'I'm telling your mother,' but, Rona said, "They were probably more afraid of my father than of their own parents."
Still, to Pat, she hit the jackpot when she met Carl. "I married for love," she said, though the reaction among friends and family at the time was far from supportive.
Pat waves her hand dismissively as she recalls how her best friend never spoke to her after she fell for Carl. "The Town was bigoted a la mode!" she said. "There was prejudice against Italians by non-Italians. The Italians called them WASPS (White Anglo Saxon Protestants.) There was an unwritten law along the Post Road that all the people on one side were not to sell to Italians and Jews on the other." And, she said, Carl's family wasn't too pleased either. "I wasn't Italian and that was a problem," she said.
"But I made sure I knew everybody," said Pat, who lived on Sound Beach Ave in Old Greenwich and took the bus to Greenwich High School on Field Point Rd. She was a member of the class of 1945. "I had lived in the Bronx and Tuckaho before Old Greenwich. I knew how to defend myself if I had to."
"There was one Italian boy at Riverside School. His name was Antes and he was ostracized," Pat recalled.
But the prejudice that impacted her most came from her own family. Pat grew up comfortably. "I went to college for two years. And I even took airplane lessons," Pat said. But when she met and married Carl, those lessons stopped. "I married into poverty," she said. "But my mother-in-law said, 'You make him happy,' and I had her support. Not my father-in-law's though."
In the 1950s, Pat and Carl lived upstairs at 45 Bible Street, where today the sausage store is grandfathered into its residential neighborhood. The family's legendary association with sausage evolved over time. All Carl's brothers were in the business at 45 Bible Street, though for many years both a tavern and grocery store were housed there.
Pat remembers tending a garden and hoisting buckets of water up from the well in the yard where chickens roamed. "The store came first, in the 1920s. The tavern started operating in the 1930s," she said. The family added two bedrooms and a bath to the side of the building in order to expand. The tavern served beer and sandwiches and Pat recalled that the price was 10¢ a glass.
The far end of the store was literally carved out of stone by hand. The family chipped away at the stone to create the extra space including room for the meat locker.
"Bible Street Park used to be a swamp. They used to cut ice," Pat recalled. She said the Town filled in the swamp, and after World War II built two-family houses for returning veterans, "to help them get started."
Years later, when the Town turned the area into a park, Pat said she and her friend Mary Pellegrino went around with a petition asking the Town to build a community house in the park. "All the other parts of town had a community building, so we thought we should have one too," Pat said of the successful petition.
Pat's beloved mother-in-law, Maria, ran the grocery, which sold top grade meats. "She was unusual in that she was educated. She came from Rose, Italy. My father-in-law and that old Cos Cob group were brought over here by the Mianus Woolen Mill on the Mianus River. Pat said Maria had an old family recipe for sausage.
For years, Carl and all his brothers – Michael (nicknamed "Stu"), Bill and Peter (nicknamed "Mac") – all worked in the shop. Maria and her husband Peter had eight children, of which six survived. Maria raised her four boys and two girls, and took care of five boarders at 45 Bible Street.
"She did all their wash and all the cooking," Pat said. "She had a little bell attached to the kitchen. She'd run down to the store to help a customer and then run back up stairs. She ran up and down all day long."
Eventually Carl left his job at Pitney Bowes, went to butcher school and took over from his mother, but that wasn't the original plan.
"In Italian families, the oldest brother has first choice. Michael was the oldest son, but he couldn't be bothered," Pat said, adding that Michael went to open a liquor store on Putnam Ave where his father owned the building opposite the old Clam Box. "But Bill took up the opportunity and ran with it." Eventually though, Carl bought all his brothers out and he stayed true to his mother's recipe. "That recipe is not written down anywhere," Rona said during a recent visit to Bible Street.
As Pat shares old photos and memories, Rona reaches up to a hiding place in the ceiling over the cash register and takes down a stack of bounced checks from decades earlier, some with familiar names. There is also Carl's spiral bound stack of index cards with carefully handwritten lists of phone numbers.
Pat recalls how for many years, her family scraped by. Rich with love, her young family's fortune changed one day in 1959, when a customer came in to Scarpelli's to await a phone call about some property for sale in Cos Cob. As Pat tells it, the man waited but the Scarpelli's phone didn't ring. The man instructed Carl to tell the caller he wasn't interested if the call were to come after he left. The call did come, and what the man had thought was 1.5 acres for sale in Cos Cob for $11,500 was clarified by the caller as 11.5 acres for $11,500.
"That's our ticket out of poverty," Pat recalled saying to Carl, suggesting they buy the property, which was up near the Montgomery Pinetum. The problem was they didn't have enough money.
But they had an idea. Carl went halfsies with Judge Ben Ferris, who was a regular customer. "He always bought his meats here. And Carl asked him, 'Do you want to go halfsies with me?' and he said 'Sure,'" Pat recalled. The property, however, was landlocked. The seller, believed its lack of access to the street made it less valuable. Once they purchased the 11.5 acres, the Scarpellis and Judge Ferris negotiated with a neighbor to exchange one acre for right of way to the lot.
Pat and Carl raised their son Carl Jr. and twins Ron and Rona, in a house they built on that property. Pat said she never had any trouble with the twins, but Carl liked to cut school. So Pat convinced GHS headmaster Andy Bella to give her permission to volunteer. "I had to keep it secret because that was before the days when parents were allowed to volunteer," she recalled. "I was put in a small room that was the history library and had access to the daily absent list. I watched him like a hawk," she said. "I would raise the devil if he was on that absent list."
In addition to ensuring her children went to school, Pat had two other rules. "They had to learn to ice skate and they had to learn how to swim," she said. In fact Pat taught swimming in Town for 40 years, and Rona followed in her path, teaching swimming as well.
Buying 11.5 acres for $11,500 in 1959 and building a spacious family house was a dream come true for Pat. But the Scarpelli's good luck was only beginning.
Carl had always wanted to go to Atlantic City to play the slots. On the morning of Jan. 22, 1986 he woke up Rona to say good bye and tell her that he was going to Atlantic City to win a million dollars. "Yeah, okay pop," Rona recalled saying groggily to her dad.
Pat described the scene when Carl's slot machine hit paydirt. "It happened early in the morning. Security came and roped off a section of the floor. They had to check to see that the machine hadn't been tampered with," Pat said. "That was a record amount of winnings at that time."
Pat said The Resorts offered to send a limo to pick up the Scarpelli family in Cos Cob and bring them all to Atlantic City for a week for free. "But Carl told them no, we couldn't. We all had to go to work," Pat recalled.
These days Scarpelli's is a destination for sausage devotees from near and far. Rona described a regular customer who lives in Texas and visits once a year with a special cooler for the journey home.
The shop is closed Wednesdays, but is otherwise open daily from 9:30am til 1:00pm. If you've never been to the store, it's easy to miss if you round the corner quickly. There is just one small "open" sign in the front window facing Bible Street. In addition to the dry sausage, which hangs along the back of the store, sausage choices include sweet, hot, extra hot and sausage patties. They also sell imported Provolone Cheese, beer and soda.
"Saturday is a big day in here," Pat said.
"The men all sit around the store and swap stories," Rona said pointing to a cluster of upholstered office chairs and a shelf that displays old photos of Cos Cob natives.
Pat's brother-in-law, "Mac," short for Peter, who is one year her junior, makes the sausage these days. He uses the same family recipe his mother Maria brought from Rose, Italy, though it is nowhere written down. The sausage making operation benefits from the help of family and neighbors.
Cousin Gerry Servidio, who is godfather to twins Ron and Rona, lives next door on Palmer Street. "He helps out with the meat a lot,"Rona said. "Also Tommy Servidio helps, and Paul Peacock comes and helps too."
Rona said her Uncle Mac's grandson Nick Salvatore has come through in the clutch. "Nick is one of Mac's best helpers," she said.
Rona said, "My dad's good friend Roger Nichols takes our loose sausage and makes Pasta e Fagioli  and brings it to share with the guys at the the store. They really enjoy it."
The Scarpelli's count several local restaurants among their regular customers. Rona gave a long list off the top of her head, including Corbo's, Arcuri's, Rinaldi's, Joey B's, the Cos Cobber, Chicken Joe's, Garden Catering, Cardillo's and Zody's.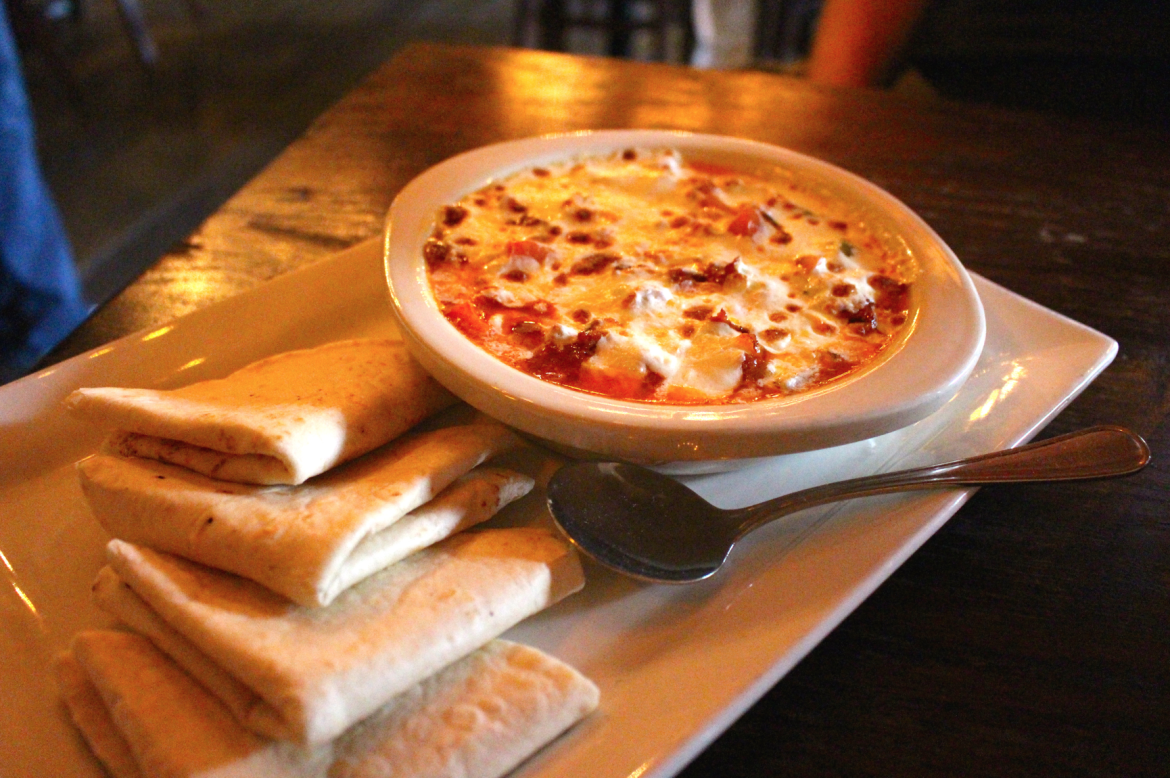 More recently, Doug Grabe, owner of Little Pub at 531 East Putnam Ave wandered in and met Mac and was introduced to the legend of Scarpelli's sausage. Little Pub, which is coming up on its one-year anniversary in Greenwich, created a Mexican dish to pay homage to its predecessor at 531 East Putnam Ave, Fonda La Paloma, and sourced a key ingredient from the longtime sausage purveyor, naming the dish "Scarpelli's Fundido."
Scarpelli's Sausage Store is located at 45 Bible Street in Cos Cob. They are open from daily 9:00 til 1:00pm.  Tel. (203) 869-2771.
See also:
Little Pub Greenwich: From Newbie to Award Winning Favorite in One Year
Longing for the Clam Box on Hot Summer Nights in Greenwich
32nd Anniversary of Grim Event: Collapse of Mianus River Bridge, June 28, 1983
Ada's to Reopen Soon: Meet the Chef, Mike Pietrafeso, Greenwich Native
Peeling off Layers of History at Ada's: A Family Project
Memories Abound after Thirty-Four Years of Summer Rain
Meet the Archivist at Greenwich Historical Society: Gatekeeper to the Past
Evaristo Notwithstanding, Greenwich Officials Selected Chickahominy for Incinerator in 1930s
---