On Friday night family, friends and colleagues joined Mike Geller of Mike's Organic at 600 East Putnam Avenue in Cos Cob to celebrate his plan to open Mike's Organic Market in the former Patio.com building.
Many longtime Greenwich residents remember the building as home to IHOP, the International House of Pancakes, and had been curious about the next iteration of the storied building.
Next door at Joey B's Restaurant at 118 River Rd Extension, owner Dom Delfino said patrons had been tossing out guesses on the fate of the property for a couple years about what might replace Patio.com.
Reached by phone Friday, Delfino said he was excited about Geller's venture and expected it would dovetail well with his eatery.
When Patio.com moved their merchandise to West Putnam Ave, speculation went into overdrive.
Geller said the building will not be demolished, but rather repurposed.
At the event Friday night, Mark Kroeckel, designer from Openshop, explained the plans.
"We want to engage the outside and inside together so the market will be in both places at once, with fruits and vegetables outside within view from East Putnam Ave. The windows will become open doors to really engage the community."
Among those gathered were Gary Dell'Abate, longtime executive producer of "The Howard Stern Show" who is on the board of Greenwich Parks & Rec. Geller carries Dell'Abate son Jackson's hot sauce called Wacky Sauce.
Also present were First Selectman Fred Camillo, Robert and Heidi Fong, and lifelong friend from Geller's days at GCDS, Shahryar Oveissi.
Also present were Jimmy Capparelle, who owns the building next door at 551 East Putnam Ave, and local realtor and WGCH 1490 AM Radio personality Gideon Fountain.
Capparelle, whose son Patrick works for Mike's Organic, said, "Mike is going to be very successful because we're all behind him"
Geller's business started 12 years ago as a delivery business, connecting residents in Greenwich and its environs with organic, farm fresh produce, straight to their doorsteps.
In 2019, he made his retail debut with Mike's Organic Market over the line in Stamford. The business became center for the community to learn about wellness, with a robust and diverse calendar of events and classes. In addition to Geller, the entire team at Mike's Organic has deep roots in Greenwich.
Last month he expanded to include a line of prepared foods.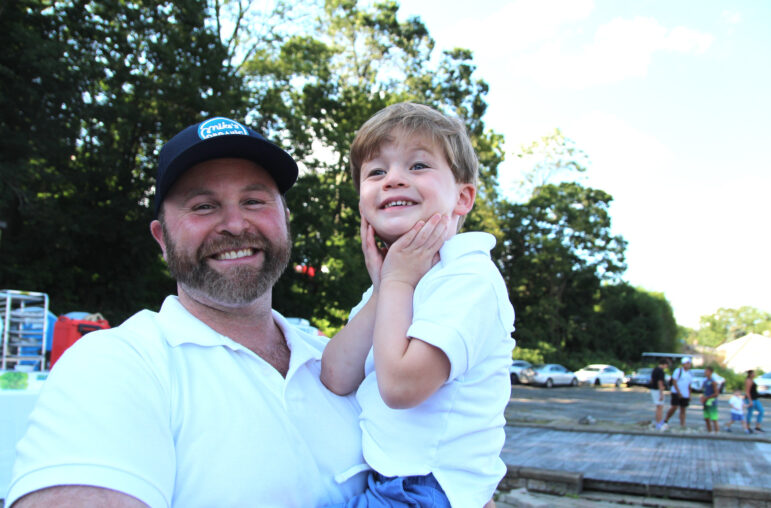 Before Geller's remarks Friday night, everyone was given a perfectly rip, organic cherry tomato.
During his remarks, Geller asked every to close their eyes and put the cherry tomato in their mouths and remember a moment when their world completely changed.
"Mine changed almost 13 years ago, to the day, at Stone Barns at Blue Hill. The farmer brought me a tomato straight off the vine. I sat there eating it, marveling at how delicious something so simple could taste," he recalled.
Geller said that was the moment he realized his purpose in life would be connecting people to their food, changing the way people shop and interact with their food.
He said sticking with a business selling fruits and vegetables took years to catch on.
"Farming year after year in the face of unceasing uncertainty because you believe so strongly in what you do becomes who you are," he added.
Geller thanked all the farmers who inspire him to "work harder, dig deeper and leave this little place we call Earth better than we found it."
"To many more Mike's moments!" Geller exclaimed to a round of applause.
See also:
Destination: Mike's Organic Market, Worth the Trip for an Authentic Food Experience
October 2019