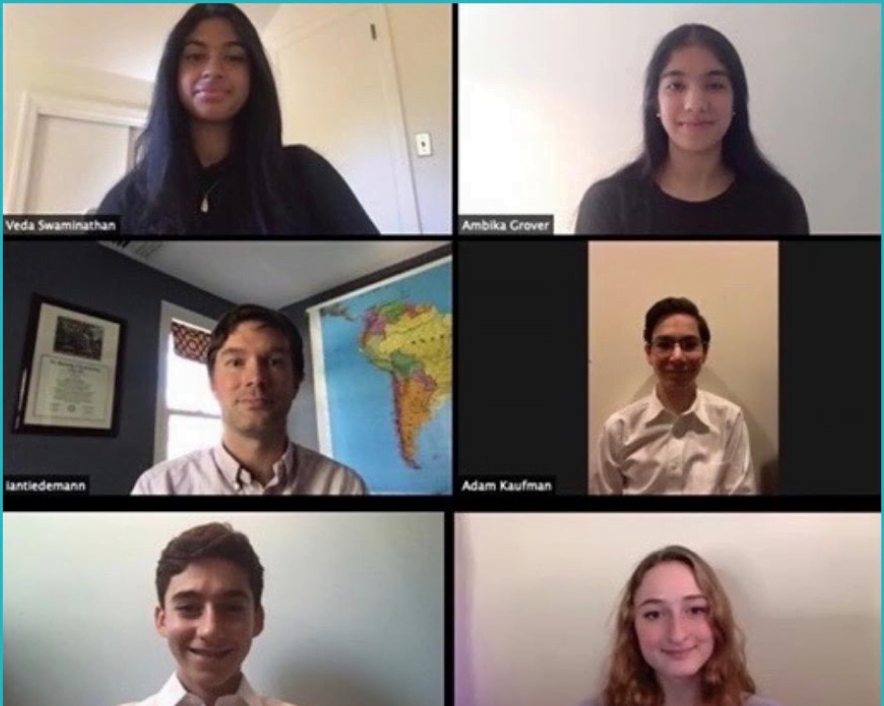 Greenwich High School's Euro Challenge Team Members have won the Euro Challenge Finals which took place virtually on May 19, 2020.
Euro Challenge is a program of the Delegation of the European Union to the United States ("The Delegation") and was created to promote an understanding of the Euro Area (EA) and the euro.
Team members include:
• Elliot Gordon (9th Grade)
• Ambika Grover (9th Grade)
• Adam Kaufman (10th Grade)
• Katia Michals (10th Grade)
• Veda Swaminathan (10th Grade)
The Euro Challenge program provides 9th and 10th grade students with an exciting opportunity to research and explore economic issues facing countries in the euro area and propose solutions to them. Culminating in a competition, teams of 3-5 students present their findings during regional heats.
The best teams then compete in the national finals in New
York City, now held virtually.
By winning this competition, these students will be awarded $1,250 each. When safe to travel, they will present to the German Embassy in Washington DC, and finally, they will receive a first-place trophy to be proudly displayed at Greenwich High School.
Greenwich High School Teacher and Euro Challenge Team Advisor Mr. Ian Tiedemann said, "Over the last several months this team has taken on complex subjects — including Euro Area monetary policy, country specific fiscal policy and programs, and ongoing economic conditions in the Euro Area — that require study well beyond their course load. I am truly proud of their efforts. Being a part of this learning process with these students has been a real honor and pleasure, especially as they so gracefully navigated to a virtual landscape for preparing and competing. I'm also exceptionally proud of our club leaders, Melissa Woo and Sofia Pronina; they have been valuable coaches to these students from day one, many months ago, and have continued to support the team throughout distance learning."
"This challenge has been one of the things keeping us sane during this pandemic and it was such a fantastic experience," said team member Veda Swaminathan during the team's victory speech upon winning the competition. "I also want to say, congratulations to the other four finalist teams!"
Veda went on to say that the GHS team had so much fun with the challenge and with pushing themselves to understand the intricacies of the European economic system.
"There's no better feeling than that click of understanding, especially with such complicated topics. Our team came together multiple times a week to practice, but it never got boring as there was always something new to learn, and always felt so rewarding working together."
Veda also gave a special thank you to Ian Tiedemann, the faculty advisor, for being the backbone of our group.
Team member Katia Michals said the Euro Challenge had been one of the most rewarding and captivating experiences of her life.
"The team and I worked day and night to learn and challenge ourselves, and knowing it all paid off is a great feeling," she added. "Working together as a team made the experience even more special, as we all advanced together as a result of our collective hard work."
Team member Ambika Grover said The Euro Challenge offered an opportunity like no other to delve into economics, inequality, and social mobility in Germany.
"The researching, reading, and many late-night calls were responsible for our first-place finish, a feat that could never have been accomplished without our fabulous mentors Melissa and Sofia and the coaching from Mr. Tiedemann," Ambika said. "I'm very grateful I had the opportunity to be a part of this amazing team."
The Euro Challenge was launched in 2006 by the Delegation in partnership with The Moody's Foundation and with guidance and advice from the Federal Reserve Bank of New York and Working in Support of Education (W!se). Other partners include BNP Paribas, Florida International University, the University of Pittsburgh, the University of Illinois, the University of Texas at Austin, University of Washington, the Federal Reserve Bank of Chicago (Detroit
Branch), the World Affairs Council of Charlotte, the World Affairs Council of Seattle, and the Federal Reserve Bank of Atlanta (Miami Branch).