On Monday, December 20 at 5:00pm Jim Himes (CT-4) and Greenwich First Selectman Fred Camillo will host the US Army Corps of Engineers for an update on flooding, risk management and the future of the Byram River.
The Army Corps of Engineers will debrief the community on the Byram River Feasibility Study and discuss a project that could potentially mitigate flooding in Greenwich.
In October Congressman Jim Himes, along with Senator Richard Blumenthal (D-CT), Senator Chris Murphy (D-CT) and Congressman Mondaire Jones (NY-17) sent a letter to the US Army Corps of Engineers asking it to prioritize the issue using recently approved construction funding for the Byram River Basin project.
Flooding of the Byram River Basin has been a persistent problem for affected residents who suffer continued property damage and threat to their homes.
The US Army Corps of Engineers has determined that two US Route 1 bridges are major contributors to the flooding.
Click here for the Record of Decision from the Army Corps of Engineers.
Click here for Fact Sheet on the Byram River Basin, Greenwich, CT & Port Chester, NY
The recommended plan includes removal of the two US Route 1 bridges spanning the Byram River and construction of new bridges within the same footprint at a high elevation and without any piers that enter the floodway in order to reduce restrictions to river flow.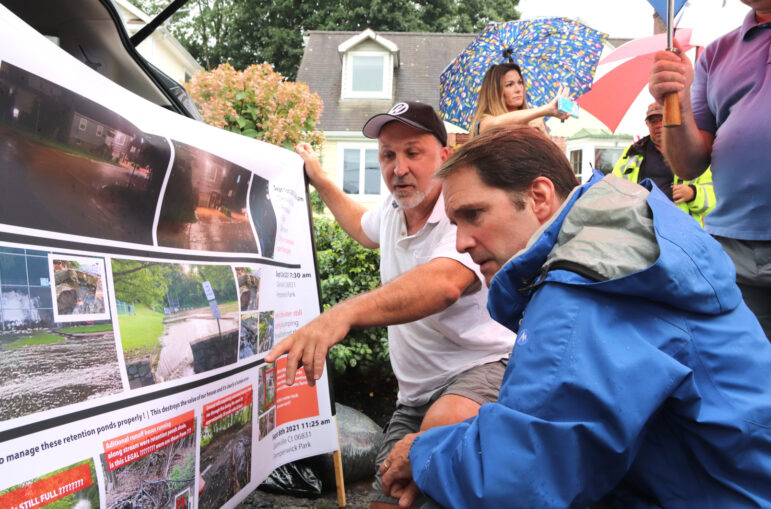 "The recommended plan will result in unavoidable adverse effects to the US Route 1 bridges. These bridges are historic structures built in the 19th and 20th centuries that are eligible for the National Register as excellent examples in the design of double-arched stone bridges."
The plan includes demolition of the two bridges which constitutes an adverse effect to historic properties.
To mitigate for these effects, the US Army Corps of Engineers will document the architecture of the bridges and potentially reuse stone in the construction of the new bridges, design the bridges to be aesthetically compatible with adjacent municipalities and continue coordination and consultation with the NY and CT state historic preservation offices.
The recommended plan will have temporary adverse effects ot the flow of commuter traffic during the construction phase of the project.
To mitigate for that, the US ACE will maintain traffic by removing and replacing one bridge at a time, and reduce the two lane traffic in each direction to only one lane in each direction.
The construction plan is for one bridge to be removed and replaced in each of two successive summers.
The discussion is timely considering recent flooding along the river after Ida, though much of the water came from up the hill in Glenville.
The event is at 5:00pm at Gllenville School. It is in-person only and attendees will be required to social distance due to the pandemic.
Glenville School is located at 33 Riversville Road.
See also:
UPDATED: Two Issues Emerge during Himes' Visit to Flooded Pemberwick: Army Corps River Project and Town Infrastructure Updates
PHOTOS, VIDEO: Historic Flooding in Greenwich Closes School, Strands Cars, Wires Down
Pemberwick Residents Clean Up Post-Ida Flooding: "Now We're a Retention Pond"