Pemberwick residents continued to sort through their soggy possessions on Sunday, days after flood water surged into their homes in the overnight hours between Wednesday and Thursday.
At house after house, driveways and yards were lined with ruined furniture, bedding and appliances. As the day wore on, drizzle increased to heavy rain, adding insult to injury in the waterlogged neighborhood.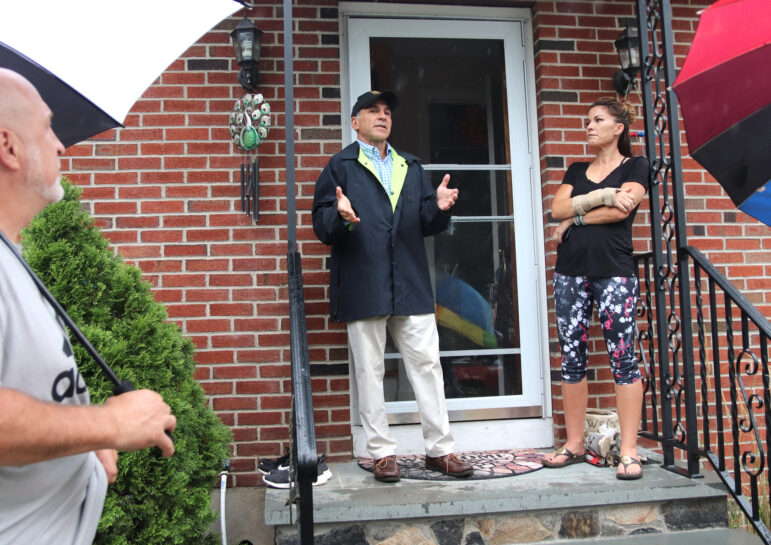 While residents in various parts of town experienced flooding this week, with trees and lines down, and roads closed to traffic, Pemberwick was hit particularly hard. Cars were destroyed. Boilers and furnaces too.
But the Pemberwick story is unique.
Residents here are familiar with the Byram River – its level rising and falling predictably with the tides. Some residents at lower elevations close to the river are in flood zones and are required to be insured.
But this week, they say, the flood waters originated not from the river, but from the west.
"The water came from the park," said Kristen Hawreluk of Rex Street. "It was coming so fast. It looked like Niagara Falls. It was so strong, it eroded the first base line on the ballfield. Something in the creek was backed up, obviously. It could have been prevented by the town. Now everything is ruined. The washer and dryer. The carpet. Everything."
"I lost my car from the water from the park," said Wendy Becker of 20 Cross Street. "I lost my furnace, hot water heater, my washer, my dryer, my freezer and my refrigerator."
At 10 Rex Street, at the corner of Cross Street, Rose Sorbara said the night of the flooding her Jeep was floating in her garage, but there was nothing she could do to save it.
Sorbara, whose house is not in a flood zone, said her Jeep's windshield wipers were on, the horn was honking and the lights were on. She tried to be optimistic.
"I have the best neighbors," said Sorbara, who has five cats and three grown children who live in NYC. "They're feeding me. They came knocking on my door to check on me."
Pemberwick resident Paul Curtis said he'd like the town to fix the drainage because the flooding had happened three times in 15 years.
"Everything upstream, from West Lyon Farm – and people on Moshier Street who dump things over – it all comes downstream and hits the grate and blocks it. The water comes up over the top. They need to fix how that drainage happens up here."
"There was no reverse 911 call," Becker said. "I walked outside my back door, turned on the light and gasped. I was stunned by the rushing brown water. My car was in the garage and was destroyed. They towed it away yesterday."
"This could happen again," she added. "The town needs to check the storm drain that goes under this road to the river and clean it regularly. They also need to listen to the Army Corps of Engineers because every time we have a meeting they tell (the town) what needs to be done, they say, okay, it'll go to so-and-so's desk, and nothing ever happens."
"Water goes to the lowest point. It came from above Pemberwick Park and headed for the river," said Andrea Blume who leads the Pemberwick-Glenville Association.
Blume noted that the town's head of emergency management, Dan Warzoha, had died a week earlier.
Stephanie Belmonte, who resides at 16 Lucy Street, said her family lost everything in the flood. Though grateful she was able to get her children, age 1 and 5, upstairs ahead of the surging water, she recalled watching their furniture bob in the water.
"I almost got stuck downstairs," she said. "My family was on the other side of the door, thankfully. And between them pushing and me pulling, I was able to get out. Had I been asleep…we could have lost our lives."
"There were no emergency calls generated by the town – no warning that in a matter of 20 minutes my home would fill up," Belmonte said, adding that this week's flooding was not the first, though it was more severe than flooding about 15 years earlier when her family lost everything.
Carl Griffasi of 19 Cross Lane said he'd lived in the neighborhood for 23 years and despite living by the river had never had water in his basement. He said typically sump pumps do the trick.
Griffasi said residents in his tightly knit neighborhood were familiar with the rise and fall of the Byram River.
"This flooding wasn't from the river," he said. "It was the water table coming up. There are houses that are not in the flood plane that were flooded."
"In the last flood, we came to find out that West Lyon Farm has retention ponds," Griffasi said. "They keep them high. Nobody manages them. They should be kept low, maybe half full, and when we get a storm like we did, the next day, when everything is calm, then you release the water."
Further, he said, behind the baseball diamond in Pemberwick Park the grate at the opening of the culvert that directs water under the field, across Pemberwick Rd and under Rex Street to the Byram River was clogged with debris. He said water rushed down Rex, and also ran like a river down Cross Street to Dale Drive.
"At the end of the day the town knows the hot spots," he said. "Send people around to check on them."
"We know the river rises, but you would have gotten a fraction of the damage that you have now," he said.
"They know what causes it. They have to address it. People weren't manning the stations properly. Had the (West Lyon Farm) retention ponds been maintained properly and the grate had been cleared, we wouldn't have had water blowing over the wall and making a lake in the park."
Dale Drive resident Matt Tyson said water from the river is clear, whereas the water that rushed through so quickly this week was brown, which he attributed to the clay from the ballfield in Pemberwick Park.
Stella Roberto, who moved to 2 Dale Drive in October 1966 said her house was not in the flood zone and therefore she was not not required to have flood insurance. Yet, she said, her house has been flooded three times since 1977. But not from the Byram River.
"The first flood came in 1977, when West Lyon Farm was under construction. We had no run off before then. My husband grew up next door. They never had a problem with water up at Lyon Farm. Water came up from the river, but it never reached here."
"Then, March 2, 2007, we had our second flood," she recalled. "After the flood, I took a ride up to Lyon Farm and there was a V-shaped weir. When the water reached the V, it was supposed to start trickling. But they blocked it. They made a cage and they had a board they can slide up and down."
"I went to town hall DPW Engineering Dept, and they made (Lyon Farm) correct it," she said. "At West Lyon Farm they have five retention ponds. When we have the first flood, the head engineer at the time, walked me all around showing me what was the danger ponds. The one they blocked up was the danger pond for us."
The town made them repair those openings. Then I found out two years ago that they went to the town and they are able to keep those retention ponds full capacity with water," Roberto said. "We are the retention pond now."
Roberto said for years she had complained about the original grate, which she called a "trash rack" because it was too small and had been installed to keep children from exploring the drain.
"They would have the Flood and Erosion Control meetings, and I'd go to them, and I'd try to get them to make a new grate for the park," she recalled. "I started going after 2007. One day I stood up and asked if they'd ever do a new trash rack. Their leader said, 'That's not our department.'"
Ms Roberto's neighbor Jeff Stempien at 6 Dale Drive said that based on his elevation, he is in the flood zone, and does have flood insurance.
"My insurance is flood insurance, but it covers the river. It doesn't cover the drainage from the town. My insurance told me already, forget it."
"This flooding is absolutely ridiculous," Stempien said. "This is something the town was supposed to fix in 2008."
Ms Roberto said town employees had referred to her as 'a pain in the ass' for all her warnings about drainage.
Greenwich First Selectman Fred Camillo visited with neighbors around 2:00pm. He said he had arranged for the dump at Holly Hill to extend their hours by an hour on Friday and Saturday. He had also declared an emergency and shared contact information for FEMA.
Camillo listened to Stella Roberto, as well as Mr. Griffasi and Mr. Tyson describe how the destructive flood waters had rushed across Pemberwick Park.
"This has to be stopped, once and for all," Ms Roberto.
She told Camillo there was flooding in 1977, in 2007, and again this week.
"Now we're the retention pond," she said.
"Water came from that park, through Stella's house like a brown river," Mr. Tyson told Mr. Camilo. "She's not even in a FEMA flood zone."
Tyson said he has flood insurance for his house at 16 Dale Drive which is close to the river, but that he only had a small amount of water come into his house. And the water was clear.
"Stella had brown water….the river didn't even touch you," he said to Ms Roberto.
Mr. Tyson said he'd been up all night and witnessed brown water rushing across the field at Pemberwick Park toward his neighborhood. He recommended not repairing the ball field until the culvert and drainage from Pemberwick Park to the river are upgraded.
Camillo said Tuesday morning all Town departments would gather to discuss both short term and long term solutions.
"I want to see what we can do with the money coming in – both Covid money and money from the infrastructure bill," Camillo said.
"This just goes to show you, the more impervious surface you have, there's nowhere for the water to go. There's nothing more powerful than the force of water," the First Selectman added.
Camillo said he had declared an emergency and shared FEMA links with residents.
"Even though there is no guarantee that people will get reimbursed, you'll avail them of that opportunity," he said.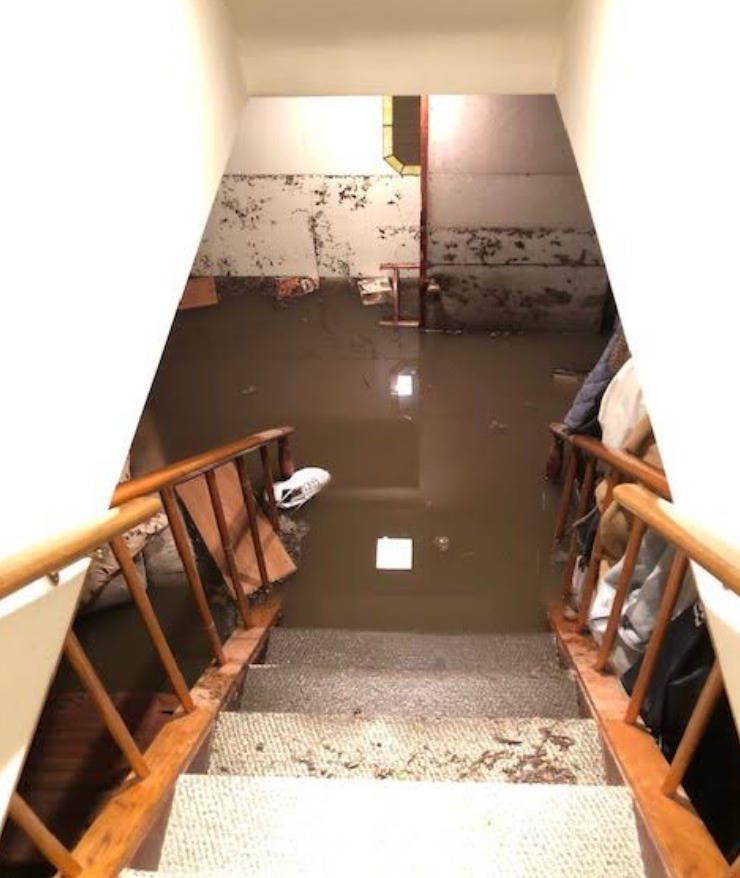 PHOTOS, VIDEO: Historic Flooding in Greenwich Closes School, Strands Cars, Wires Down
Sept 2, 2021
P&Z Considers 21-Unit 8-30g Development on Hollow Wood in Flood Zone
Jan 6, 2021