Update, Friday 9:05am. The Town is working with the State of CT to identify the extent of damage caused by the remnants of Tropical Storm Ida and has launched a website with an online form for residents to submit their estimated damage. The goal is to determine whether FEMA thresholds are met and a disaster declaration is needed.
(Town Website for Residents to Report Ida Damage Goes Live)
Original story:
At Thursday morning's Selectmen meeting, Fred Camillo said after last week's flooding, the town would "take a real hard look at the various parts of town that have been flooded over and over again, as well as those that just got flooded this time due to almost 9 inches in 9 hours."
He said the town had lost some of its fleet vehicles in the flooding.
Camillo also said the town expected to have a website online by Friday for residents to upload their storm damage assessments, and in turn the town could determine whether it meets the threshold for FEMA aid.
Select person Jill Oberlander suggested Greenwich use its "unprecedented and high level of unallocated reserve funds," – its 'a rainy day fund' – in addition to whatever funds the town might receive for infrastructure and Covid response, to address town infrastructure projects.
Thursday afternoon US Congressman Jim Himes visited with Pemberwick neighbors who were still reeling from the floods last week and had been tallying their losses.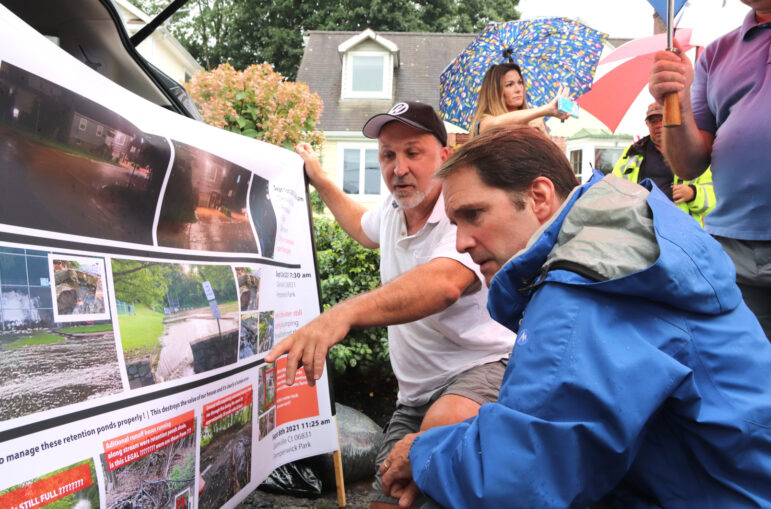 Many neighbors described having seen brown water from above Pemberwick Park flowing across the ball field onto Pemberwick Rd, Dale Drive, Rex Street and Cross Street.
Other neighbors, a couple blocks to the south on Hollow Wood and Homestead, said they were flooded by the Byram River.
"If your house has sustained damage. I hope you're conveying to the town the estimates of damage," Himes said. "We're going to get a disaster declared because we're going to pass the thresholds. (The federal government) decides what combination of programs – SBA, FEMA, grants, loans – that'll come back to us."
"The latest we can submit the request is a week after tomorrow," Himes said. "You have FEMA money. You have SBA money. You have lots of different pots of money."
Neighbors told Himes they lived in the FEMA flood zone, and were required to have flood insurance, but learned this week that their coverage was limited.
"We have to finally address something here in terms of dredging," said Dale Drive resident Matt Tyson. "There is also a dam behind 200 Pemberwick Rd that was built in the 1800s, that hasn't been inspected since 2012. No one even knows who owns the dam."
Camillo confirmed that the dam hadn't been inspected since 2012, while it was required to be inspected every two years. "It has to be requested by the owner, but dam owners don't claim it."
Carl Griffasi shared shared photo blowups and videos of last week's flooding in Pemberwick.
He attributed flooding to the clogged drainage grate up the hill behind Pemberwick Park ballfield and full retention ponds at West Lyon Farm.
"Somebody is sleeping at the wheel," Griffasi said.
Mike Stein, a resident of Cross Street who is a civil engineer, said his firm had done storm water drainage studies including one that exactly resembled the Pemberwick situation: Trump National Golf Course in Briarcliff Manor.
"They filled all the ponds because who wants to see ponds on a golf course that are low?" Stein asked. "What happened? Portions of the village were completely flooded. The entire parks, their pool, all completely flooded. This is the exact same scenario. You're taking up whatever storage capacity that would have been in the pond just to make it look nice. Not what it was intended to do."
"We have state, municipal and federal issues here," Himes said. "Some of this stuff feels like municipal engineering and drainage."
"My guess is that that the drainage up there (Pemberwick Park and above) is a town thing, and First selectman Camillo will work with the town engineers on that," Himes continued. "The river, as you probably know, the Army Corps of Engineers has been doing a project there for years. That's in my department because it's a federal agency."
Himes said his job was to advocate for a federal disaster declaration and get as many resources as possible.
"We hired a title searcher. We know who owns it – even though PURA thinks it's someone else – even one association claimed it and they actually own another dam," Camillo said. "We'll get it inspected shortly. If we have to take someone to court to get it fixed, we'll do it."
Peter Alexander said Caroline Pond was never intended to be a pond, but had filled in and needed to be dredged.
"Army Corps of Engineers are responsible for that," Mr. Tyson said. "You could probably walk across it right now. It's technically a tidal river, but it's filled in with silt."
Stella Roberto of Dale Drive said that since 1977 she had been going to town hall to complain about West Lyon Farm blocking up their weir.
"(In the past, the town) made them fix it and dredge their retention ponds. They are the problem," Roberto said.
Gail Mills who has lived in her home at 16 Homestead Lane for 70 years, said last week, for the first time, water came up to her first floor.
"This is by far the worst, including the flood of 1955," she said.
Himes said the Army Corps of Engineers had made a commitment to rebuilding bridges on the Byram River and dredging in certain areas. "They have a plan now," he said.
Will Reyes has lived for four years on Hollow Wood, in a FEMA flood zone.
"That means if you have a mortgage you have to carry flood insurance. But it only covers roughly 35% of the real damage," he said adding that insurance covers mechanicals, including water heater, furnace, insulation and electricity outlets. "I got quoted $50,000 to get my basement back up and running."
Reyes said his basement had been finished with an office and a bathroom.
"In a half hour my basement filled up with 6 feet of water. My door in the basement, the water was so powerful it dented the door."
Reyes said he moved a car up to higher ground during the flooding and struggled to walk back home.
"The water was coming strong. It was like a movie. Things were coming at me like canoes, garbage cans and all types of debris."
Back at home, he lost his treasured vintage 1969 Karmann Ghia, which had water up over its hood.
"A lot of people don't have the money to put out for repairs and wait to get reimbursed," Reyes said. "Right now contractors are taking advantage. For people to shell out $10,000, it's hard if you're elderly or a young family."
"We still have to address issues with the river and how we prevent it from happening again," Reyes added.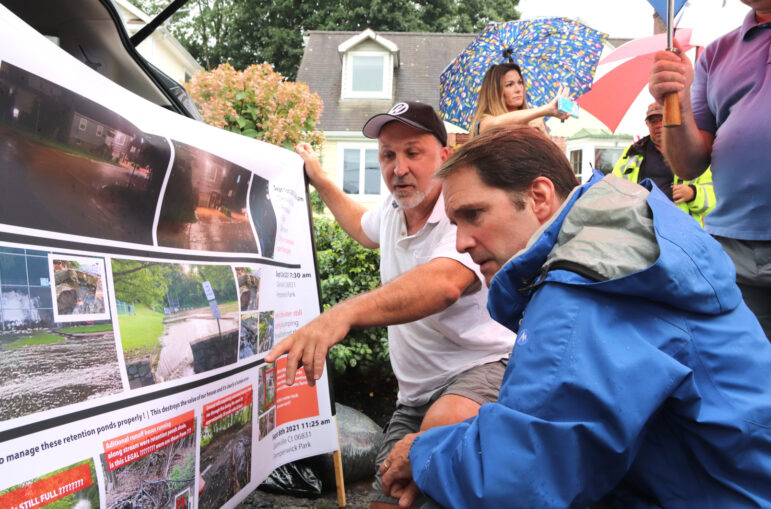 See also:
Pemberwick Residents Clean Up Post-Ida Flooding: "Now We're a Retention Pond"