At the Feb 21 Board of Education meeting over a dozen people spoke during the public hearing in favor of a pilot food service program with the goal of increasing the appeal and nutrition of school lunches.
Several parents urged the Board to run a pilot with an outside vendor called No Fuss Lunch.
They said they appreciated the hard work of the food service staff and the improvements that have recently been made. They said they did not place the blame on the staff.
As for previous efforts to upgrade the quality of food in schools, Board member Peter Sherr said, "This discussion of better more healthy food options is as old as the hills."
Lauren Rabin the BOE member on the School Lunch Fund Committee agreed agreed there had been previous efforts. But, she said, "Everything we have tried has wound up coming back to staffing."
She pointed out that survey data for participation in school lunch was revealing.
"We're serving less meals per day and there are more students in the system," she said.
Rabin said Cos Cob School piloted a switch away from Styrofoam trays and said staff wound up having to wash plates in a special dishwasher, adding labor costs. "We can't keep on starting and stopping and having the same reason for stopping," she said.
In 2015 GFP interviewed then head of Cardinal Cafe Vicki Gregg who has since become head of transportation for the district.
At the time the  GHS cafeteria had outsourced some of its menu to Garden Catering, and Ms. Gregg and John Hopkins, director of food services, said the nuggets were such a hit that overall volume in Cardinal Cafe increased.
At GHS, students also have the option of Domino's Pizza.
Despite these examples of outsourcing, on any given day students order and pick up everything from Chicken Joe's to Arcuri's right at the curb.
Ms. Rabin said,  "We're competing with Uber Eats and Grub Hub. Even at the elementary and middle schools, parents are driving, not a bagged lunch or sandwich, but Chipotle to their kid."
Karen Hirsh, leader of PTA Council said that in 2017, the National PTA expressed disappointment with the relaxing of nutritional standards for school meals. "Greenwich Schools and parent surveys seem to support this position as well," she said.  "Of those who responded, the three main concerns were long lunch lines, a clear preference for better quality food, and a desire for better variety of lunch options."
Hirsh said the National and CT PTA have both advised PTAC not to take a position against the National School Lunch Program.
Over 20% of the Greenwich student population currently qualify for this program, the largest number in recent years.
Hirsh said 35% of the lunches sold last year were purchased by students who qualify for the program, and the district expects to receive close to $780,000 next year through federal and state food programs to assist in proving food to those in most need.
Robin Wiley, a food service worker at Hamilton Avenue School said she was upset with the "bashing" on social media saying food services serve "sub par food."
"We have made many changes to our food. We now serve five vegetables and fruit, which are unlimited to every child, every day," Wiley said. "It seems there are a couple of squeaky wheels that are getting oil."
"Instead of outsourcing first, why aren't you giving us the option to correct what it is?" Wiley asked.
North Street School cook Christopher Zgutka who is in his fist year on the job said, "With what we're given, we're doing the best we can."
Zgutka said he loves his job and has been working intensively with the kids to teach them nutrition as best he can.
"As for outsourcing, I ask why?" he said. "Why aren't we not allowed as cooks to share our ideas? I had no idea about this meeting. I put love in every dish but I'm not allowed to work with dishes. We'd like a chance to show we care about the kids."
"I make sure every kid walks away with a fruit, a vegetable and a smile," Zgutka said. "I want to work not only with PTA but with parents. All we ask for is a chance to show the Board of Education and our bosses that we do this for more than a paycheck. I love my job. I love every kid."
---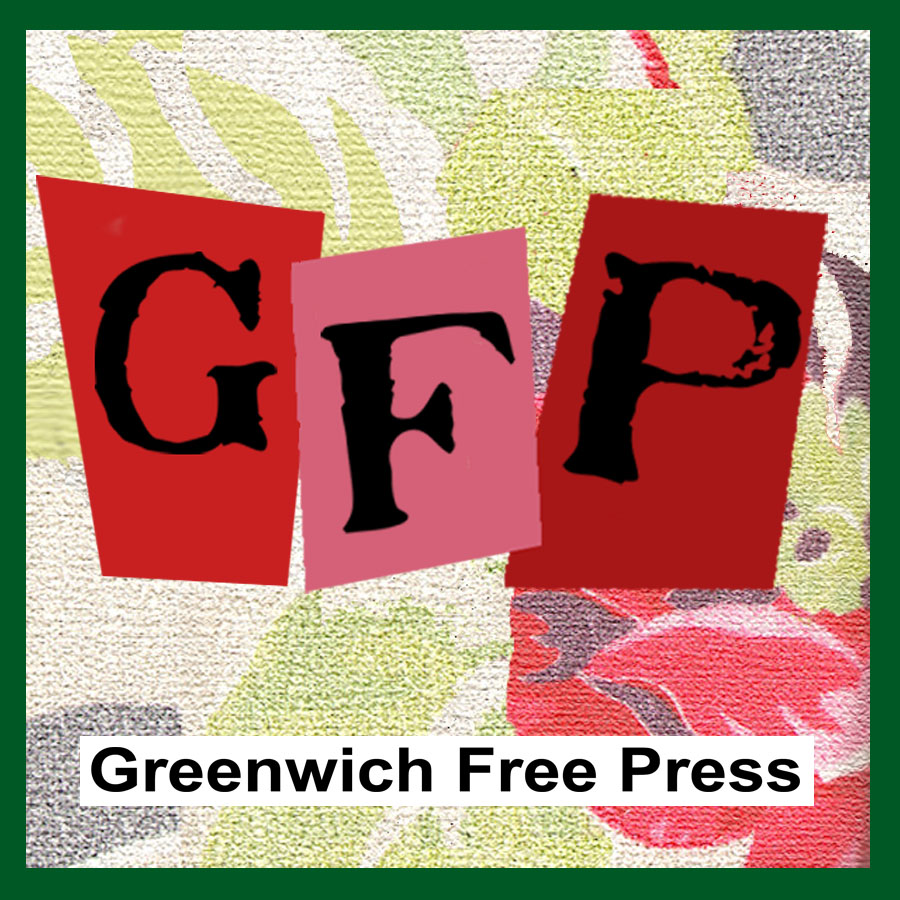 Subscribe to the daily Greenwich Free Press newsletter.
---
About a dozen parents spoke passionately about the need to improve school meals during the public hearing.
Nerlyn Pierson, a North Street School parent who has served on the Health & Wellness committee for five years said the committee had worked with John Hopkins, Director of Food Services for the District, and improved quality and nutrition of food.
"Frozen veggies are now limited to corn, edamame and some oven crisp potato options. No more potato smiles." – Nerlyn Pierson, Health & Wellness Committee member
Still, she said those changes are minor and fail to  address what parents and students have wanted for years. "Real, substantive changes to the quality, nutritional value and taste of the student lunches in our schools."
Pierson said the Health & Wellness committee recognizes the hard work of food services staff.
"We're not here to question that, but every time we've tried to implement real substantive changes, we run into the same road blocks: The food service department is a business that needs to take into account factors such as budgets, staffing and the bottom line," she said.
Pierson noted that survey data indicated the reason cited for not participating in school lunch is the quality of the food. Over 70% of respondents were willing to pay more for highly quality lunch in K-8 and 60% at GHS.
Another Health & Wellness committee parent, Melissa DeVries said, "Diets high in processed food leads to Diabetes. Too many refined carbohydrates can contribute to sustained inflammation."
"Let's look at a typical lunch I bought today,"DeVries said, holding up a school lunch. "My daughter said this is one of the better ones. The chicken tenders are processed and contain approximately 30 grams of carbs. The roll has an added 20 grams of carbs. The chocolate milk has other 22 grams with 11 grams of added sugar."
"And this is what they eat before they go back for extras such as cookies and ice cream that contain even more refined carbs or sugar," she continued. "Let's stop talking and do something. …Vote to at least pilot an outside provider such as No Fuss Lunch."
Abbe Large testified next. She said in the past parents have requested outsourcing of food services, but there had never been more than anecdotal data.
"In 2017 we got the data," she said. "The data tells us that meals cost between $3.60 and $3.85 and most of it goes in the garbage, and then they go for the cookies, ice cream and chips, which by the way include ingredients banned in most countries, and they wind up paying $7.00 to $7.50 anyway."
Ms. Large said that students who are on the National School Lunch Program are only entitled to the basic meal, which, she said is often their only balanced meal of the day.
"They're not really eating it," she said. "There's no nutrition in a lunch uneaten. They could pay for a la carte, but most can't. Inequality in the lunch room isn't cool."
Ms. Large said this year the School Lunch Fund Committee worked on two RFP drafts, one which would reflect a template provided by the USDA, and the second, which was designed for No Fuss Lunch, would be more innovative.
She said No Fuss Lunch meals cost between$4.00 and $7.00 and they offer 20 different daily choices of all inclusive, allergen free, kid friendly meals, for both breakfast and lunch.
No Fuss Lunch offers an online ordering system that treats every child equally regardless of whether they are on free/reduced lunch.
Ms. Large said she has spent years researching school lunch and urged the Board to bring in No Fuss Lunch as a pilot program in two schools in the district.
"Major improvements can be made, and help address the fact that labor costs are more than food costs.

If no Fuss lunch became a permanent solution, it would provide employment to existing staff, pay monthly facilities rent and continue to fund our free and reduce lunch students through self funding and their 'Love of Lunch' 501c3." – Abbe Large
John Blankley, a member of the Board of Estimate and Taxation (BET) who is on the transition team for the State Treasurer in CT said he would support a pilot of No Fuss Lunch.
Blankley said he previously served on the BET school lunch fund.
"At that time the cry was that the deficit was rising. There was a lot of noise about outsourcing, and I was determined at the time that there would be no outsourcing."
"'Fire on Friday and Hire on Monday,'" he said.  "Balancing the books on the backs of school lunch workers was the wrong way to go."
"We initiated some changes, increasing prices on some food items, and improving marketing. We got the participation rate up and got the deficit to reduce," he said. "There is something about politics in Greenwich – we pay a lot of attention to costs, not value. The value of food is more important than the cost."
Stephanie Chawla, a physician assistant with children at Glenville School said had taken photos of school lunches which she said were alarming.
"Why are we continuing to serve highly processed foods that are full of salt, fats, oils, sugar, high in carbs, artificial flavors and colors and ingredients banned in some other countries?" she asked.
Kerri Huxta, another parent at Glenville School said she occasionally lets her children purchase lunch because the experience gives her kids self-confidence and independence. However, she described the lunch as "awful."
Huxta also said the published menu is unreliable and false advertising.
"The lunch indicates a daily special, but it's not always available," she said. "They come home upset and hungry. …This past week the Friday special was pizza bagels, however each child was told that the pizza bagel was not available. The 5th grader was given the boat style pizza, and other given the soggy sloppy square shaped pizza."
Also, Huxta said there is supposed to be a handful of daily options including bagels and cereal, but they're not always displayed.
"I have a photo of what is advertised as fresh veggies and fruits. It looks delicious and wholesome, but in reality what (her son) got was peaches in syrup and dried cranberries. It's misleading," she said.
Rebecca Comizio, a parent of four who is a school psychologist, asked the Board to consider connections between student well being, mental health and food choices.
"Better food supports better learners," she said, adding that while she can't say food is the cause of poor physical and mental health, the budget for special education in Greenwich has increased significantly.
"(The budget) was $22.5 million this academic year, which was $2 million more than spent on special education in 2016-17. Five to eight times as many children are being diagnosed with anxiety and depression than 50 years ago," she said.
"Some preventative measures are so basic that they are easy that they're easy to overlook. Researchers are realizing that there is not only a psychological connection, but a bio chemical physical connection between what we eat, the way it makes us feel and our mental health." – Rebecca Comizio
"Empty calories create poor energy resources," Comizio continued. "Healthy diet may not only prevent depression but treat depression once it's started."
Julie DesChamps, a member of the PTAC Green Schools Committee urged the Board to reconsider the Styrofoam trays that school lunches are served on because, although they are inexpensive, they have a cost to student health and the environment.
"One component is Styrene, which is classified as a possible carcinogen and neurotoxin. Styrene can leech into foods and be ingested when students scrape the trays with utensils," DesChamps said. "Most at risk are the students on free and reduced lunch who are exposed to Styrene every day for years."
Though the trays are only used for a matter of minutes, their production creates a trail of pollutants.
Further, Greenwich no longer accepts Styrofoam in single stream recycling.
DesChamps said 468,000 of Styrofoam trays from the schools are tossed into the trash and are incinerated each year.
"No Fuss Lunch does not use Styrofoam trays," she said. DesChamps recommended paper boats or, better yet, reusable trays which are safer for student health, have a smaller environmental footprint and result in up to a 60% reduction of waste.
Dr. Tom Milucci, the director of physical medicine at Greenwich Hospital, asked the board to think outside the box.
"Lack of nutrition leads to cancer and obesity, heart disease, and Type 2 Diabetes, which are perpetuated by patterns of learned unhealthy eating," he said. "As a coach I've witnessed kids who are grossly overweight and seen the struggles on and off the field. I see the damaging effects of poor nutrition on the human body."
Dr. Elissa Diamond-Fields, a JC parent who is a chiropractor, said she works with patients on healing and managing chronic and inflammatory health issues.
"The first thing we look at is cleaning up our diet – reducing processed foods and increasing whole, clean, nutrient dense and locally sourced foods," she said. "We have a very sick generation of kids right now. According to the CDC 54% of kids are dealing with a chronic health issue today: asthma, allergies, ADHD, childhood cancers are all on the rise."
She said in the 1970s the number of children with chronic health issue was 12%.
The last parent to speak was Stephanie Martin from Riverside who said she had served as the CEO of Glycemic Index Foundation in Australia and spent years studying the negative impacts on the body of eating processed and high carb foods.
"A hot dog and a bun. Even a bagel. It doesn't even have to be a cookie or chips or junk food. Your stomach immediately pulls out the sugar and your blood glucose levels spike. Think about kids sitting down after lunch. Glucose pulls out quickly and your insulin spikes. Then you crash," she said.
During the Board's discussion, Ms. Rabin addressed the decrease in participation in school lunch. She asked the board to pilot No Fuss lunch.
Rabin said the Town's Head of Procurement, Eugene Watts, said it was not necessary to put out an RFP in order to do a pilot.
"We felt comfortable as a committee that No Fuss Lunch would be something that we would want to pilot," she said, adding that questions remained about staffing. "Does staff go to another location or stay there and serve different food?"
"We'd have to do the diligence financially to make sure we were cost neutral, and if not, would the Board consider that?" she asked.
"Considering we changed school start time, and that cost more, it was done for the health of our students," she pointed out.
Rabin said there is likely a school administrator willing to host the pilot at their school.
John Hopkins, longtime director of Food Service for Greenwich Schools gave a presentation in which he summarized some of the challenges of his department.
"We've been challenged. There's no doubt about it. Financial constraints, BET and things of that sort," he said. "This is not a problem we can fix overnight."
Hopkins said many concerns raised from the survey have already been addressed, especially in the last three months, including offering unlimited fruit and vegetables.
"The Healthy and Hunger Free Kids Act of 2012 mandated fruits and vegetables, but created a lot of post consumer food waste from the disposal of unwanted vegetables," Hopkins explained.
Now, he said Greenwich school lunches offer five vegetables. "They like the variety. They take what they like, and eat what they take."
Also, he said fewer hot meal offerings are offered as a way to to reduce labor.
"It took time to prepare 3 daily choices. This year we moved to 2 choices of hot entrees," he said. He said there are other healthy options every day: string cheese with a bagel, Stoneyfield organic yogurt, SunButter sandwiches, fruit and yogurt and granola yogurt parfaits, Tahini-free hummus.
"The survey said people want us to increase quality, reduce artificial ingredients and preservatives, offer more fresh fruits and vegetables, and make it all appealing. Our team has begun working on all these fronts." – John Hopkins, director of Food Services for Greenwich Schools
Hopkins said now chicken is raised antibiotic free.  Ingredients include 100% ground beef in hamburgers, meat sauces and meatballs. They have also converted yogurt products to an organic brand. All eggs are fresh, locally sourced and delivered daily.
"We are adding more scratch products to the menu," he said.
Fresh fruit and vegetables are being displayed prominently.
He said participation in free/reduced lunch is 20% for one or two meals a day, bringing in $800,000 a year in reimbursements. "That allows us to feed that population while keeping prices low for all of Greenwich," he said.
Contracts with food vendors are for the year. Ms. Stowe said, "No one has a monopoly on healthy food. We should look at all options before we make such a big decision."
Healthy Hawks Pilot at North Mianus School in 2013
Mr. Hopkins said the Healthy Hawks concept featured a menu from scratch and no processed food.
"The menu was developed by me and a manager and we had a lot of groundswell from parents," he said. "It started up very well and participation went up 10% from February to June."
But he said the changes corresponded with an increase in food costs and the menu was very labor intensive.
"In terms of student reception, some of the menu items they liked, the others they did not, including Porcupine Burgers, which were turkey burgers with little pieces of spinach," he said.
On the upside, he said, "We took away a couple new items: home made meatballs, a veggie wrap, a Hawaiian wrap, and we introduced them to the rest of the school district."
Others were too labor intensive to adopt in other schools, including hand dipped French toast sticks and breaded chicken strips.
Ms. Dayton said she was very optimistic.
"With a little more data we can be comfortable," she said, adding that the free/reduced lunch students need to be a priority. "I'd like some confidence that other districts have found it workable through funding and grants."
As for Styrofoam trays, Dayton said, "We should implement eco-friendly serving wear."
Ms. Olssen suggesting doing a pilot at one of the Title 1 Schools, where there are a higher number of students on free/reduced lunch. Also, she said more than one vendor should be considered.
"I'd love to do a pilot. We need to run a competitive bidding process," said Peter Sherr said contradicting Ms. Rabin's statement that Mr. Watts said an RFP was unnecessary for a pilot.
Ms. Rabin said the committee discussed another consultant called Brigaid, with chefs and restaurateurs who are currently working with New London Public Schools.
"My kids eat the ice cream and cookies," said BOE chair Bernstein Peter. "I ate that in high school. This discussion is a restart. The difference is we're not letting go of it."
Bernstein asked Ms. Rabin to continue to work with the committee. "Come back with a business case, bring a revenue model."
Dr. Francis had the last word.
"I would love my son to eat kale every night, and have everything be whole wheat, and have absolutely no saturated fats, no cookies and no chocolate after 8:00 at night, but I have to compromise because I don't want my son not to hate me. We have to be realistic. When they're at school there's a whole lot less power over what these kids are going to eat."
To be continued…
The next BOE business meeting is on March 28 at Julian Curtiss School.
---