At the June 11 P&Z meeting an attorney for the owners of Aux Delices in Riverside presented an application which seeks to bring the high-end retail deli into compliance for its second floor dining at 1075 East Putnam Ave by changing its use from Retail Food Establishment to Restaurant.
They also seek approval for seasonal outdoor patio dining, and approval to resume construction of a 10,943 sq ft building at 5 Riverside Lane, where a Stop Work order was recently issued by the Town.
Technically Aux Delices is permitted as a "retail food establishment," which per regulations imposes a limit of 12 seats, and obviously has a lower parking requirement than a restaurant.
Converting to "restaurant" would allow for more seating and require more parking.
Specifically they seek to expand seating to 8 seats on the first floor, 24 seats on the second floor and 10 seats for the outdoor seasonal dining on the patio – totaling 42 seats.
They own the property next door at 5 Riverside Lane and seek to share parking and egress with that site.
The applicant seeks to make right with the Town on three issues.
The former Riverside Flooring building at 5 Riverside Lane was demolished without Town approval.
The upstairs dining at Aux Delices was never approved by the Town.
The outdoor dining in the patio area was built without approvals.
A challenge is that Aux Delices will have deficient parking as a result of the proposal, and that would impact the 3 new retail uses inside the building they hope to resume building: a fish market, jewelry store and Cobs Bakery. The new building is on the same footprint as its predecessor.
The building at 1075 East Putnam Ave that is home to Aux Delices also features a frame shop and an office on the second floor, and a nail salon on the first floor.
The building was constructed in the 1920s.
During the discussion, P&Z chair Margarita Alban said she'd fallen on the top step to the second floor and that the building inspector had visited the establishment and reported that the top riser does not meet code.
---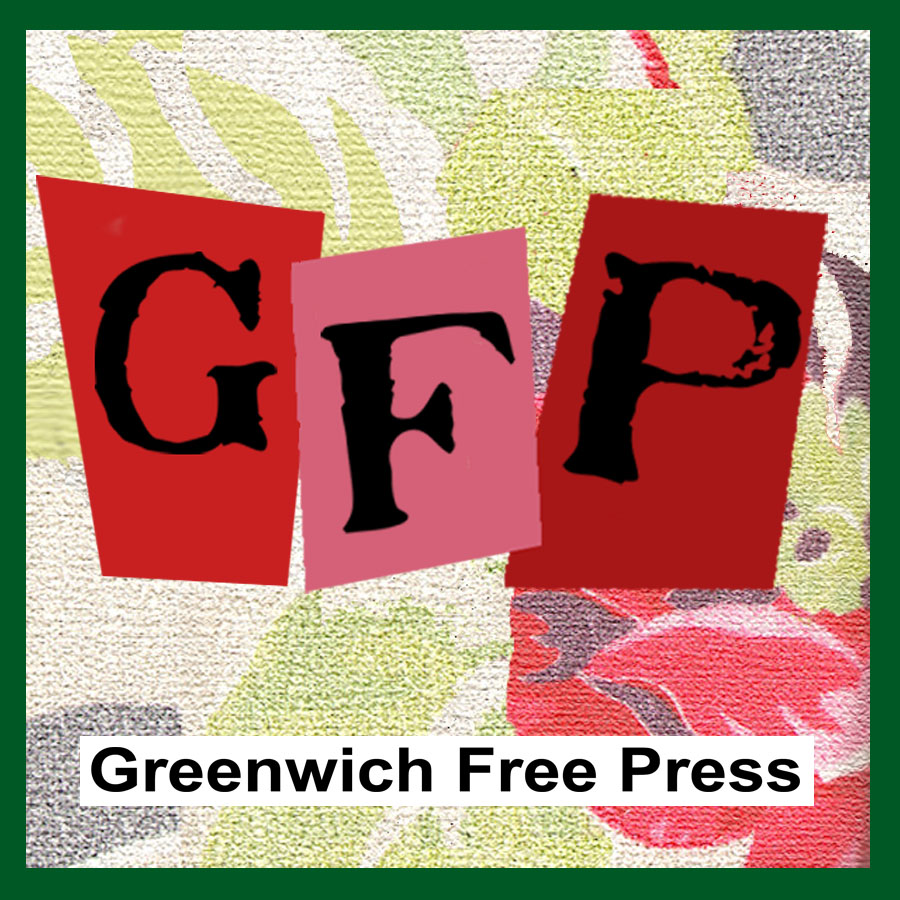 Subscribe to the daily Greenwich Free Press newsletter.
---
"I took a flyer on the top riser with an entire tray of food," she said. "There was soup all over the walls. That's the reason I raised this. I happened to have fallen there."

Architect Rudy Ridberg said, "We have no change of use for the space. The second floor now is business use and a frame shop which uses different stairs. …We don't have a requirement to change the stairs."
After discussion, Alban said, "The stairs can be fixed." She moved the conversation to the parking deficiencies.
Attorney Tom Heagney said the nail salon has operated at 1075 East Putnam Ave since early 1990s and since then the parking requirements have increased.
"When they went in you didn't have the same requirement of 2 parking spaces per station. If you (calculate parking requirement) on a square footage basis, it would be compliant," he said, adding, "Jodi (Jodi Couture, Greenwich's zoning enforcement officer) said you can get where you need to be."
He explained that the owners of Aux Delices also own 5 Riverside Lane and they prefer not not merge the two properties, but rather create cross easements for parking and egress.
He said exiting onto Riverside Lane to the traffic light at East Putnam Ave is preferable to exiting directly onto East Putnam Ave.
"Currently we are 17 spaces deficient at 1075. By combining the two parcels (1075 and 5 Riverside Lane) we would be only 13 spaces deficient. …We're proposing uses that would require 44 spaces. We're  adding 10, so we're 4 spaces to the good."
Alban said if the applicant adds 24 seats upstairs, plus outdoor seating, and 10 spaces from the other property they are indeed deficient 13 spaces. But, she said, "You are reducing the deficiency."
Commissioner Nick Macri was skeptical. "What we're looking at is we're getting marginally better with the parking but this particularly site has an exceptional traffic pattern and I think we're going from a destination retail to now two more intensive retail uses," he said. "The balance is off. We'll have more cars on the site coming to these two new retail spaces and we're not making the parking any better."
"Our regs don't differentiate between a more active and less active retail outlet," Heagney said.
Commissioner Dave Hardman said, "Balducci's is quite busy. Both Aux Delices an Balducci's are very successful."
Heagney said his client wants the new businesses to compliment Aux Delices.
"He wants to make sure his business is not harmed by who he brings on as a tenant," he said.
Also, Heagney said the employees of the nail salon arrive by van.
"You're showing reduction in non-conformity, but it's bad for business if people can't find a place to park. Maybe hold off on the increase in seating," Mr. Hardman said, adding, "On a parking spot basis I think this site can be really stressed. …You have the ability not to do the additional seating upstairs. That brings the parking requirement from 7 to 17."
"I think we're becoming more compliant, but it could be more so if we eliminated 10 seats inside the restaurant at the times we have the outdoor dining. So there would be no more than 32 seats dining," Heagney said.
Commissioner Andy Fox said idea of adding a fish market reminded him of a previous situation at Fjord Fish Market.
"(Engineer) Tony D'Andrea would remember we have Déjà vu of fish and garbage," Fox said.
Back in 2016 Mr. D'Andrea represented the building landlord, Michael Taylor, who proposed moving the dumpsters behind Fjord to the north, and away from the back door in order to make the rear entrances of Fjord and Fleishers and the Greenwich Cheese Company the de facto front entrances. At the time Mr. Taylor had received a cease & desist order from the Town for "newly placed dumpsters without an enclosure."
At the time Ms Alban said there had been complaints about overflowing, smelly dumpsters, especially from the fish market. In the end the applicant was approved for dumpsters inside a locked enclosure with an explicit agreement on conditions of garbage disposal.
The commission asked the applicant about Aux Delices catering, deliveries of fish and procedure for disposing of garbage with a new fish market.
Greg Addonizio, who purchased 1075 East Putnam Ave with his wife Debra Ponzek on Oct 11, 2017 for $3,500,000, assured the commission all Aux Delices Catering is done out of their Stamford facility.
Victor who works for Aux Delices said they only take deliveries until 10:00am and that garbage is picked up daily, except for Sundays.
"As far as fish," Victor said, "Normally my fish business happens early in the morning. I get to the Fulton Fish Market by 1:00am and am back by 4:00am. My plan is to treat all the fish garbage and not use a dumpster but use a cooler and drive them to the Greenwich transfer station. I know fish can be in the dumpster only a certain amount of time."
During the public hearing portion of the meeting, the co president of the Riverside Association, Liz Peldunas said members of her organization were "very curious and interested" in the application.
"The Riverside community wants the Post Road to reflect a character of place," she said. "When I heard about the project I was excited."
Peldunas said the intersection of Riverside Lane and East Putnam Ave is designed to handle significant traffic.
"I understand the parking constraints and I trust the property owner does too," she said. "I leave it to your best judgement about what goes on that site."
Peldunas said having non-chain establishments is a plus for Riverside.
"We wouldn't be the poor step child of Cos Cob and Old Greenwich any more. We would have a place." – Liz Peldunas, Riverside Association co-president
"Maybe this is the start of something good for the Post Road.  It puts us closer to creating a look that is consistent, so we don't look like a mutt forever in Riverside," she said. "It could all start to hang together and look good. We want a sense of place in Riverside."
There was discussion of potential conditions of an approval including reducing seating by 10 seats inside when the patio is in use, installing a bollard to protect diners on the patio, providing a handicapped spot, no overnight storage of vans, creating cross easements for the two properties, and no seating at the bakery.
After the discussion,the commission "closed" the applications but did not take a vote. They will do so at a future meeting.
Neighbors Weigh in on Cos Cob Hub Dumpster Proposal: "It Stinks!"