On Friday longtime Western Middle School principal Gordon Beinstein announced he will retire at the end of the school year.
Beinstein has joked that he's been stuck in middle school for decades, but never wanted to be anywhere else.
Having grown up in Greenwich, and attending Riverside, Eastern Middle School and Greenwich High School, he later taught at Central Middle School from 1988-2002.
He then ventured out of town to serve as assistant principal at John Read Middle School in Redding and then Middlesex Middle School in Darien. Before coming home to Greenwich to take the helm at Western, he was the principal at Harborside Middle School in Milford.
In his message on the school's website, he answers the perennial question, "Why?"
"When people who work in middle schools tell others what they do, they are often met with an inquisitive 'Why?', or, more likely, 'Are you nuts?' But these people do not get it! They do not understand the joy that comes from working with young adolescents who are self-confident yet insecure; possess a robust individual streak yet have an intrinsic need to fit in; are intelligent yet capable of making mind-numbing decisions. It is this very dichotomy that provides the energy that makes middle schools special and our job imminently enjoyable."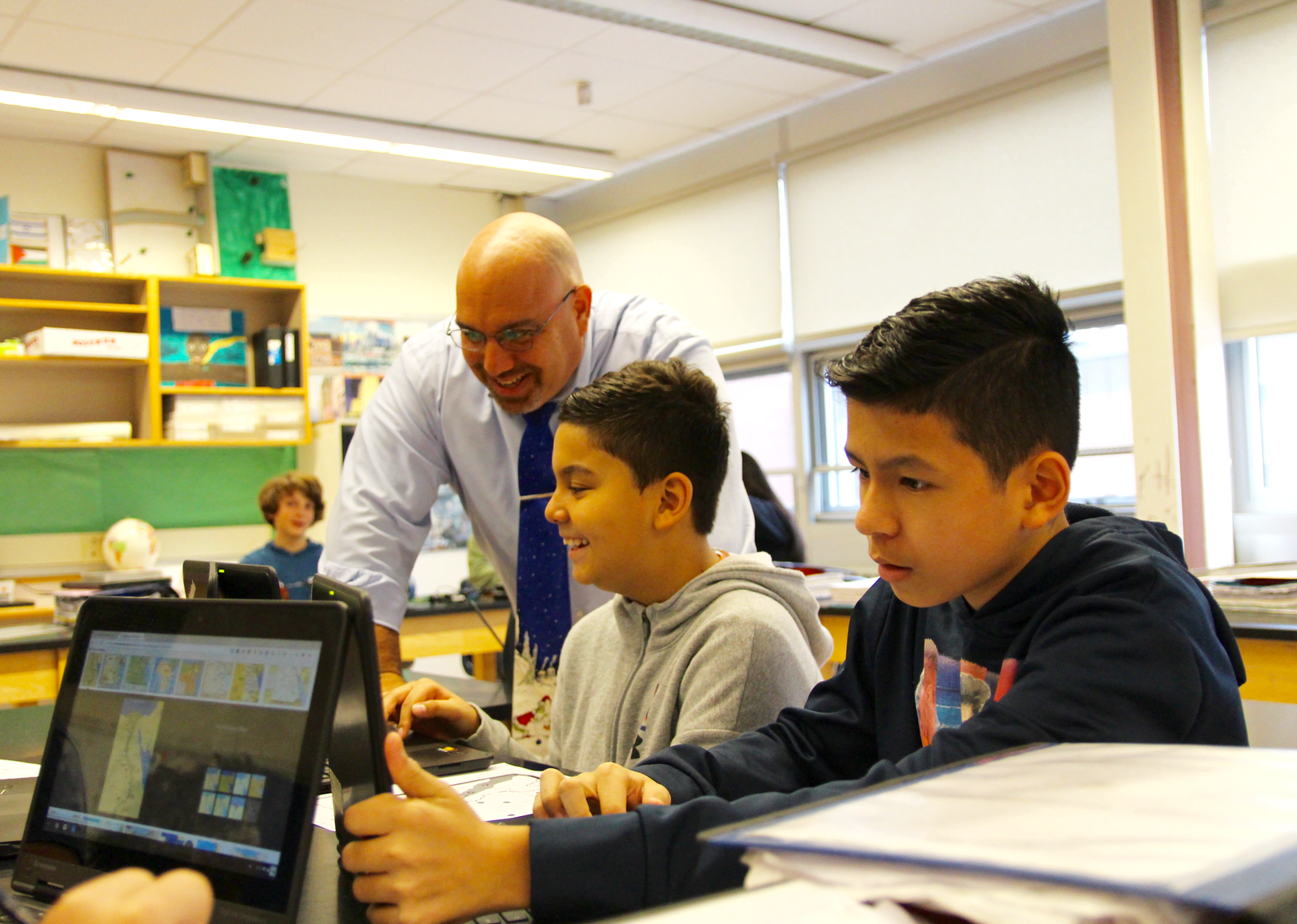 Beinstein was named the 2019 Connecticut Association of Schools Principal of the Year. At the time, Karen Packtor, Assistant Director for CT Association of Schools, described the Western Middle School principal as a deeply respected and influential change-agent in his school and community.
The honor reflected the phenomenal improvement in achievement and school culture since his arrival in 2013, but also impressive school climate survey results.
His nominators cited Beinstein's focus on creating a culture of collaboration, innovation, data-driven goal-setting and open communication.
Then the entire school community expressed their pride by throwing him a surprise party in the gym.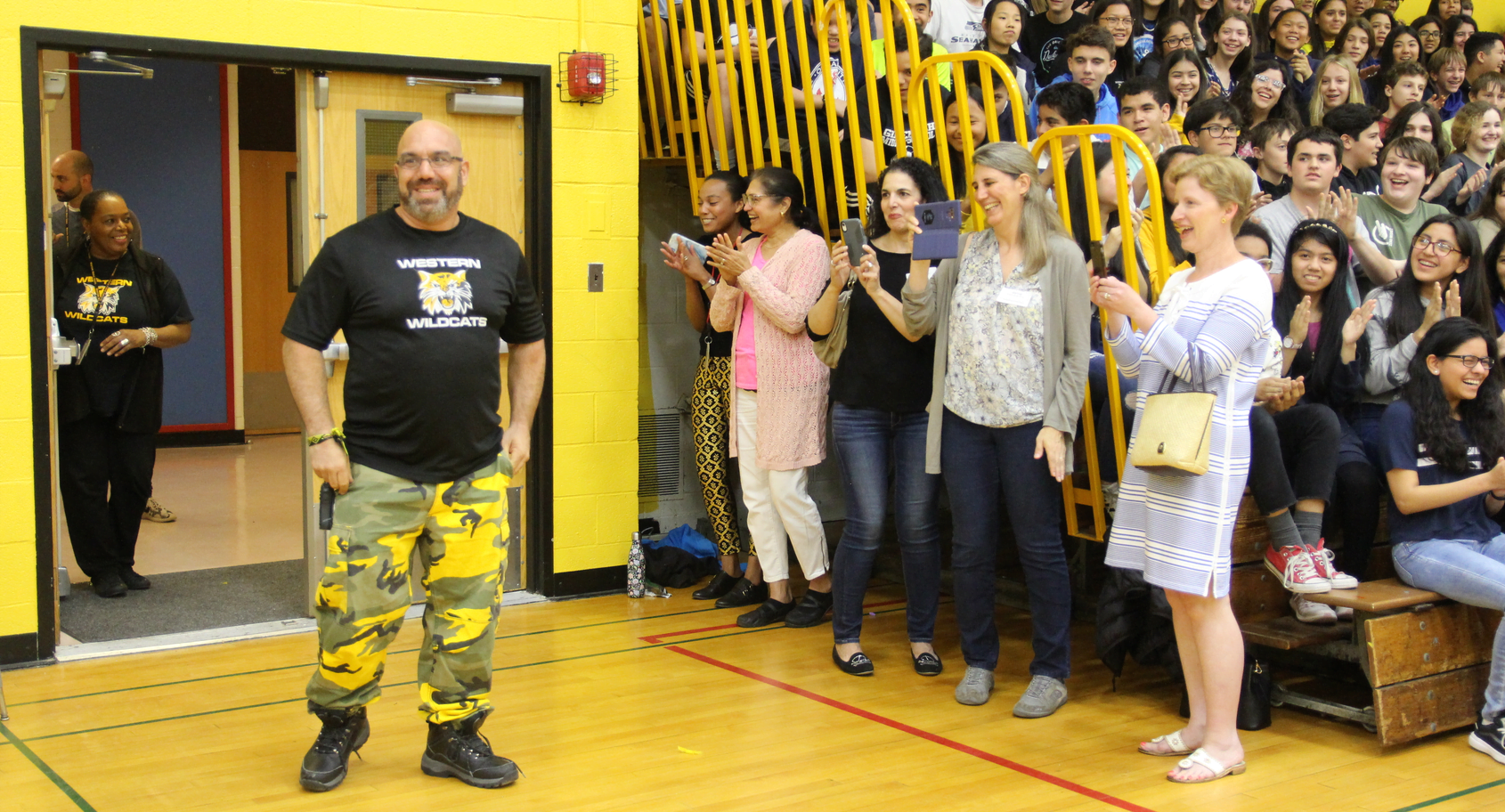 One memorable invention credited to Beinstein is the "enable table," where parents are reminded the impact of dropping off their children's forgotten lunches, musical instruments, homework, gym clothes and permission slips.
Beinstein's enable table reminder is simple: teach kids to be responsible.
Back in 2017 Beinstein told GFP there was a "sense of urgency" in middle school.
"We only have three years to get them ready for high school. Greenwich High School can be a tough place if they're not prepared. We have to work fast," he said at the time. "We bend over backwards for our kids."
It was fitting that Beinstein penned a farewell to Western families that reflected his personality: both self-deprecating and very funny.
"Of the roughly 937 parent communications I have written over the past 10 years, this is the most difficult email I have had to compose. I am actually getting a bit emotional and I thought I only had two moods…hungry or happy," Beinstein wrote.
Beinstein goes on to say Western's staff, students and community have been an integral part of his life this past decade.
"I actually think I might have been a little obsessed: What sane person custom orders a Jeep Wrangler in school colors with a mascot tire cover?" he asked.
"I am so proud of what WE have built. #WestsideBestside is not an empty slogan; it represents rightful and growing pride in our school community," he continued in his message to families, adding that WMS is unique.
"My three and a half decade long career has taken me to four districts and five middle schools. I have seen what is out there, and I can say, unequivocally, there is something about this place that just 'hits different' and is difficult for me to put into words. I just know that when I walk into this building, there is a palpable sense of warmth and of belonging; for me, for our students, our staff and I hope for you."
While Beinstein presided over surges in test scores, enrollment also increased. This was partly because fewer elementary school students headed off to private schools, but also a reflection of the middle school's AVID program and chilren enrolling from outside the district as magnet students.
Beinstein said after 35 years he looked forward to some new pursuits, but also believed that the school would benefit from a new voice.
Having led the school, not only through the pandemic, but through six years of field closures due to soil contamination discovered in 2016, which he mentions in his letter.
"There are aspects of this job I will NOT miss," Beinstein wrote. "Checking the substitute list as I roll out of bed, discussions about field contaminants, Board of Education meetings…especially Board of Education meetings!"
The outgoing principal said he would indeed miss parents, staff and students.
"You trusted me with your most precious possession; I pray I did not disappoint. Working with your children has kept me young, well immature anyway. My wife often calls me the world's oldest 8th grader. I know it's not meant as a compliment, but I take great pride in that title!"
"Regardless of whom the District decides will be fortunate enough to lead this school in the coming years, your children are in excellent hands. While I understand that I am the face of this school, and not a pretty one at that, I am far from the most important person here," Beinstein added. "It is my fellow administrators, Suzanne Coyne and Erin Montague, along with the classroom teachers, and the support staff who work with your children day in and day out who truly make the difference in your child's education."
Beinstein thanked Schools Superintendent Dr. Toni Jones for being a staunch supporter of Western and understanding the special nature of the school. He said he was confident Jones' selection of the school's next principal would be a great fit for the community.
"Please know that I will remain committed to your children for the remainder of my time here in the Greenwich Public School System. You aren't rid of me just yet!"