By Leslie Yager
"You are part of the biggest AVID class yet!" Mara Adelsberg said to incoming AVID students visiting GHS from their respective middle schools.
Adelsberg, the AVID site coordinator who had been feted herself the previous night at the Distinguished Teachers Award ceremony, added that the 50 incoming AVID students began a process back in January that included an interview an application.
Short Acronym, Long on Potential: Advancement Via Individual Determination
Adelsberg explained that AVID is a national program that began in California and expanded across the country and worldwide. She described AVID as 'a college readiness system' that targets students with a lot of academic potential who need an extra push.
"All students we selected are highly motivated and have individual determination and really want to succeed in high school, college and in the community," Adelsberg said.
Adelsberg said current AVID seniors are all going on to college in the fall and that last year's AVID graduates are all currently attending college. Introductions were given to the AVID staff at GHS as follows:
Dr. Sara Goldin: AVID 11

Laura Brill: AVID 10
Frank Kovac: AVID 9
Ken Alcorn: Current AVID 12 and next year's AVID 9 teacher
Jill Bocock: AVID 9 teacher
Judy Nedell: AVID site Administrator
Headmaster Winters: This is a Really Positive Good News Story
Dr. Winters said he was thrilled to see the AVID program expand from one to two classes in the fall. He thanked the Greenwich Alliance in particular.
"AVID is fairly expensive," Winters said, adding that the Alliance for Education paid for many of the initial costs of AVID training and start-up.
Dr. Goldin: "AVID is an Unqualified Success"
AVID grade 11 teacher Dr. Sara Golden said, "It's so rare in life that you find something that is an unqualified success." Laura Brill, the Grade 10 AVID teacher acknowledged the presence of about a dozen of her "Brill Squad" by name.
"We celebrate all of your accomplishments and that you have chosen to be here," said Frank Kovac.
Ken Alcorn, current AVID 12th grade teacher said, "It's been a great ride. So I decided I've got to do it again. I'm coming back to the 9th grade and am so excited that so many 8th graders have decided to become part of the program." Alcorn will be joined in teaching 9th grade AVID by Jill Bocock, current English teacher in Bella House.
Current AVID student Emilio Garcia told incoming students they can expect a smooth transition to high school through participation in the program.
"It's a really good time, and it'll help you a lot," Garcia said, adding that the program features multiple college visits.
John Mendozo and Diana Jaramillo, current AVID 10th graders, said that AVID students push and encourage one another.  "You have to push yourselves. Your grades reflect on to AVID," said Mendozo.
"AVID is one of my comfort zones," said Jaramillo. "Whenever I'm feeling down, my AVID family, my classmates are there for me. I appreciate that. I love Miss Brill," she said and Mendozo chimed in, "Miss Brill's the best!"
"I'm not going to lie. I was not that bright in AVID 9. I procrastinated. But it got better. They showed us ways to focus on our school work. We have our family, Miss Brill and each other to push us," said Mendozo.
First in Their Families to Go to College
Alma Maldonado, who is currently an AVID junior taking four honors classes, said she appreciated AVID's help navigating the college process.
"There are guest speakers who talk about the college process, SATs, ACTs and Naviance, and help you step by step in the college process," Maldonado said.
"Like many AVID students, I'll be the first in my family to go to college," said Maldonado  quietly, to a round of applause and woots.
AVID seniors Soraya Molina and Nora Goshi are set to attend Suffolk University and American University respectively.
"AVID really got me out of my comfort zone. Just being able to speak in front of you guys," Molina said. "Take those honors classes. Take those AP classes. It's going to be worth it. Your AVID teachers will support you every step of the say," she said, adding that AVID also helps participants socially. "I made really close friends and one of them is standing right next to me. I'd like to thank Mr. Alcorn," she continued. "He's helped me every step of the way." Looking through the audience of incoming AVID 9th graders Molina concluded, "Mr. Alcorn and Miss Adelsberg are going to be your saviors!"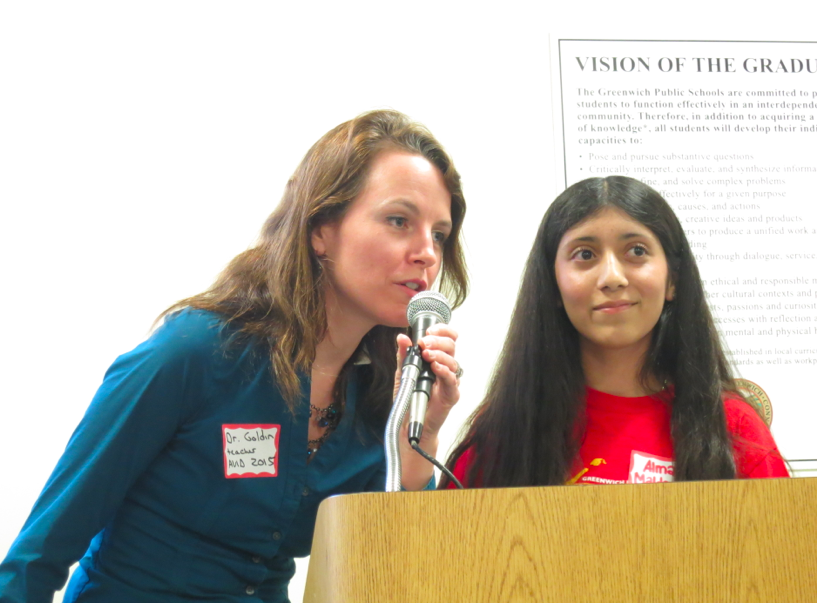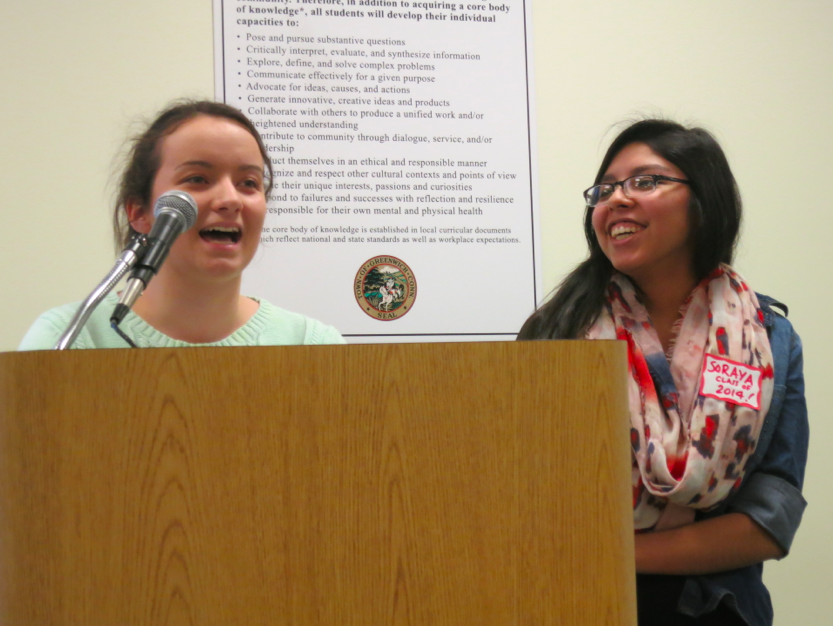 Goshi said, "I am so grateful for the AVID program. When I first came to the high school I was a lost case…You will create so many special bonds through your AVID classes." Goshi elaborated on the value of AVID tutorials. "AVID is by far my favorite class in four years," joking that she considered skipping school on a day her AVID class wouldn't meet.
After all the AVID staff and current students finished their remarks to the incoming students and their families, the rising 9th graders each signed their AVID contracts, which were printed on bright green paper.
Related Stories:
______________________________________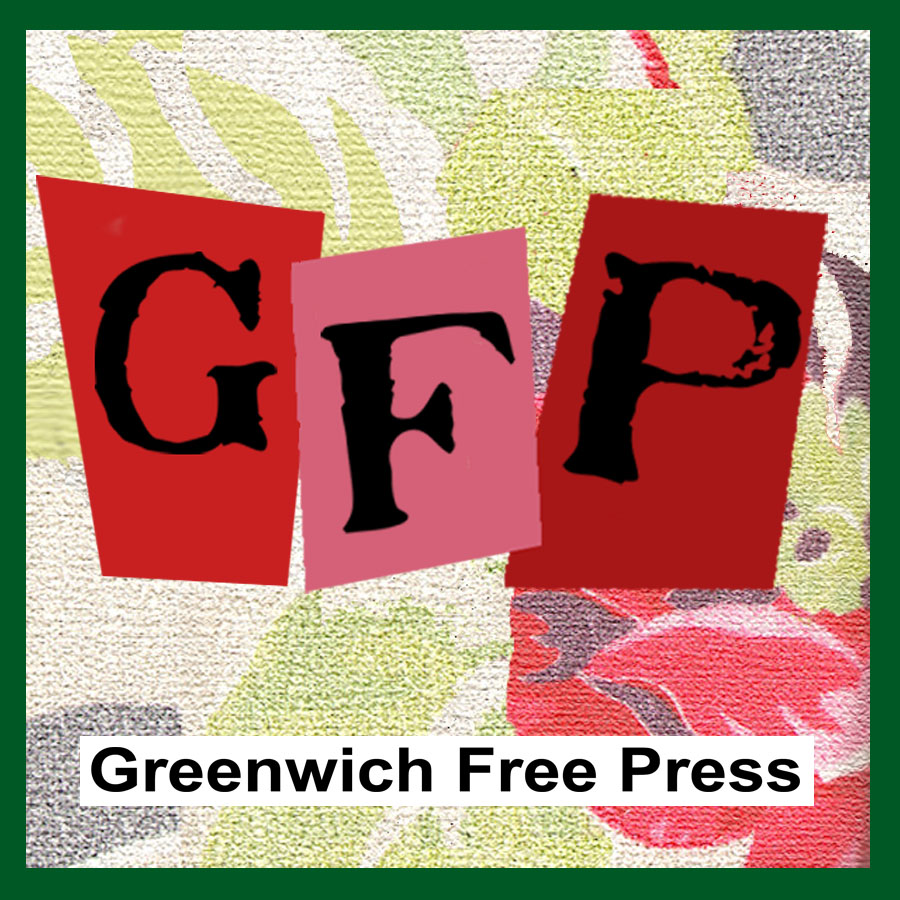 Email news tips to Greenwich Free Press editor [email protected]
Like us on Facebook
Subscribe to the daily Greenwich Free Press newsletter.