On Thursday a group of Western Middle School 8th graders who participate in the school's AVID program – Mia Melgar, Christopher Hernandez, Gabriella DiMaggio and Cody Griesmeyer – shared their experiences with members of the Greenwich delegation and special guest, State Rep Jeffrey Currey (D-11) who is the Chair of the Education Committee in the state legislature.
"AVID is a program we have that prepares kids for college, including minorities and kids who aren't economically as well off, and people whose parents didn't go to college," Mia explained. "It helps them gain knowledge about how to be prepared."
"AVID class acts as family," Christopher said. "You're with the same people for two years, so you really get to know them."
"We do tutorials, which we've expanded to all core classes," Gabriella said. "If we have questions we need help with, we can get our questions out there so we can help other people and they can help us."
"When we first got the opportunity to join AVID in 6th grade, a lot of people said they didn't want to do it," Cody said. "AVID gives you more work, but it comes with more benefits."
Erin Montague, who has been at WMS for 9 years – as a counselor for 8 years and more recently as interim assistant principal) and attended the school herself – gave a little history of the AVID program in the district.
Western introduced its first AVID elective class eight years ago, back in 2015, while Greenwich High School has had an AVID program for 14 years," Montague said. "At GHS AVID is an elective class with two tracks per grade. Montague said about 90% of the AVID students at GHS came through Western.
"The AVID school-wide approach is a very intentional program that brings these things across curriculum," she continued. "AVID is the vehicle we deliver a content – it's not a content we deliver."
Dr. Jones said a wonderful extension of AVID at GHS is that the Greenwich Alliance for Education follows the GHS AVID students from high school into college.
"Not only with scholarship support, but also mentor support. It really is a huge commitment in Greenwich to help students be successful on that journey to college," Jones said.
Gabriella said before AVID the vocabulary of college was foreign to her: "I had no idea what a loan was. I had no idea what a scholarship was. I had no idea you had to pay to apply to go to college. Because of AVID, you start having conversations like this."
"You start learning what college you might want to go to, what you might major in, and the loan part of it too," she added.
Cody said another benefit of AVID involved college visits – specifically they toured Marist College and Drew University. This way the vocabulary of dining halls, student centers, and dorms becomes familiar.
"Once we saw the impact the AVID instruction had on this demographic of students – teachers across school were seeing these kids in their core classes just thrive," Montague said. "To really understand how to take notes, understand how to prepare themselves for tests and quizzes – just all the executive functioning skills they might not have the opportunity to learn ahead of time."
At Western, AVID students learn a variety of strategies and tools, including approaches to note taking.
"We give these tools so that no matter what level of content, they know how to tackle the content and make the most of it and be able to ask for help," Montague said.
"It's systematized across the whole school," Principal Beinstein said. "Regardless of what class you're in, these are the expectations: This is how we take notes. This is how we study for a test. This is how we open our classroom."
When you walk around the school there are common posters such as WICOR, which is an acronym for writing, inquiry, collaboration, organization and reading.
"I think we're getting the results we're getting because we're intentional about what we do – we are consistent across grades and content areas," Beinstein said.
Indeed the results at Western are impressive.
Western Middle School's demographics almost identically mirrors the state overall, including percentage minority, percentage ELL, percentage special education, percentage non-white, yet over the last 7-8 years Western's SBA scores in Math and English Language Arts far outpaced those across the state.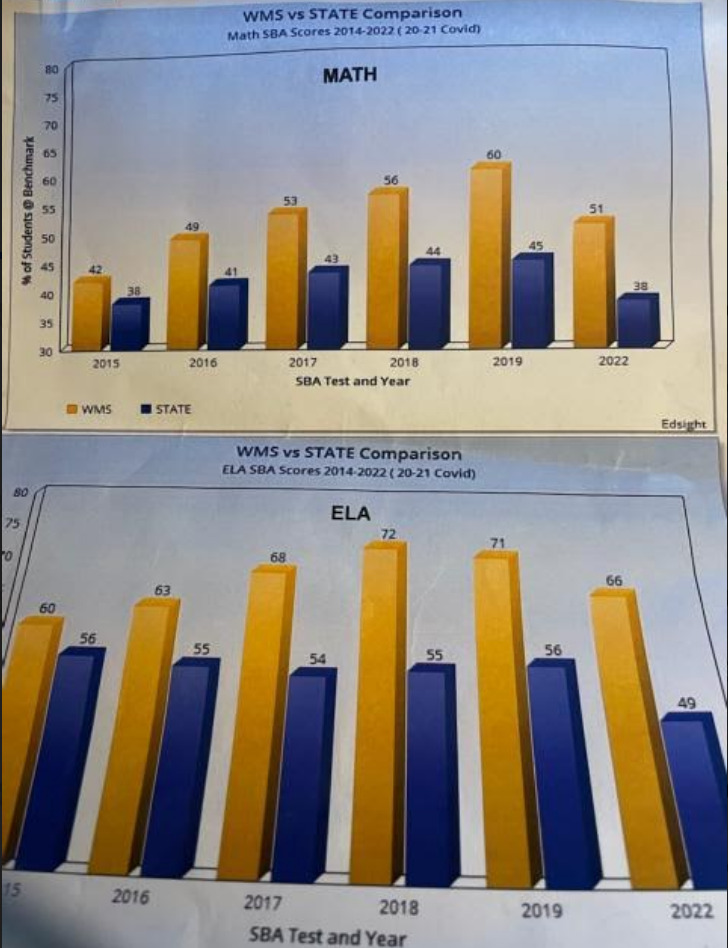 "We have really highly skilled teachers, and very passionate teachers about this demographic of students. I think that's what makes us so successful – it's their buy-in," Montague said.
Beinstein said the school had a culture of collaboration.
"This school is special that way. Just the way the staff like each other and work together," Beinstein said. "I learned early on that teachers train teachers more than I train teachers. I look for smart and, 'Do you like kids?' Everything else you can teach…If you put them on the right team, they learn to how to teach from the teachers around them."
She school is a magnet school across the district.
Today there are about 60 magnet students, and Beinstein has had to freeze the wait list.
"I think there were about four magnet students when I got here," Beinstein said, adding that the district has had to add a school bus from the Mianus area.
Beinstein said he brought his own children to Western as magnet students, as did assistant principals Kerry Gavin and Suzanne Coyle.
"They were all going to Eastern. We chose to bring them here. That's how much we believe in the work we do here," Beinstein added.
"You're doing something right," said Rep Currey, whose district includes East Hartford, Manchester and South Windsor.
"I hire well and get out of the way," Beinstein said.
"And that's what we're trying to do in the legislature, is to get out of the way," Currey said.
State Senator Ryan Fazio said the four 8th graders were outstanding examples of what made Western Middle School special.
"It's so fascinating to see so many of the things that make Western so successful as a school, you see them in other really successful schools around the country. It's not a coincidence that Western is doing such a great job for students….It's not luck. It's really preparing for future success."
"I strongly believe Western can be a blueprint for successful education policy in the state," Fazio said.
"When I went here it was unimaginable that people from outside this district in Greenwich would want to come into this district, and now you have 60 kids from outside the district opting in," Fazio said.
After meeting with the 8th grade AVID students, the officials joined Beinstein, Montague and Dr. Jones on a tour, visiting several classrooms.