Greenwich resident Peter Boldt was on the Board of Selectmen agenda Thursday for a discussion of a request to purchase five Town properties to develop for infill housing.
Mr. Boldt, an architect who serves on Greenwich's Architectural Review Committee, said he would be the developer for his passion project.
Generally speaking infill refers to new construction in previously developed areas with existing resources and infrastructure, typically on underused or vacant land.
Mr. Boldt said Greenwich Communities (formerly the Housing Authority) recently proposed a residential development on the underutilized commuter lot on Strickland Road, a good example of infill housing.
"The idea of infill housing is, instead of putting high density on a single site, you're infilling single units or multi-family units," he said.
Mr. Boldt said while he was a member of the ARC, he was interested in the parcels as a private developer and architect, and that there was potential to incorporate affordable housing, except for the Glen Avon property.
"This is a small batch of a much larger catalogue of properties in town to be reviewed," Boldt said. "This is part of a much larger niche movement I'm part of, which is architects taking on developer work and designing and building much more sensitive projects."
The property at Glen Avon Drive property in Riverside is on the water. It is a non-conforming .170 acre lot zoned R-12 single family.
He said the properties on Riverside Lane, Indian Field Road and Booth Place were all ideal in that they had existing infrastructure and proximity to public transportation and would have an affordable component.
The Riverside Lane land is .5700 acre flag lot in the R-12 zone. It is not assigned a street number, but Mr. Boldt referred to it as 98 Riverside Lane and said he had heard it referred to informally as 2 Riverside Lane.
The two parcels at 96 and 98 Indian Field Road, adjacent on the north to the train tracks and close to exit 4 at I95. The two parcels are .4391 acres and .2100 acres. Both are zoned R-12 single family.
He said the lots were abutting and could potentially be joined to accommodate three or four units and could be connected to Indian Field Road.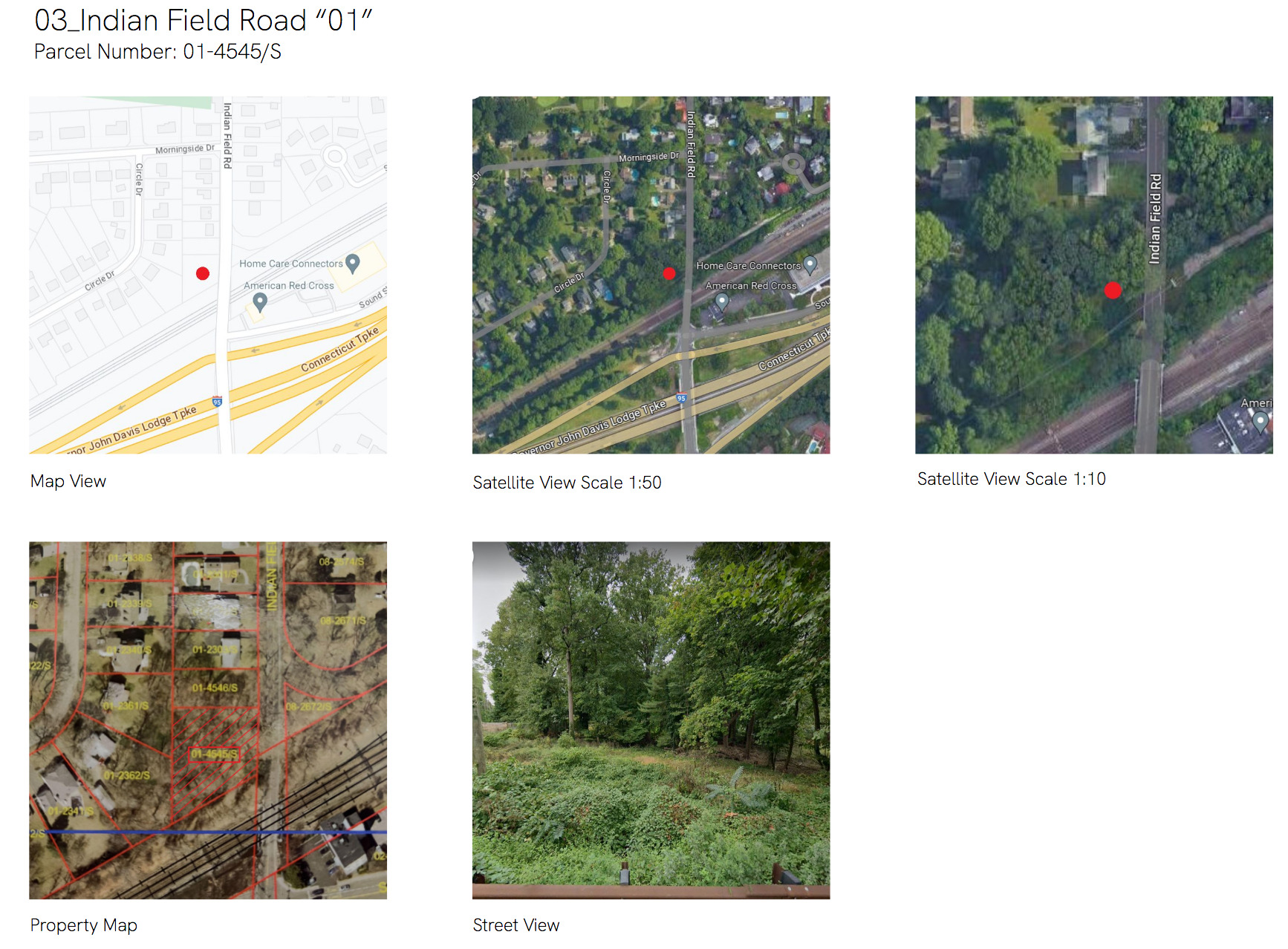 The last property Mr. Boldt proposed for purchase was 5 Booth Place, adjacent to Armstrong Court.
The parcel is .45 acres and is zoned R-6 multi family.
"It is on a piece of land which backs up to a forest. The forest in turns backs up to Christiano Field and the recycling center – the Greenwich dump," Boldt said. "This is an incredibly large piece of land directly adjacent to an affordable housing complex that has already been built that seems to had been overlooked or not considered."
"This is a really attractive location given its proximity to Armstrong Court. It should be worth consideration in large part because it's also by itself on the side of the street so you don't have immediate neighbors adjacent."
First Selectman Camillo brought up the town-owned "skinny little piece of land" that neighborhood children took over to create a wiffleball field many years ago.
"It became controversial. A couple neighbors didn't like it because they were used to nothing being there," Camillo said. "The one over on Glen Avon, I'm surprise none of the neighbors have offered to buy that and adding to the neighboring properties."
During public comment Christine Oca from from the Glen Avon neighborhood said residents objected to the sale and that the land was used daily by residents.
"Throughout the day, all day long, you see tons of people on it – children, people walking their dogs, people having picnics.  It's really like a tiny park for the neighborhood," Oca said. "It's one of the gems of Glen Avon."
Selectperson Janet Stone McGuigan said while she was aware that infill projects can be a successful way to add affordable housing, she suspected some town owned properties were vacant for a reason.
"I would want some sort of briefing from DPW, the Conservation Commission and Planning & Zoning to understand why these properties have not been developed," she said. "Why would the town not lease these properties to Greenwich Communities to develop?"
"Some of the properties have not been built upon for a reason," Camillo agreed. "They're not all slam dunks. If there's a vacant piece of land – I can give you examples – the minute someone wants to develop it those neighbors who normally were looking at open space, don't like it. There have been some battles."
Camillo said it might make sense to create a committee to explore town owned properties to develop for affordable housing.
With chair of the board of Greenwich Communities Sam Romeo in attendance, Mr. Camillo said, "Maybe there is something there that can fit with Sam's vision because Greenwich Communities is our number one tool to get to that 10%, and take away the hammer from the developers using a law that circumvents local zoning."
Camillo was referring to CGS 8-30g, the state's affordable housing statute that requires 10% of all housing in every Connecticut municipality be designated affordable. Until a town is in compliance, developers of affordable housing are exempt from local zoning except in rare circumstances of health and safety.
There are two types of 8-30g projects. One is to set aside 30% of units as affordable. The other is "government assisted," which can be at 80% of Area Median Income, instead of State Median Income. The difference is key because AMI is higher.
Mr. Romeo testified that the Glen Avon property had been proposed for sale 30 years earlier under the Margenot administration, but he believed it should be kept as open space.
"Before it got to the RTM the item was pulled for a number of reasons. First of all, it was going to be sold for $7,000 to the adjacent property owner who would have complete access to the harbor."
Mr. Romeo said the housing authority should have first consideration on any town property up for sale.
He agreed with Ms Oca that it should not be developed as it was well used by the residents and had access to the harbor. "I think it should remain as public open space because we want to keep the green in Greenwich."
He said the Riverside Lane featured a large drain but had potential for development.
"Certainly Greenwich Communities would be interested in it," he said.
"The one that is most interesting to me is Booth Court because it abuts our property," Romeo said. "The brook is there. The town dump is there. But also the neighbors on Booth Court and Booth Place have a little bit of green in their neighborhood. That's the only green that's there."
He suggested that Greenwich Communities might incorporate that town land into the Armstrong Court property in order to increase their existing FAR.
Lloyd Gravegaard, a 40 year resident of Glen Avon Drive said he used the land almost daily.
"My understand is that when you built the new police tower in Bruce Park, you officially designated the park and did a swap so that you didn't lose any parkland when you built that," Gravegaard said. "Has that changed?"
"It's my understanding that it is officially a park  and I would think you would want to keep as much green space park as you can, especially as it's water frontage. It gives everyone in the general area access to walk over to the water."
Further, Gravegaard said if developed, the land would be "irreplaceable."
Dawn Fortunato, a resident of Booth Court, said her neighbors would oppose development on Booth Place.
The parcel is at the bottom of a steep hill and adjacent to the dump where for decades an incinerator burned the town's trash.
"A lot of these areas are super sensitive, because there's contaminants on these properties," she warned.
"If anyone got the property I'd rather see it go to the Housing Authority who is really making strides toward the needs we have," Fortunato said.
She noted that the housing authority properties all count toward the 10% requirement and do so in perpetuity, while 8-30g developments expire after 40 years.
She said the green space was the only one for the Booth cul-de-sac.
"If you were to build that, you would take that away from us and we'd be left with nothing," she said.
"Every time somebody builds, another person floods," she said. "We'd like our neighborhood left the way it is."