Greenwich Boy Scouts had their camporee at Tod's Point for the first time since the 1990s.
What is a camporee? It's is a fun weekend filled with skill competitions and the opportunity to meet Scouts from nearby troops. The Saturday morning activity included a weeding and seeding service project on what was once the grounds of J. Kennedy Tod's mansion.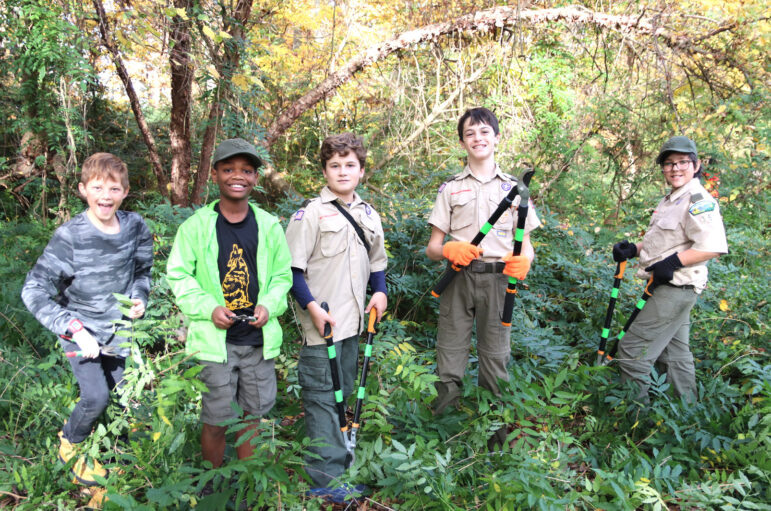 About 45 people participated, including scouts from Troop 5 from Old Greenwich, Troops 10 and 11 from Cos Cob, Troop 35 from Glenville, Troops 37 and 38 from back country and Troop 9 from the center of town.
After a day of service and activities, the scouts cooked their own dinners on the community grills.
From there the plan was to sleep in tents on the plateau where once the J. Kennedy Tod's mansion overlooked Long Island Sound.
"We haven't had camporee at Tod's Point since the 1990's," said Greenwich Police Chief Jim Heavey, a devoted Scout leader.
Heavey said that typically the camporee is held at Island Beach, Great Captain's Island or Pomerance.
With an eye to earning a badge on Saturday morning, the scouts cleared wisteria vines that had grown aggressively over the summer.
Subscribe to the daily Greenwich Free Press newsletter.
"The green witch is our totem because of Greenwich. Our district name is Black Wolf based on the name of the biography of Ernest Thompson Seton," Heavey explained. "For rank advancement they have to do a number of service projects."
Seton was one of the founding pioneers of the Boy Scouts of America in 1910.
Nationally only about 2% make it to Eagle Scout, but in Greenwich it's more like 5-6%, Heavey said.
The ranks are Scout, Tenderfoot, Second Class, First Class, Star, Life, and Eagle.
"We're getting kids away from their phones and enjoying the outdoors," said scout leader Carl Marinaccio, who added that numbers were down for Scouting nationally, and Greenwich Scouting is seeking to recruit more members.
As the boys cleared away wisteria, Mr. Marinaccio explained that the effort was all boy-led.
"It's the seniors leading the juniors. It's good for them to get out of their comfort zone without their parents around," he added. "It's great they're learning real life skills."
Down the hill from the wisteria effort, another group of scouts pulled invasives alongside volunteers from the Friends of Greenwich Point.
Under the supervision of Cynthia Ehlinger and Diana Klingner, the group pulled invasive weeds and replaced them with Black-Eyed Susans, Asters and and Primrose plugs, and planted Salvia, Columbine, Primrose, Goldenrod and Milkweed seeds.
Chief Heavey said that in addition to the camporee, recent Scouting activities featured a camping trip to Alpine Scout Camp, on the Hudson River in Alpine, New Jersey
"We're always doing activities year round," said district director Chris Roehler, adding, "The program follows the school calendar and the culminates with summer camp, but new members can join at any time.
Future activities include a visit from a CHAMPS mine detection dog. "I told the kids to bring a friend," Marinaccio said.
To inquire about joining Greenwich Scouting, contact District Director Chris Roehler at [email protected]