Written by Jenny Knoeller, GHS '15, and Leslie Yager
The building is so big, it's easy to miss. Indeed, dance teacher Kate Truesdell had driven past the former Callahan Moving and Storage warehouse in Cos Cob for decades without giving it a second thought.
The  5,000 sq ft building, with soaring 30 ft ceilings might just be the perfect spot for a dance studio, and soon it will bear the name "Greenwich Dance Studio."
Truesdell grew up in Greenwich. She attended Riverside School, Eastern Middle School and graduated GHS in 1997, the year she started dating Frank Carpentieri, of Garden Catering fame. In fact, as she tells it, the couple, who are married and expecting their third child in a month's time, hit it off at SRO, where she served as dance captain.
Truesdell always dreamed of having her own studio. After graduating from Emerson, she started teaching dance in Town wherever she could.
"Audrey Appleby was great to me and I taught dance for her all over town," Truesdell said of the Magic Dance owner.
She also worked with health teacher and dance coach Kathy Steiner to start a JV Dance team at GHS. Building on the success of the varsity dance team, Truesdell and Steiner signed on 26 JV dancers in the first year.
"The goal of adding the JV was to be more inclusive and accommodate more people," said Steiner, who is a big fan of Truesdell. "We have dance team auditions, though not everyone makes the teams.  All the dancers who do make the team get to dance at all performances, unlike other sports teams who have 2nd and 3rd strings and may not play all players in all competitions."
Truesdell credits Steiner helping her along the way. "Kathy was instrumental in my putting the studio together," she said. But, over the years, Truesdell encouraged budding dancers in all corners of Town, teaching PTA Afters programs at Cos Cob, Glenville, and Riverside Schools, as well as instruction on ballet at ISD, which she described as woven into the IB curriculum.
And she kept in contact with students, often in person, while working on Greenwich Ave at Beam and Barr selling ballet shoes.
In 2004 Truesdell began teaching in borrowed space at the Greenwich YWCA, where she described the constant worry that one of her taller dancers might hit his head on the ceiling. But the program grew nonetheless, and by 2006 Truesdell's name became associated with waiting lists.
"The students were returning," Truesdell said of her operation out of the YWCA. "So I knew I was doing something right."
The YWCA provided neither an office, nor storage for what grew into a thriving program. But the wait lists continued to grow, and, as much as Truesdell hated to turn people away, she didn't want to turn her operation into a "factory."
Growing in Leaps and Bounds
Truesdell insists on keeping her classes small – 8 in a ballet pointe class, 18 in a hip hop class – and though she was able to open a satellite studio for preschoolers and Level 1 classes, which she calls "Petite," just over the town line in Stamford, the wait lists continue.
Recently Truesdell spoke to a local dad who was first in line for signups at Greenwich Dance Studio Petite. "He got in line at 3:30am to sign his two daughters up for dance class," Truesdell said.
Years of Searching and Disappointments
As her dream of having her own large space in Greenwich grew into a burning passion, Truesdell never expected it would take years and multiple disappointments to land right smack in Cos Cob, a stone's throw from Starbuck's and Green & Tonic.
First there was Bella Nonna's former location at 371 East Putnam Ave. "It would have been great. There was so much parking, but I missed out on that spot," she said.
"There was the spot that is now Gofer Ice Cream. I lost out on that," Truesdell said. "And what was Adventure Kids, now Equinox," she continued, adding 16 Old Track Rd to the list of spots she didn't get. "There was the tudor building that was Carolee's, but two cars couldn't pass each other in the drive and it was right close to the busy road," she recalled of the building at 321 West Putnam Ave.
And there was the building that housed WGCH on 8 Dayton Ave  for many years, and is now home to Joie Yoga.
Then, she said, there was an opportunity at the building at 264 West Putnam Ave, which is now a veterinary practice. "But it was 2008 and the bottom had fallen out, so I couldn't get a loan to save my life."
Just when Truesdell was becoming discouraged in her hunt, someone mentioned that Griff Harris, Jr who runs Griff Harris Insurance, owned the warehouse behind his offices and the building might be available.
Indeed the warehouse at at 6 Cross Lane, was used for many years as Callahan Bros Movers warehouse, and more recently for trailers full of Toyotas. The landlord, Griff Harris, whose own name is synonymous with Greenwich, liked that the dance teacher would bring her local girl makes good story to Cos Cob.
"He is vested in this town," said Truesdell of Harris and his buildings. "And Planning & Zoning wanted to retain his cornerstone building as historic and advised applying for a historic overlay." That part of what she described as 10-month process of working with Planning and Zoning and working with Harris's attorney Tom Heagney and Eric Brower, was the most straightforward. Parking and traffic flow issues, on the other hand, had a few iterations. But, ultimately, the studio will be reachable along a one-way roadway parallel to Putnam Ave.
___________________________________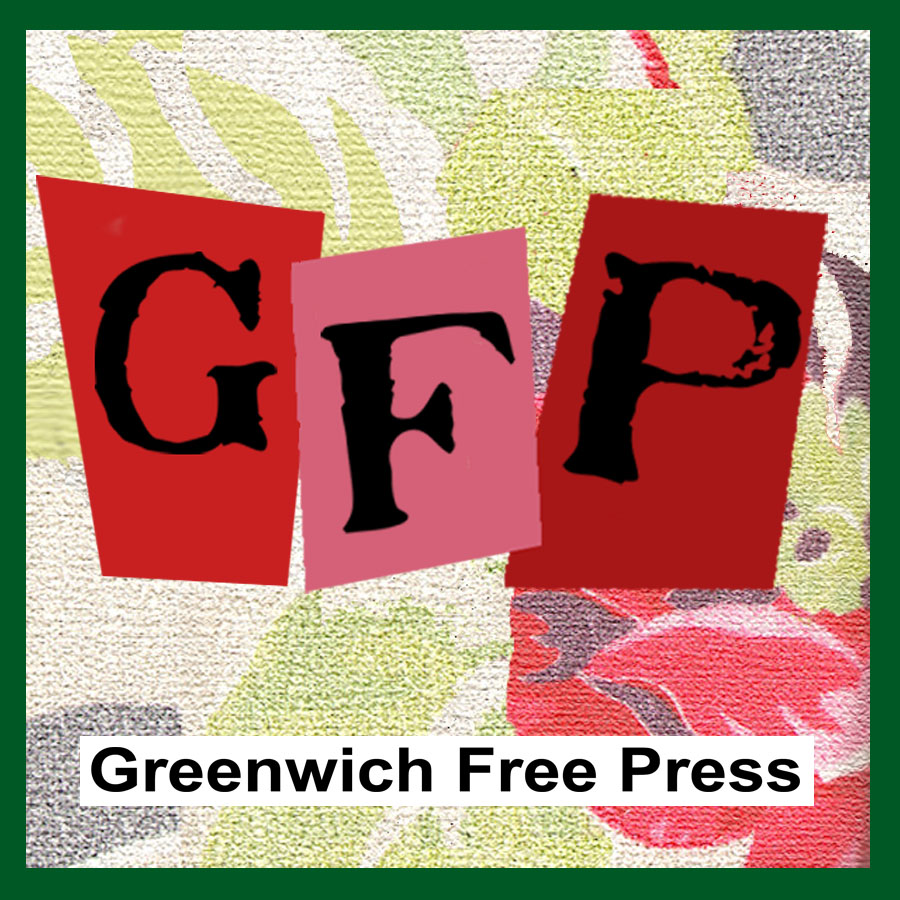 Subscribe to the daily Greenwich Free Press newsletter.
_________________________________
Parents will be able to drive from Strickland Ave to Cross Lane, drop off a dancer, and hop back on East Putnam Ave by People's Bank without changing existing traffic patterns. And, though there is a generous row of parking spots for parents and students who drive to lessons, plus four dedicated spots for staff to park, Truesdell explained that her dance instructors take the train out from New York City and walk from the Cos Cob train station.
On Thursday afternoon, Truesdell gave a tour of the dance studio, which is on track to open in September. Drywallers on elevated platforms and even stilts busily applied paste and tape. Before the studios could take shape, systems had to be installed in what Truesdell described as a concrete shell. The building needed plumbing, running water, heating and cooling systems, and electricity.
The building will feature two dance studios, a boutique with apparel, a room akin to a 'green room' where dancers can wait for a class, or for a ride home, and possibly watch adjacent classes being taught on a monitor.
There are separate bathrooms for boys and girls, though Truesdell counts on one hand how many boys enroll each year. For now she nicknamed the boys room the "bun room," because ballerinas may duck in the empty bathroom to adjust their hair.
Thick yellow insulation could be spotted during the tour, and Truesdell recalled how during one of the planning and zoning meetings, a neighbor voiced concerns about noise level but was assured the studios would be sound-proofed. The studios will have "sprung floors" which yield slightly and give a bit of bounce. The giant picture window in Studio A brings in floods of natural light.
Truesdell plans to install a special water fountain that displays a tally of how many water bottles that are saved per day.
"I have to pinch myself to tell myself that this is reality." – Kate Truesdell on her new space at 6 Cross Street in Cos Cob.
Truesdell's hard work and perseverance will be on display when the new studio opens on September 15, 2014.
Greenwich Dance Studio is located at 6 Cross Street in Cos Cob.
____________________________________
Email news tips to Greenwich Free Press editor [email protected]
Like us on Facebook
Subscribe to the daily Greenwich Free Press newsletter.