Has anyone notice the panhandlers around Riverside Commons Shopping Center recently?
A man with a poster that says "Homeless Family in Need Not Bums" has been walking the sidewalk in front of Riverside Commons Shopping Center for several weeks and Greenwich Police have received complaints from residents.
But panhandling is not illegal. In fact it may be viewed as protected 'free speech' under the US Constitution.
That said, there are activities sometimes associated with panhandling that are illegal, such as illegal use of a highway by pedestrians, disorderly conduct, or trespassing. "If a person is simply standing there asking for charity, that is not illegal," Lt. Kraig Gray from Greenwich Police Dept said on Wednesday.
The sidewalk is set up for pedestrians, while Putnam Ave is set up for cars. So, while standing on the sidewalk asking for charity with a sign is legal, running into the roadway to collect money from a driver is another story.
"Aggressive panhandling can be taken by some as threatening and can potentially be a disorderly crime," Lt. Gray said, adding that the usual complaint is that the panhandler is in the roadway and is creating a hazard.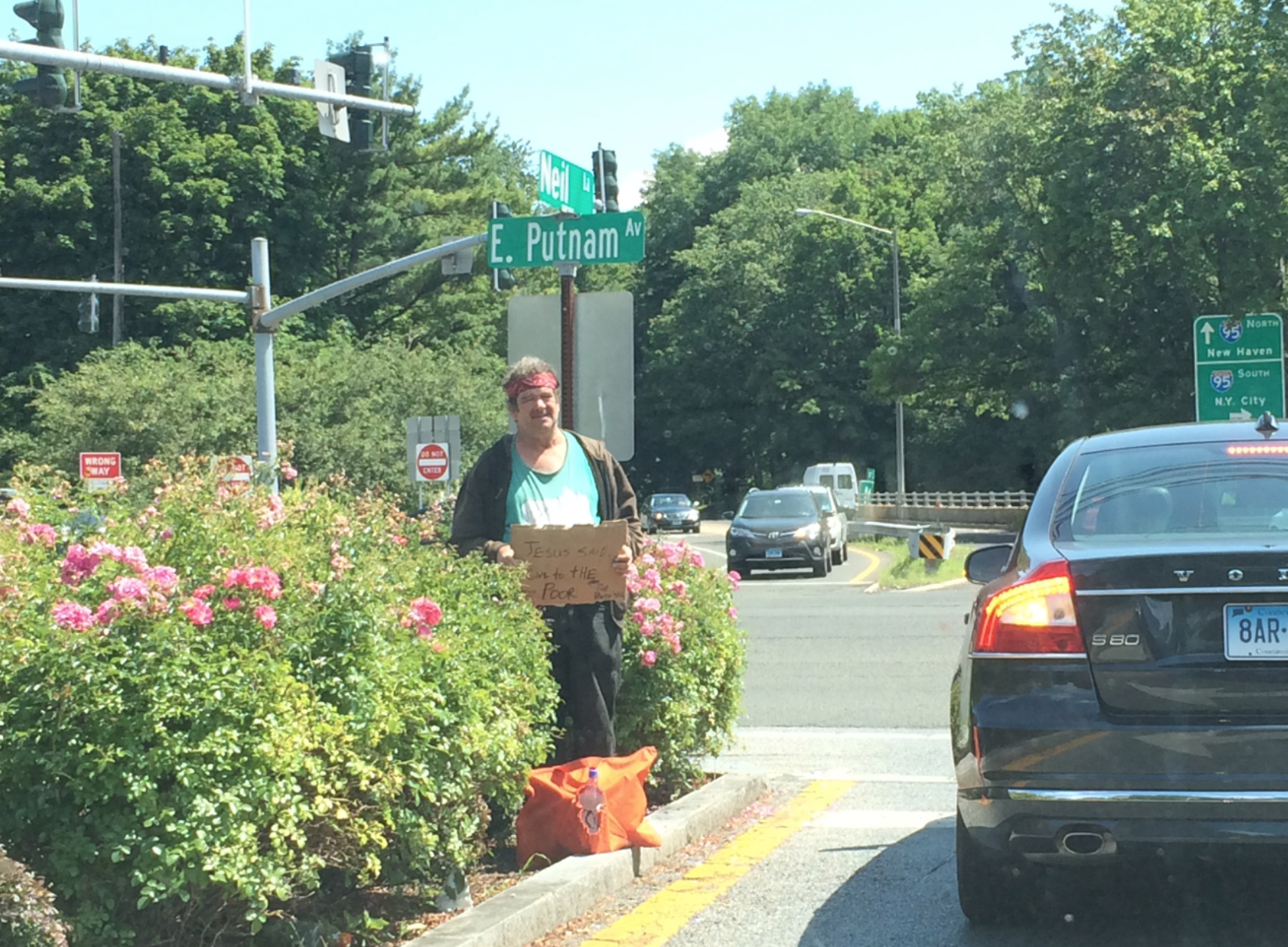 Lt. Gray said Greenwich Police have responded several times to Riverside Commons recently. He gave the example of one resident who was startled when the homeless man ran toward her car.
Though there is no panhandling law, soliciting, including candy peddlers recently arrested on Greenwich Avenue selling Welch's fruit snacks, do need to have a permit and be a legitimate business.
"This is a national story that is coming to roost in Greenwich," Gray said, adding that police have a public caretaker function in addition to a law enforcement function. He said the family panhandling outside Riverside Commons have been offered a variety of social services, but they have not been interested.
Lt Gray said some people who turn to panhandling have perhaps had a catastrophic financial situation. Others suffer from serious mental illness, while others are drug and alcohol abusers.
"If you think you are making a difference between a person on the side of the road who has a serious mental illness that is not being taken, or a drug or alcohol problem not being addressed, you're probably not helping them they by giving them money," Gray said.
Gray said the family panhandling at Riverside Commons is from Georgia and California and don't reside in Greenwich. They live in another jurisdiction and commute to Greenwich to panhandle. "They really need is long term humanitarian services, whether from a private charity or a state agency," he said.
Gray said residents who are tempted to give $20 on the side of the road to one of these panhandlers, should instead said go home and find a charity they respect and make a donation.
Here are several recent Greenwich Free Press features on local social services agencies and non profits who are grateful for volunteers and donations.
Preventing Food Waste in Greenwich, One Bagel, One Pizza at a Time
Pathways in Greenwich Offers a Caring Path to Better Mental Health
Letting the Sun Shine on Community Centers Inc "CCI"
Downpour Doesn't Stop Elton Sousa from Helping at Pacific House
Elton's Café Takes to the Road: Serving Dinner at Pacific House
---