On the heels of an exciting and professional exhibition at the Bruce Museum in February, InLab students worked hard to prepare their National History Day work for a Parent Showcase on March 15 in the Greenwich High School media center, and half of the juniors and sophomores elected to compete in the Fairfield County Regional National History Day competition on Saturday, March 17.
There were even four seniors who elected to compete independent of their classes.
This year's theme, Conflict and Compromise in History, afforded students many creative avenues of exploration.
Students were allowed to choose the format for presenting their research  – documentary, exhibit, website, performance or paper – and nearly every style was represented.
Innovation Lab swept the group performance category with first, second, and third place honorees. Also, InLab students placed first in individual performance, second in group exhibit, and third in individual documentary.
All of Innovation Lab students shared their work and participated in a rigorous interview about their scholarship and creative choices.
Congratulations to all of the competitors who spent the better part of a Saturday at Sacred Heart University showcasing their work.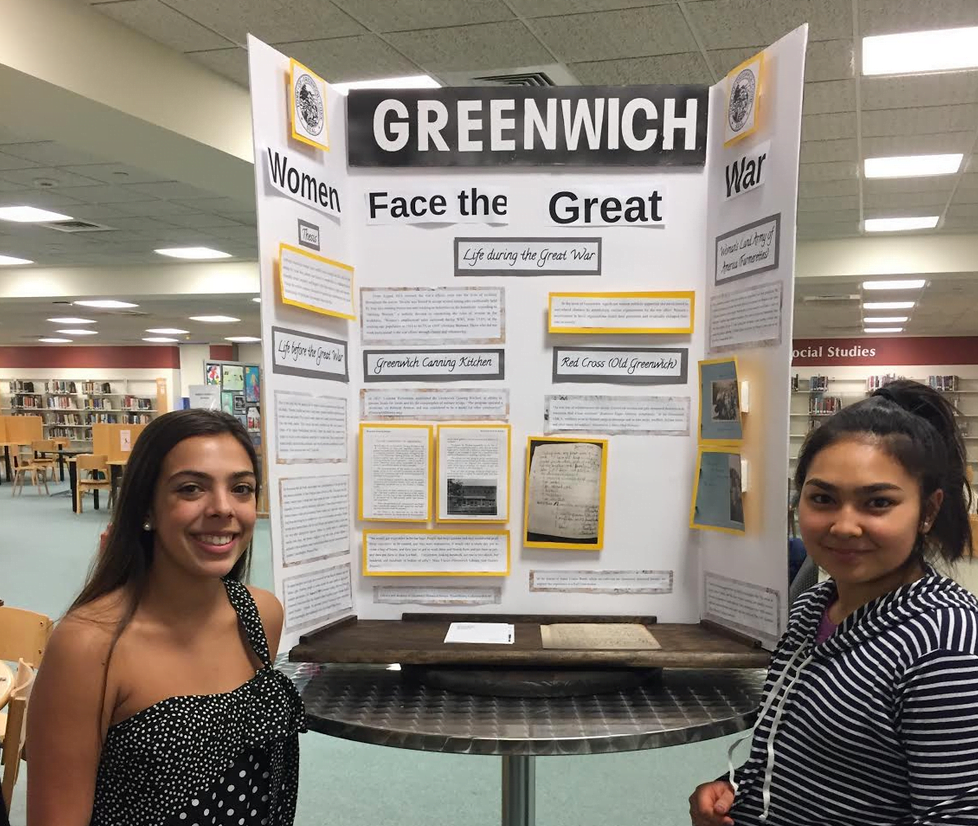 Regional Competitors:
"The Real Cost of Nuclear Energy" A documentary by Charles Achoa, Julian Ribushofski, Tyler Rozmus
"The Forgotten Inferno: The UpStairs Lounge 1973"  An exhibit by Lucas Brien, Aditya Malhotra, Evan Pey, Isabella Sampedro
"Making W.A.V.E.S in World War II" An exhibit by Jessica Toscano, Ridge Muskus, Jessica Neri, Alexandra Cid
"The NACGN and ANA Merger: Conflict and Compromise" A documentary by Kathryn Papas
"The 38th Parallel in Cold War Korea"  An exhibit by Mark Lorenz and James Mair
"Conflict in the Vietnam War, Compromise in Humanity" An exhibit by Iven Zegers and Will Taki
"The Battle Without Guns: The Story of the Miracle on Ice" An exhibit by Max Leite and Preston Bitteker
"The Columbine Shooting: Conflict and Compromise Over Gun Control" An exhibit by Kaija Tschakert
"Did Cold War Technology Help or Hurt the World?" An exhibit by Daniel Thivierge
Regional Winners:
3rd Place Individual Documentary: "The Space Race: How Conflict on Earth Compromised the Dominion of Space" by Liam Brinton
2nd Place Group Exhibition: "Greenwich Women Face the Great War" by Sophia Fernandez & Sydney Harris
1st Place Group Performance: "Barbara McClintock: Jumping Over Conflict and Creating Compromise to Expand the Knowledge of the Genome" by Flora Dieveich, Sofia Dodaro, Katherine Hurst, Nicole Wood,
2nd Place Group Performance: "Society's Compromise is a Whole New Crime: The Rape of Recy Taylor" by Sophie Anderlind, Jody Bell, Nina Hirai
3rd Place Group Performance: "The Questions We Didn't Ask, The Stories They Didn't Tell: How Equality and Identity Were Compromised Under 'Don't Ask, Don't Tell' Arianna Ceppi & Gracie McCooe
1st Place Individual Performance: "The Pentagon Papers: An Inner Conflict, An External Compromise in American Values" by Emma Olmsted
See also: Innovation Lab Student Projects Are Impressive at Bruce Museum