At Tuesday's Community Service Awards Ceremony, Old Greenwich School Principal Patricia Raneri opened by event by acknowledging the 20′ banner across the stage quoting Mohandas Gandhi: "The best way to find yourself is to lose yourself in the service of others."
The history of the awards dates back to 1986 when 13-year Superintendent of Greenwich Public Schools Ernie Fleishman was at the helm.
Superintendent McKersie credited Fleishman for elevating community service in our schools. "Ernie you have a legacy of us being a district known for caring," McKersie said. "Community service is the embodiment of caring."
McKersie said this year's Fleishman Award winner, John Clarke, will attend Duke University next year and mentioned that Clarke had put community service into perspective the previous day at a luncheon. "It's not what we do. It's who we are," Clarke had told McKersie.
Former superintendent Fleishman recalled how back around 1985 or 1986, "We came to the conclusion that community service needed to be put up on a pedestal. Now, I'm active in sports. My three kids who went through Greenwich Public Schools are active in sports. But when I see signs that say Greenwich: Home of Sports Champions, I say to myself, when are we going to honor and put up on a pedestal another set of champions? That is the background for the establishment of these awards. What you put up on a pedestal and respect is what you get."
Fleishman introduced GHS senior John Clarke, recipient of the award named in the former superintendent's honor.
For the past four years, Clarke served on the Abilis Youth Board of Directors, collaborating with area high schools to implement programs for students with disabilities. He is also a six year volunteer of the Challenger Baseball team and head coach of the Special Olympics Unified Sports program at HGS. Also, as President of the GHS Hand-in-Hand Club he leads student volunteers and coordinates fund raising and school service projects with students with and without disabilities. Clarke is co-Founder of the Come Together Cub at GHS and a prominent leader in the GHS Names Day Steering Committee.
Headmaster Dr. Winters said that at GHS community service abounds, and is deeply embedded in the vision of the graduate. Winters said that at least 48 clubs identify themselves as performing service in the community.
Attending the ceremony was Greenwich Police Chief Heavey, Greenwich Schools principals and administrators, BOE members, several RTM members and representatives from local non-profits.  State Rep. Fred Camillo traveled straight from Hartford and joined BOE Chair O'Neill, McKersie and former Superintendent Fleishman on stage for the presentation.
The Greenwich High School Awards:
Raquel Ireifej from Bella House
Sabrina Manero from Cantor House
Chandler LaSorsa from Clark House
John Dyment from Folsom House
Benjamin Albano from Sheldon House
Middle School Awards:
Genevieve DeWinter from Central Middle School
James Chang from Eastern Middle School
Rene Jameson from Western Middle School
Elementary School Awards (Elementary School Students represent their Schools)
Quinn Patterson from Cos Cob School
Vanna DelVecchio from Glenville School
Gracen Barter from Hamilton Avenue School
Charlie Decker from The International School at Dundee
Yahaira Velecela Arroyo and Ralph Bologna from Julian Curtiss School
Ila van Shaik from New Lebanon School
Samuel Chard and Jonathan Doyle from North Mianus School
Caitlin O'Brien and Lillian Saleeby from North Street School
Caroline DesChamps and Sacha Norton from Old Greenwich School
Elizabeth Garten and Clay Robinson from Parkway School, and Elizabeth Cook and Madeline Cook from Riverside School.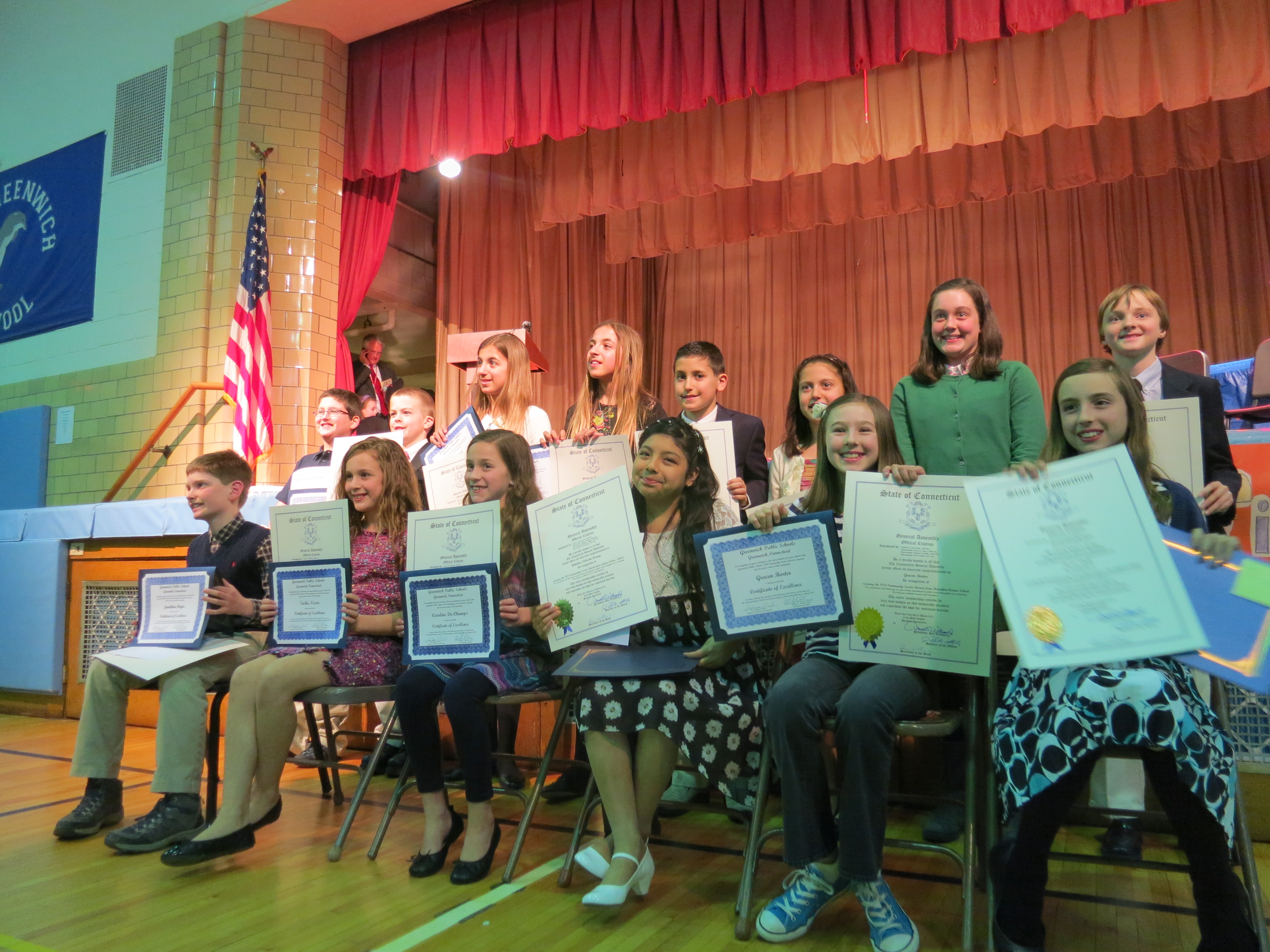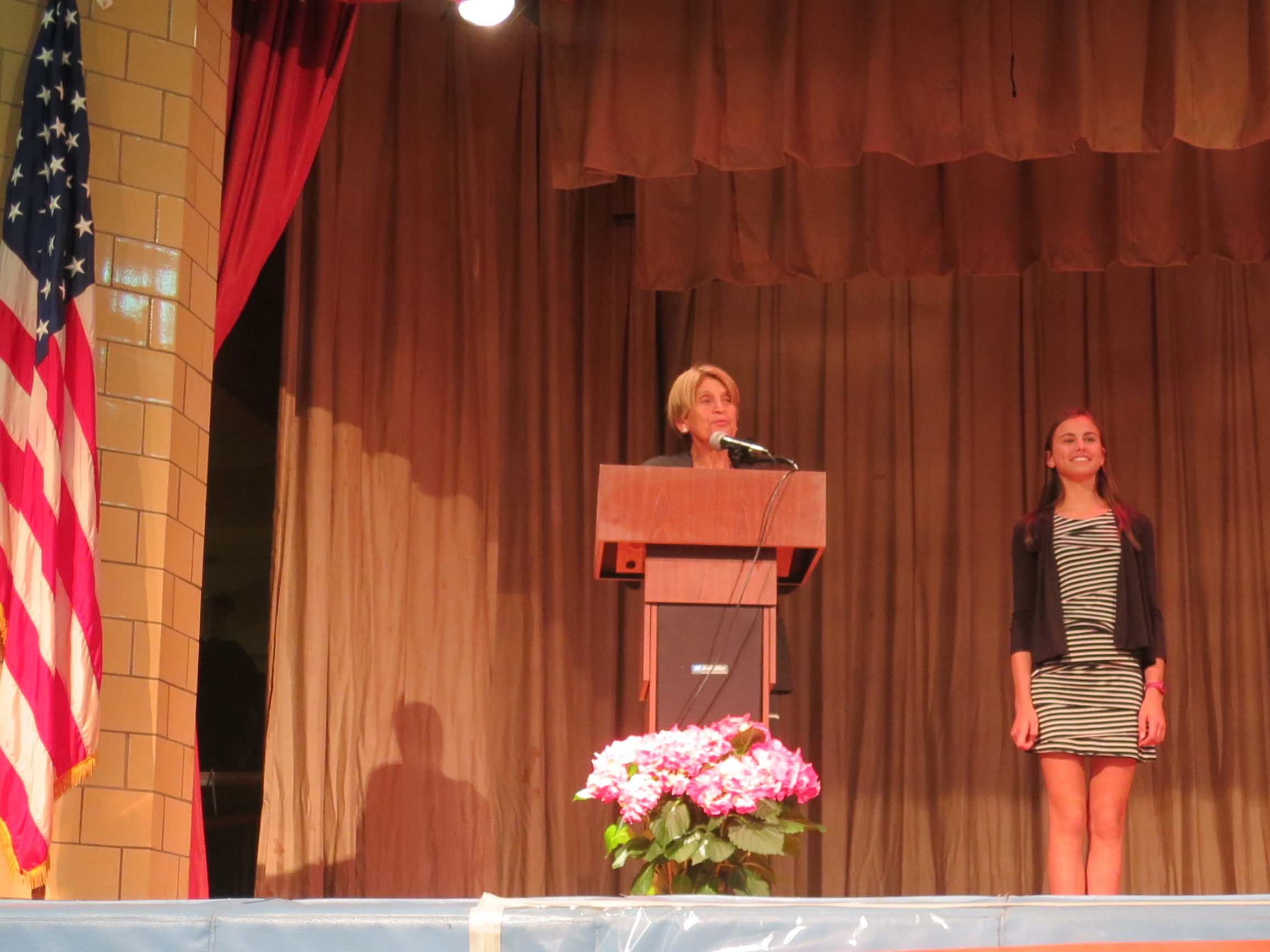 ---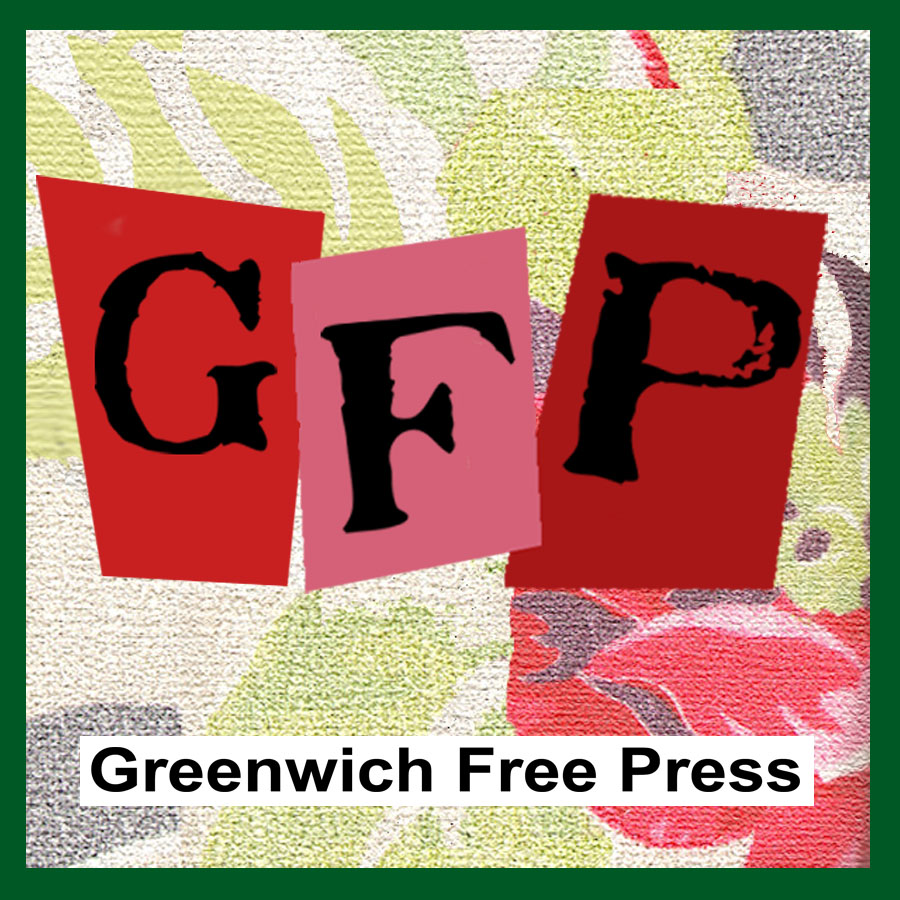 Like Greenwich Free Press on Facebook.
Email news tips and spring photos to Greenwich Free Press  editor [email protected]