At Thursday's Board of Education meeting GHS senior class president Javier Serra said it was bitter sweet news that Standing Room Only, better known as SRO, would not take place in 2022 due to a lack of sign ups.
"Miss Foster and the SRO chairs worked tirelessly to recruit participants for this longstanding GHS tradition," he said. "But based on a student survey there was just not enough interest."
"While this may be somber news to many here tonight, we are committed to creating a new tradition, where the whole senior class will come together before the curtain closes on our time at 10 Hillside," Javier added.
SRO was a decades old tradition that started when GHS was located on Field Point Road. Every year hundreds of seniors participated in the show, which was written, directed, choreographed and performed by students.
Originally called Senior Vaudeville, the show served as a fundraiser for the senior class and was often used to offset the price of prom.
It seemed, every year, the skits reflected the travails of the day. With hindsight, the complaints seem like minor inconveniences.
In 2014, with the SRO theme of 'A Series of Un'14Ate Events,' students performing in "the old auditorium" poked fun at the illicit trade in parking permits that resulted when MISA construction meant juniors lost the ability to park at school.
In one skit, student protesters, fed up with endless construction, carried "MISA Stinks," posters past then headmaster Dr. Chris Winters. Moments later, a student dressed as a giant ball of construction dirt chased Dr. Winters across the stage.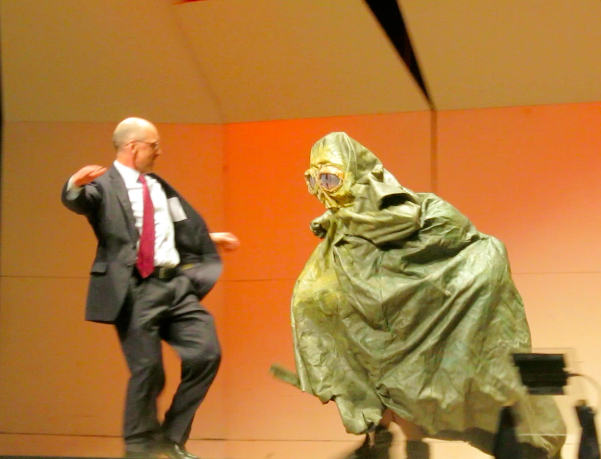 In 2016, students did a tribute to the history of SRO, with a slideshow including photos from decades of shows.
The class of 2020 performed their '2020 Vision' themed show on March 5 an 6, just in the nick of time. The onset of the pandemic upended plans, and the district shut down on March 12.
Then, sadly, there was no show in 2021.
But even prior to 2020, participation in SRO had been on the wane.
Some believed the reason was lack of school spirit, but it's more likely that students have so many activities to choose from, and they simply have less free time.
Similarly, after the marching band requirement ended for band students and people missed seeing them in the St Patrick's parade, there were suggestions of a lack of school spirit. But, then the Cardinal Crazies popped up, initiated by students.
On another note, Javier told the board he was excited about their unanimous vote to make masks optional in schools effective March 1, 2022.
"Considering our high vaccination rates and low cases, I'm looking forward to seeing everyone's faces again," he said.
Student body president Kwame Boateng said many students were happy about the board's decision to make masks optional.
"I am personally thrilled to see everyone's faces after what seems like an eternity," he said.
"However, it is equally fair to say that our feelings are not necessarily the norm," Kwame added. "While many students have been eager to move forward and are dealing with Covid, many are still scared about a possible future of unknown variants and spikes in cases. While some may think that making masks optional will polarize our student body, I'm more than confident that empathy and understanding will supersede their vision."
"If we can take anything away from the past two years of this pandemic, it would be our community's capacity to sacrifice and care for one another and the common good," Kwame added.
The student body president responded to the state-mandated homeroom classes that were added to schedule this year.
"It's intended to create bonds that last the duration of high school," he said. "In many aspects homeroom works to achieve this goal, with activities and resources provided by the administration. However, Greenwich students believe there is an opportunity to make improvements. If the fundamental purpose of a homeroom is to build a more intimate community within our larger GHS community, then the activities should be casual and meaningful for students to enjoy collectively."
Kwame suggested playing a game of UNO or charades with peers would result in a closer knit community, rather than individually completing assignments that have little connection to the GHS experience.
Greenwich Schools teachers union president Lil Perrone echoed Kwame's sentiment about the importance of kindness and compassion.
Ms Perrone said she too was glad about the mask optional vote.
However, she said the entire community had been in a state of trauma for the past two years.
"I don't think we can just flip an internal switch and say all is well as if nothing happened," Perrone said. "We need to engage in conversation and check in to see how well we all are doing. …We have all witnessed trauma and division that has happened in our community. Everyone has suffered in some way."
Perrone said every family had a different situation and younger children may not understand the turn of events.
"We may not know what know what is going on in each individual's home or with family members, of parents, students and teachers who are health compromised. Our younger children may not understand. In speaking with a few parents they shared how they told their children it was okay to take their masks off, but their children still said they wanted to keep it on. Is that fear? Anxiety?"
"Things are not back to normal," Perrone added. "We need to be there as a community of caring humans and support all through the transition."