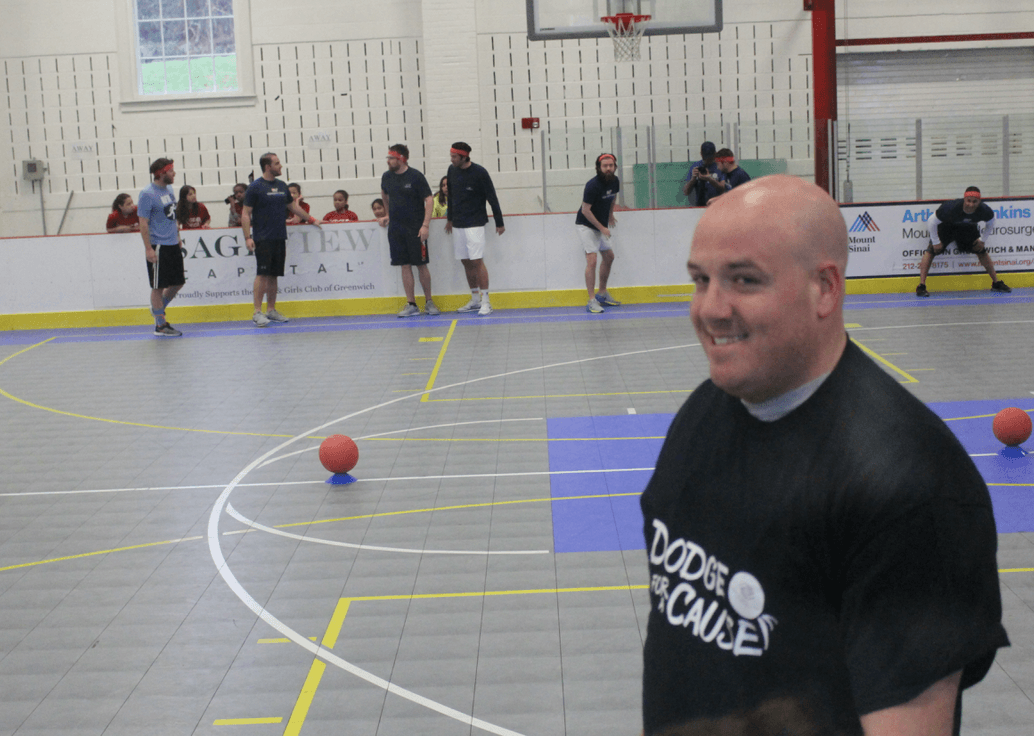 The Boys & Girls Club of Greenwich Torch Club is hosting its 4th annual Dodge for a Cause tournament this Saturday, March 23, 2019 in the Field House.
Teams of Police Officers, Fire Fighters, GEMS, Teachers, Club alumni, coaches and local business owners will have a chance to relive their childhoods in a game of Dodge Ball.
The Torch Club is a chartered leadership group for middle school-aged boys and girls. This national award-winning group elects officers and works together to plan and implement activities based on service to the Club and the community.
The tournament starts at 11:00am with check in at 10:15am, and will last until just one team is left standing.
Participants will receive a custom t-shirt, food and drinks. The event takes place in the field house and gym at the Club on 4 Horseneck Lane in Greenwich.
This year's winning team will receive $1,000 to donate to an organization of their choosing.
Catalano & Sons, the 2018 Dodge Ball champions donated their prize to Adopt-a-Dog.
Every year, Torch Club members choose an organization to raise funds for. In years past, they raised money for the Hanna Storm Foundation, Abilis, and K9s for Warriors.
Camyrn Ferrara, the Club's athletic coordinator and Torch Club Advisor, explained that, "Torch Club members love this event because they like to work together and help the community."
A percentage of the money raised from the tournament will go to support the Torch Club's leadership programs and activities that offer them a chance to travel to regional leadership conferences. The remainder of the money will be donated to the Club and the winning team's non-profit of choice.
Registration to play is closed, however Torch Club members eagerly invite spectators to come and cheer on players.
The Torch Club thanks all the event's sponsors: PepsiCo, Garden Catering, Corbo's Corner Deli, Gville Deli, Fire House Deli, Shoreline Video Productions, Greenwich Fire Department, Greenwich Police Department Silver Shield, Pizza Piazza & Ice Cream, Joey B's, Marullo Brothers LLC, Sal Sabia Electric, J. Catalano and Sons LLC, Sam's Bar & Grill, Bella Nonna, Nitron, Sam's Bride Nursery, Famous Greek Kitchen, Personal Touch Carpet Cleaning, Brother Jimmy's, Troy's Nursery, All Sports Apparel, Seabass Events & Entertainment, Ben Romeo Company LLC and Peralta's Elite Limousine