On Friday in the throes of rush hour in downtown Stamford about 125 people turned out for a rally organized by Shira Tarantino in opposition to a series of highly restrictive abortion laws in multiple states aimed at overturning Roe v. Wade, the landmark Supreme Court decision that legalized abortion nationwide.
Several states have passed anti-abortion legislation this year, including Alabama's new law mandating a near total ban on abortion, with no exceptions for rape or incest.
Many protesters carried signs featured the image of a wire coat hanger, a symbol of a time when abortion was illegal and desperate women took drastic measures to terminate pregnancies.
Among the mostly crowd on Friday was Julia Dzafic of Stamford, who said, "I don't want my daughter to live in a world with fewer rights than I have."
Greenwich Academy students Maya Walker and Bella Subramanian, both 17, said they are yet to turn voting age, but are passionate.
"It's so important for people our age to get involved. Though we can't vote, our voices will change the world later," Bella said.
"If it's going to effect anyone, it'll be us," Maya said of new laws restricting abortion. "Now is as good a time as ever to start fighting for what we believe in."
During remarks, Stamford Mayor, Democrat David Martin said, "Here in Stamford, the Planned Parenthood clinic is welcome, and I will do everything in my power to defend that clinic and the rights of people who want to go to that clinic."
Connecticut Attorney General William Tong said America's system of healthcare for women is under attack and he is fighting also fighting in defense of Title X, (the US Program for Affordable Birth Control and Reproductive Health Care), which was codified in statute decades ago as the US system of healthcare.
"This is not a principled argument about policy. This isn't just a debate about abortion. This is a war on American women," Tong said.
"If I was in Alabama, I'd just say, 'What is Wrong with you! Do you not see that young woman, and her family, and her life and her future? What is the point of denying her every option afforded to her under the law and in the practice of medicine? Do you not feel for the victims of rape and incest? Do you not see the damage you are doing to their families? That's what I would say." – William Tong CT Attorney General
Danielle Eason of Planned Parenthood of Southern New England, said the new highly restrictive abortion laws are dangerous, harmful and illegal, and have created a nationwide crisis.
Referring to Alabama's law banning abortion at just six weeks into a pregnancy, Eason said, "Six weeks is before most women know they are pregnant."
"Extreme abortion bans go beyond just rhetoric," Eason continued. "They put lives at risk and will disproportionately impact women with low incomes and those of color."
She said currently, one in three women of reproductive ages – 25+ million – live in a state where abortion could be outlawed if Roe is overturned.
"People's health and safety should drive medical decisions, not a politician's extreme and misogynistic beliefs." – Danielle Eason, Planned Parenthood of Southern New England
State Rep Matt Blumenthal (D-147) whose district which includes parts of Stamford and New Canaan, said, "You don't respect women if you deny them the the accurate sex education that they deserve. You don't respect women if you try to put the law between a woman and her doctor. You don't respect women if you lie about the medical practices around reproductive health care in order to make a political point. …You don't respect women if you're lying to them in their hour of need about their most intimate decision."
Blumenthal said he was pleased that on Thursday the House passed H.B. 7070, An Act Concerning Deceptive Marketing Practices of Limited Service Pregnancy Centers
"So that no woman goes to get the health care she needs and instead is lied to and deceived out of the healthcare she deserves," Blumenthal said. "In order to be free and equal people, women need to be able to control their own destinies."
State Rep Caroline Simmons (D-144) whose district is in Stamford, said Alabama's new law that sends abortion doctors to prison for life with no exception for rape or incest victims is barbaric.
"If a woman is raped and impregnated by that rape, she would have no choice under Alabama law but to deliver that rapist's baby," she said. "That is barbaric and sickening and unjust, and is not who we are as a country."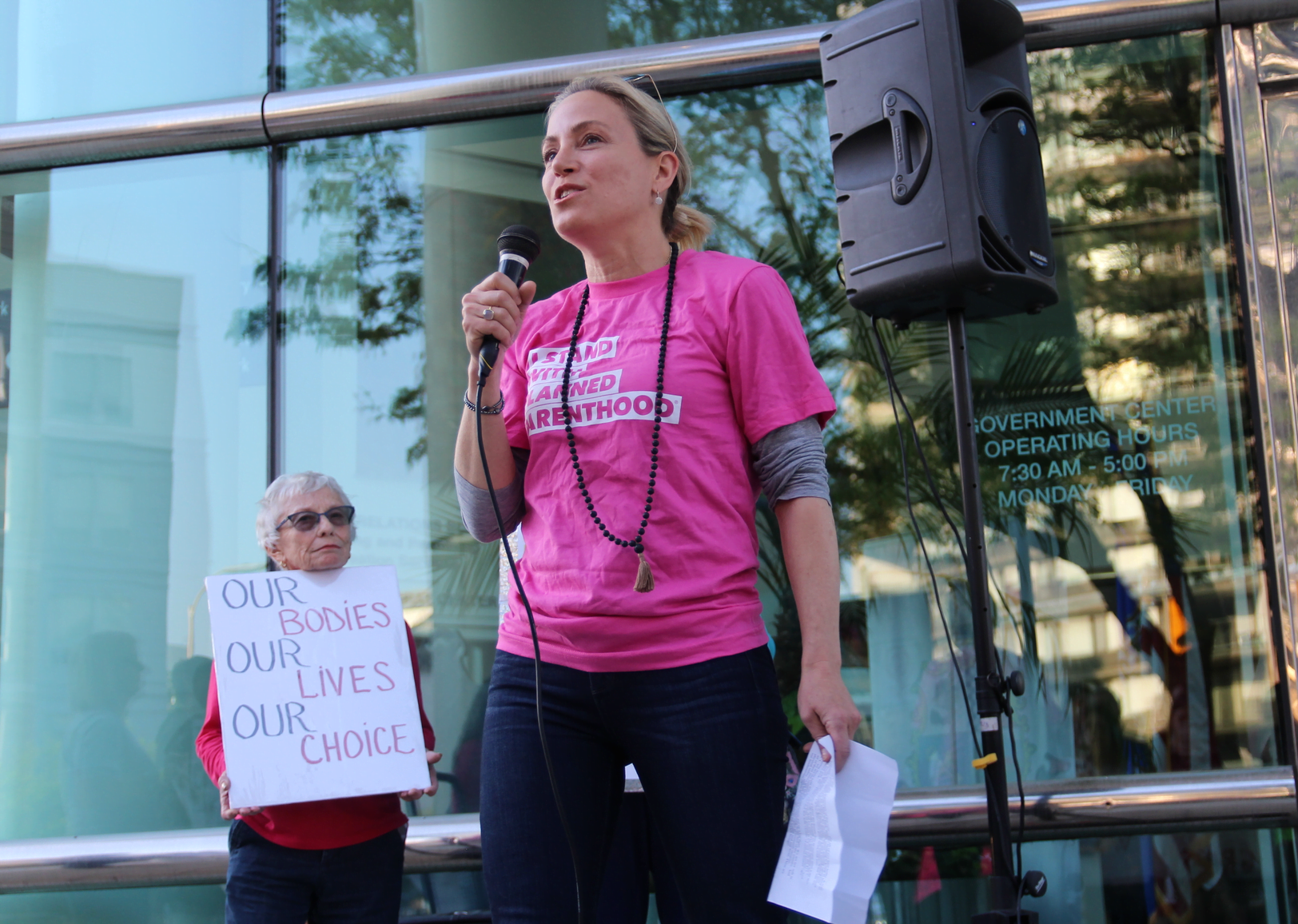 State Senator Alex Bergstein who traveled straight from Hartford to Stamford, said the fight for abortion rights is part of an overall fight for women's rights.
"We are here fighting for justice, fighting for equality, fighting for the freedom to choose how we spend our lives, what we do with our bodies, how we care for families – that is our inalienable right," she said.
Bergstein said that on Friday at 2:30am and 3:30am in Hartford, two bills were passed to safeguard women's rights.
"It was not easy," she said. "The first was for a $15.00 minimum wage, which followed an 8-hour filibuster by opponents of the bill who had all sorts of anecdotal evidence that apparently people who work at Starbucks and Dunkin Donuts do not want their wages raised."
"By raising the minimum wage to $15.00, here's a fact: We will lift 50% of the women in Connecticut living in poverty out of poverty."
She said at 3:30am, a bill was passed called 'Time's Up.' "It tells anyone who is a victim of sexual assault, 'We believe you,'" she said.
Bergstein said the minimum wage law and 'Time's Up' law are tied together with reproductive rights.
But, she said, "We are not safe – an 8 hour filibuster of these bills proves that The opponents were glorifying the past, talking about how great our country was 100 years ago, conveniently forgetting that our economy relied on slavery and unpaid labor by every woman in this country."
Bergstein went on to say the best way to prevent abortion is to promote contraception.
"Contraception everywhere for everyone, and every time. That's how we prevent abortion. If a state wants to criminalize unwanted pregnancies, they should criminalize the perpetrator. The woman does not impregnate herself. But the best policy of all is to trust women."
Meghan Holden, communications director for the ACLU of Connecticut, said the abortion bans in Alabama, Georgia, Mississippi, Missouri and Kentucky are all troubling.
"Abortion is health care. Abortion is a moral good. Abortion is a legal right and abortion is a human right. Reproductive freedom means the right to decide about our own futures and our own lives," Holden said, adding that wherever abortion access is restricted, the people hurt hardest are people are the vulnerable – people of color, LGBTQ people, people with disabilities, people in rural communities and poor people.
"Our sister ACLU affiliates across the country are standing up against state legislatures to tell them that if they enact unconstitutional and cruel bans on abortion, the ACLU will see them in court," she said.
Riley Morris, a senior at Stamford High School, said, "When you walk into a Planned Parenthood, you could be surrounded by people calling you a murderer, a barbarian or a killer," she said. "You all know about the laws passed in GA, AL and soon Ohio. But why would these laws pass? Seeking abortion was already hard enough, and now women have to face prison time or a baby – or in some cases, in the inevitable case of illegal abortions, death or a baby. Why did the men and women in Alabama pass these laws, may I ask, knowing the outcome – knowing that women will die because there will be no safe abortions."
"These men and women who signed the laws want to systematically dismantle the rights of women we were given in Roe V Wade to disenfranchise women who are not white, rich and Christian," Riley said.