With the Nov 2 municipal election moments away, we sat down with both Republican Fred Camillo who is seeking a second term as Greenwich First Selectman, and Bill Kelly, his Democratic challenger.
Interviewed in his office at town hall on Friday, Camillo said he anticipated his first two years would be defined by both his leadership during the 100-year pandemic and the 500-year flooding.
"There were super storms, but there was also civic unrest that touched Greenwich," he said, reflecting on his time. "We went down there and met with (protesters), and some even became friends."
"Just as everything in 1918 was over shadowed by the Spanish Flu, I think our reaction to it will be how we're judged. I'm very proud of how we responded and how we came out it," Camillo said.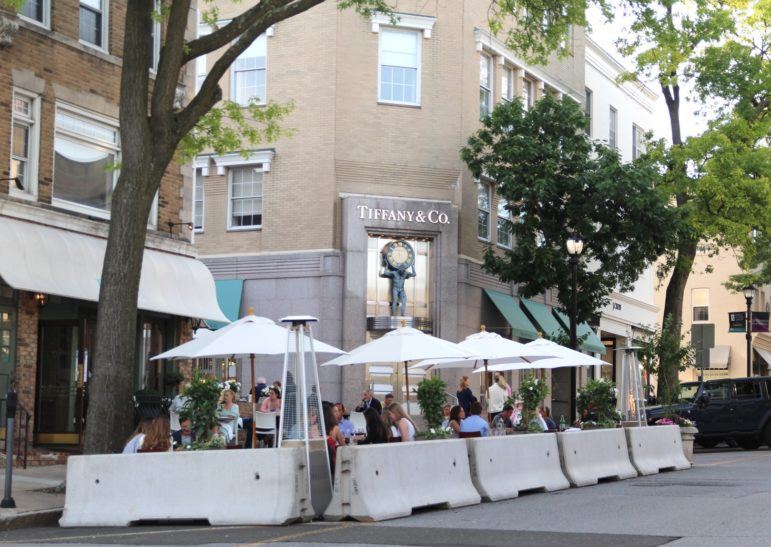 Camillo said in addition to his leadership during the pandemic and response to historic flooding, he hoped residents would acknowledge other more long lasting accomplishments including the implementation of outdoor dining and the Greenwich Land Trust's acquisition of 73 acres of open space.
"That was a public-private partnership," he said. "It will be enjoyed for generations to come."
Further, he said there were numerous smaller public-private partnerships on his watch, including the planting of thousands of bulbs that will flower perennially in the island at the foot of Stanwich Rd at Putnam Ave, and the e-bikes donated to the Greenwich Police Dept.
"It's all about taking advantage of opportunities presented and getting things accomplished that people will enjoy both in the future as well as in the present," Camillo said.
Camillo said long standing issues had been addressed and building projects were set to commence including construction of GEMS station 4 and the Eastern Greenwich Civic Center.
Also, he said a new blight ordinance was implemented.
"It's done and functioning," he said. "We've actually had several properties cleaned up."
Camillo mentioned a property on South Water Street in Byram that was cleaned up.
"Everyone on the street called and the owner got so nervous, they sold," he said. "We have other (blighted properties) that have and are receiving notices in the mail telling them they have a certain amount of time to clean it up. Otherwise fines will start."
Camillo said the ordinance has also addressed situations in which people are hoarding and putting things in their front yards.
"We even had one person parking a vehicle on town property for years – they're supposed to be moved every 24 hours – and that has now been resolved," he continued.
Camillo said that one blighted house, half of a two-family on William Street in Byram, had been cleaned up.
He said a blight committee had been formed and worked with the town's zoning department.
He explained that with the blight ordinance in place, the process is such that the zoning department will issue a letter giving the property owner a warning.
"They'll work with you, but if you ignore it, the fines will start. Things are getting things cleaned up now, which is good," he said.
Camillo said he was also proud of his efforts toward public safety, which he said had been his biggest priority when he was a member of the state legislature, serving as State Rep in the 151st district.
"It was my biggest priority then, and it continues here as First Selectman," he said. "We're elevating what's already great police and fire departments, an striving to make them even better."
Locally, Camillo said he'd also overseen the installation of crosswalks and sidewalks in neighborhoods that don't have them.
"On Shore Road in Old Greenwich they're doing both sidewalks and crosswalks," he said. "We're working with residents to explain the process.They've been great – they've done their research and reached out to involve their entire neighborhood."
"Other people have reached out and said paint had faded on crosswalks. We're working on that too," he added.
"We had lots of other neighbors in Glenville, Water Street in Byram and Palmer Hill (in North Mianus) where sidewalks were in disrepair," he said. "There wasn't even room for strollers. We worked with the neighborhoods and got it done."
"The residents of each neighborhood are reaching out to me at my office. They're meeting with me, having departments meet with them and fixing problems. Everything is a process and it will get done."
Continuing on the theme of pedestrian safety, Camillo pointed to improvements at the intersection of Greenwich Avenue and Elm Street, which followed the removal of police directing traffic.
He said the redeployment of police assets to the bike unit and ORCA undercover unit, had been a tremendous success.
He said that in the pilot intersection at Elm Street, where the first bump out was installed, the distance pedestrians have to navigate to get safely to the other side had narrowed.
The intersection is now raised in the middle, forming something of a speed hump that slows vehicular traffic.
"We're looking into other intersections to do that, where we can both beautify the area an enhance public safety," Camillo said.
Asked about whether the bump-outs gave pedestrians too much confidence vis a vis cars, Camillo said, "We've always had that."
In fact, he said, "The last time a pedestrian got hit by a car was in January 2019 in front of a police officer who was directing traffic at Arch Street."
The First Selectman said said the statistics show that the times the intersections were busiest were after the officers finished their shifts.
But in the event the Avenue gets busy, such as during holiday shopping, the bicycle unit officers get off their bikes and direct traffic.
"They engage the public and are able to respond to criminal activity, and go and jump in the middle of the road for a few minutes," he said. "It's modern policing at its best. We're really had a great record in the last year and a half apprehending criminals and deterring crime. They're a visible presence and are very mobile."
Continuing the theme of public safety, Camillo said during his first term, a restructuring of the Fire Department had gotten underway.
"The new administration came in, and I heard some of the concerns and put together a five-year strategic plan for the first time ever," he said.
The new Fire Dept Chief, Joseph McHugh was sworn in in August 2020.
"Also, for the first time, we received an upgrade from ISO," he said.
ISO is a leading source of information about property/casualty insurance risk.
"They work with 48,000 municipalities across the country. ISO gave Greenwich the second highest rating, which put us the 99% percentile," Camillo continued, adding that the town might have achieved the 100th percentile, except the fire department is structured as a combination of career and volunteer firefighters.
"We have the highest possible rating we can have," he said. "As well protected as we are though, we're not satisfied. That's why we're doing the five-year strategic plan, and why the police department is doing the first ever police community advisory board."
"We luckily weren't forced to do it," he added. "We're doing it on our own accord. We want to be sure we have an even better relationship with the public, but we want whoever is on the Board of Selectmen, which serves as the police commission, to have to go through the citizens police academy."
That way, he said, members of the Board of Selectmen will be more informed before "sitting in judgement."
"I'm going to do the full course in the spring," he said. "I've already done ride-alongs."
"We're going to make sure, for those who have an issue getting there, we'll try to open up a Zoom option. We want a broad pool of people from all sections of town," he said.
As for energy policy, Camillo said the Selectmen's Energy Management Advisory Committee had submitted a report.
"Not only to make Greenwich more green, but also to save money," he said, adding that EV charging stations had been added to the lower level of the town hall parking garage."
Municipal Solid Waste – MSW
"We said we'd try to get the MSW down, and we've already implemented a new food scraps program and a textile recycling program," Camillo said. "We also wanted to tackle the $5 million MSW hole. Almost all of that is closed, except roughly $300,000."
The First Selectman explained that while previously Greenwich received money for its single stream recycling, the town now has to pay to have it removed.
"If we'd done nothing, it would have been part of your taxes," he said, adding that the process was transparent. "We put out there two possibilities: Pay as You Throw (PAYT) and tipping fees, which they accepted."
"It also cut down on municipal solid waste because some of the haulers started going to Stamford where it was cheaper," he said. "Also, some schools and non profits who weren't paying previously now have to pay for (to dispose of their MSW.)"
"We're making progress," he said. "Not everyone is happy, but you want to be honest."
See also:
Bill kelly story