At Thursday's Board of Selectmen meeting First Selectman Fred Camillo asked to add an item to the agenda: the extension of outdoor dining to Dec 21, which is the weekend before Christmas.
In the long run Camillo has said he hopes outdoor dining would run April 1 to December.
Town attorney Vin Marino said it was proper to add an item to the agenda of a regularly scheduled meeting by way of motion with a second in favor.
Camillo gave a update on outdoor dining on Greenwich Avenue, saying restaurateurs had reached out with feedback.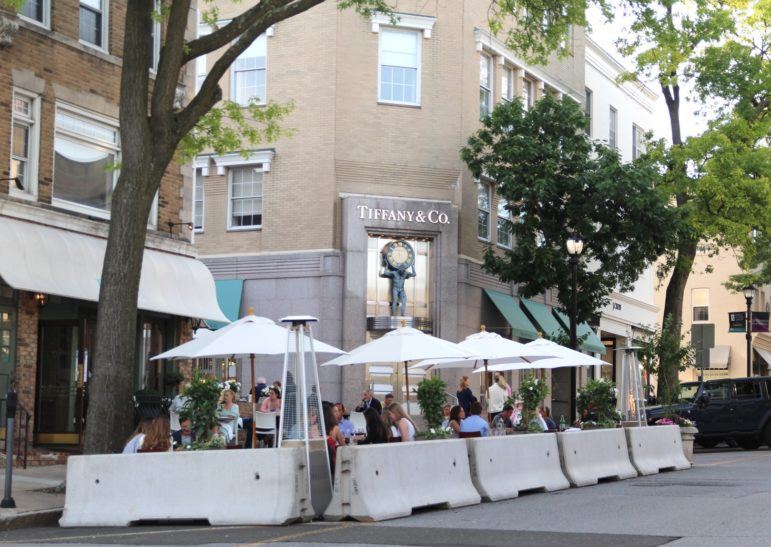 "They really like being able to be outside and offer outside dining. It's been our plan all along to make this a permanent part of the Greenwich landscape in all our business districts to do so, but we have to let them know sooner than later about this year so they can start preparing and then circle back and vote on making it permanent."
He said rather than wait two weeks to put the item on the agenda in advance, adding it immediately to the July 22 agenda would give restaurant owners reassurance and ability to plan ahead for fall.
Camillo made the motion to add the item to the agenda and Jill Oberlander seconded it.
Camillo said the Governor's executive order on outdoor dining goes through September 1, but he expected that to be extended.
"We want to let them know so they can start preparing for the fall months," he said.
"Everyone is so excited about that we probably won't have trouble making this a permanent arrangement," he continued. "It's been very successful and added a real different look and feel to the town."
"Every once in a while we get a merchant who is having difficulty and would like and adjustment," Camillo said, adding that one merchant requested that restaurant tables be removed from in front of his store. "Every time we get a complaint or concern we go down there."
"I'm a strong proponent of this plan," Oberlander said. "We talked about it last year, even before Covid."
Governor Lamont's Executive Order 7MM (May 12, 2020) made it possible to expedite the process to allow restaurants, retailers, and other small businesses to use sidewalks or other areas that are in the state's right-of-way.
Oberlander noted no one from P&Z was on the Zoom call, and wondered if extending outdoor was within the Selectmen's jurisdiction, or whether approval would come via P&Z.
The town attorney said the Selectmen's jurisdiction was limited to road closures.
He said extending outdoor dining would be a two-step process and that while P&Z grants the permits for outdoor dining, the selectmen vote on access and road closures
Selectwoman Rabin asked how outdoor dining would work on cold nights.
Camillo mentioned outdoor space heaters and recalled having gone to the Crab Shell in Stamford to eat outdoors, on the water, even after Thanksgiving.
He said some restaurant owners had asked about creating a platform to make outdoor dining a little "easier or fancier," but he said he did not want to speak for P&Z.
The three Selectmen voted unanimously to approve the continued road closure at the bottom block of Greenwich Avenue through Dec 21, 2020.
Stay tuned.