Residents have complained about the challenge of finding parking on Greenwich Avenue for decades, but it seems the pandemic and a recent turn of events have brought the issue to a head.
With so many new residents moving to town, and the popularity of outdoor dining contributing to a renaissance of Greenwich Avenue, parking spots are at a higher premium than ever.
Let's call it a luxury problem.
But for the parking garage at town hall, Greenwich has been reluctant to build parking garages. Back in the 60s the town sought to purchase the lot where Richards is to build a parking garage, but balked at the seller's asking price of $6 million, when the appraised value was $3 million.
In 1969, a proposal for a three story parking garage "designed to serve the woman shopper, a short term parker," was considered for the area of the municipal lot between Lewis and Elm Streets never materialized.
A year later Greenwich Ave was changed to a one way street and more parking was accommodated by transitioning from parallel parking to diagonal.
Before the pandemic, when there were dozens of empty storefronts on the Ave, Planning & Zoning made efforts to help, including a zoning change that eliminated the minimum distance requirements between establishments that serve alcohol. By all means this was a success.
Greenwich welcomed the hugely popular restaurants, like Miku Sushi at 68 Greenwich Ave, next to Ginger Man, for example.
Then, after Greenwich Police officers were removed from directing traffic at intersections on the Avenue, and First Selectman Fred Camillo advocated for intersection improvements featuring "bumpouts" to increase pedestrian safety, there was some pushback because parking spots would be lost in the process.
Recently, after property owners and merchants balked at the removal of spots at Fawcett and Grigg, which would have taken 13 spots out of service, that project was put on hold.
Camillo said the priority now is the intersection of Havemeyer and Arch Street, which will result in a net gain of three spaces.
200 Spots open for Downtown Residents and Merchants in 12 Hour Municipal Lots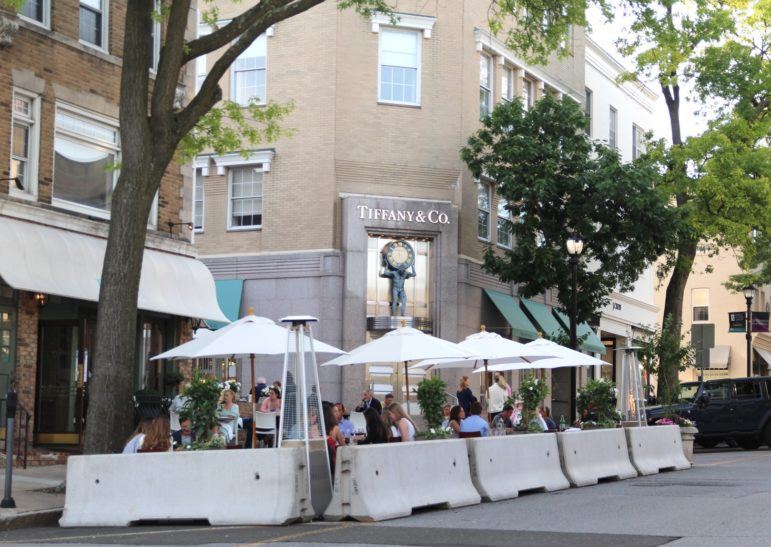 Camillo said demand for parking on the Ave has been eased by a Parking Services program that entices employees and residents on Greenwich Ave away from the metered spots by offering them alternatives in 10 municipal lots for a $725 annual fee.
"What we've done this in the last two years and opened up 200 hundred spaces because we recognized the decades old problem of employees on the Avenue feeding the meters. That takes up spaces that could be used by diners and shoppers," Camillo said, adding that 152 drivers had already taken advantage of the program.
"That's 152 spaces that have been freed up on the Avenue, and we hope that we'll get another 48 done in the near future."
Deputy Police Chief Kraig Gray, who is in charge of Parking Services, said the resident and merchant parking programs have been a success. "It's always been difficult to park for those who live and work in the central Greenwich business district, not to mention those who shop and dine," Gray said. "The time lines of short term shoppers and long term residents often conflicted, and this program has helped alleviate that conflict." Gray said the information on downtown resident parking and merchant parking are on the Parking Services website.
Freeing up Spots at Town Hall
Camillo said it might be possible to put Greenwich Avenue merchants into spots at town hall if town employees continue to with the option of working remotely two days a week.
Unfortunately, he said valet parking was not viable. "The numbers didn't work out," he said. "And one of the respondents wanted to use Havemeyer lot."
Creating Spots at the Havemeyer Building
On the positive side, Camillo noted there are some surface parking spaces behind Havemeyer that are below grade.
"My thought is you could probably get more spaces back there and no one would even know they were there," he said. "Another 20 or 25 spaces would be really big, and that's smack dab in the middle of town."
"We want to look at that independent of what happens at the Board of Education building," he said, with a nod to the idea of moving the Greenwich Schools administration to an alternate location and 'returning the building to the people,' with a café and reuse of the vacant auditorium.
"The great phenomenon of outdoor dining did take some spaces away and we want it to continue," Camillo added. "We want to make sure all the spaces are made up and then some."
Other Pressures on Greenwich Ave Parking and in Municipal Lots
In the meantime there have been several developments adding to pressures on the limited parking on Greenwich Avenue.
Last week the Greenwich Planning & Zoning commission discussed a new application to update the Greenwich Train Station and adjacent buildings along Railroad Ave. The plan is to demolish the vacant movie theater and replace it with a restaurant and retail space.
Greenwich Plaza has an existing parking nonconformity. In fact, it is deficient 100 spaces. With the movie theater vacant, the possibility of a restaurant could add to the parking demand. The commission asked Greenwich Plaza for a traffic and parking study.
Not long ago the Perfect Provenance, operating out of a charming vintage house dating back to 1912, opened as "experiential retail," with the award winning cozy "Café 47" where diners enjoyed French and American cuisine. In March 2021 the owner sought to switch from retail food use to restaurant use and a liquor license, but the business was already underparked and a switch to restaurant use with liquor would have required a more parking spaces.
The applicant sought to rely in part on spaces in the municipal lot between Greenwich Ave and Arch Street. They were declined, in part because of the precedent it would have set. The Perfect Provenance has since closed and the building is for sale.
Further up the Avenue, a mega 247-seat Greek restaurant proposed for Lewis and Liberty Way made waves at a recent P&Z meeting after a commissioner likened it to an ocean liner in Greenwich Harbor. The property is exempt from parking requirements because back in the 60s the owner gave up part of the property for creation of a municipal lot in exchange for an exemption from parking requirements. Otherwise the applicant would be required to provide 169 parking spaces for 247 seats.
"My passion here is to protect Greenwich Avenue and protect the vitality of the businesses on the Avenue," P&Z chair Alban told the applicant. "Let's not kill the golden goose."
And now there is the six story, 60 unit 8-30g affordable housing development, "J Lofts on West Elm," proposed behind the Bank of America building at 240 Greenwich Ave. The development has a total of 96 proposed bedrooms, and per the state affordable housing statute 8-30g, is exempt from local zoning, including parking requirements.
The applicant's attorney, John Tesei said they proposed a two level parking garage on the west side of the property, providing just 68 spaces and 3 ADA spaces for the 96 bedrooms. If not for 8-30g, required parking would be 172 spaces. And, while they have an agreement with two neighbors for 11 additional spaces, Tesei said they would rely on nearby municipal parking lots for resident and guest parking.
And more recently, the new Tranfo six story, 110-unit development was submitted as a pre application under 8-30g as well. It is proposed with a mix of one-, two-, and three-bedroom units and 190 parking spaces to replace a dozen old houses on Benedict Court and Benedict Place, behind St Mary Church on Greenwich Avenue.
With all the efforts underway to ease parking demand through Parking Services and create new spaces adjacent to the Avenue, one wonders will there ever be enough parking?
If the town were to build a parking garage, would people still circle Greenwich Avenue twice first before using it?
Would new municipal lots or a parking garage encourage more underparked 8-30g developments?
It seems that with parking, more solutions lead to more demands on finite parking.
See also:
How Far Would You Go for Parking in Greenwich? 1969 "Lewis-Elm Parking Deck" Idea Ditched January 15, 2015
DPW to Focus on Havemeyer/Arch Intersection; Explore Opportunities to Create More Parking and Accommodate Outdoor Dining Jan 25, 2022
Outdoor Dining Nodes on Greenwich Ave Removed for Winter; Sidewalk Dining Continues Dec 21, 2021