Outside superior court in Bridgeport on Wednesday morning, protesters held up signs in honoring "the Fairfield Five," 5 dogs who died in the care of Bully Breed Rescue president Heidi Lueders in Fairfield, and asking for animal cruelty charges to be upgraded to felonies.
Little did they know they might get their way.
Lueders, 31, had been charged with 5 misdemeanor counts of Animal Cruelty and 1 count of Criminal damage to a Landlord's Property by a Tenant, a felony.
Last November the remains of five dogs were found inside of the Fairfield house Lueders was renting. The remains of the dogs were inside crates, each a skeleton with its collar dangling.
Photos circulated on Facebook showing the skeletons, piles of trash, dog food, drug paraphernalia and dog feces inside Lueders' residence.
In January, after several weeks at Silver Hill Hospital in New Canaan, Lueders surrendered on an outstanding warrant to Fairfield Police on Jan 15.
In Bridgeport on Wednesday many of the protesters who braved the cold were seasoned animal welfare advocates who regularly attend court appearances for people charged with animal cruelty.
For people like Annette Mathews of Southbury, who rescued dogs in Bridgeport for many years, the commitment to justice requires stamina, as these cases work their way through the system painstakingly slowly, with continuation after continuation.
"We want her charges upped to Felonies," Mathews said. "This is one of the most horrendous cases of animal cruelty. Knowing that she disguised herself as an animal rescuer for her own gain, and for her own party makes her the worst kind of monster."
"You dirty a house and it is a felony?" Mathews asked? "But you torture and kill five dogs and it is a misdemeanor? Where's the justice?"
Elizabeth Saint John, who made the trip from Shelton, said if Lueders had asked for help, it would have been readily available.
"The rescue community is very strong in Connecticut and we all work to help each other. Heidi Lueders could have called any of us and we'd have stepped up to help her. Instead she did this," Saint John said. "We want justice for this heinous unthinkable crime."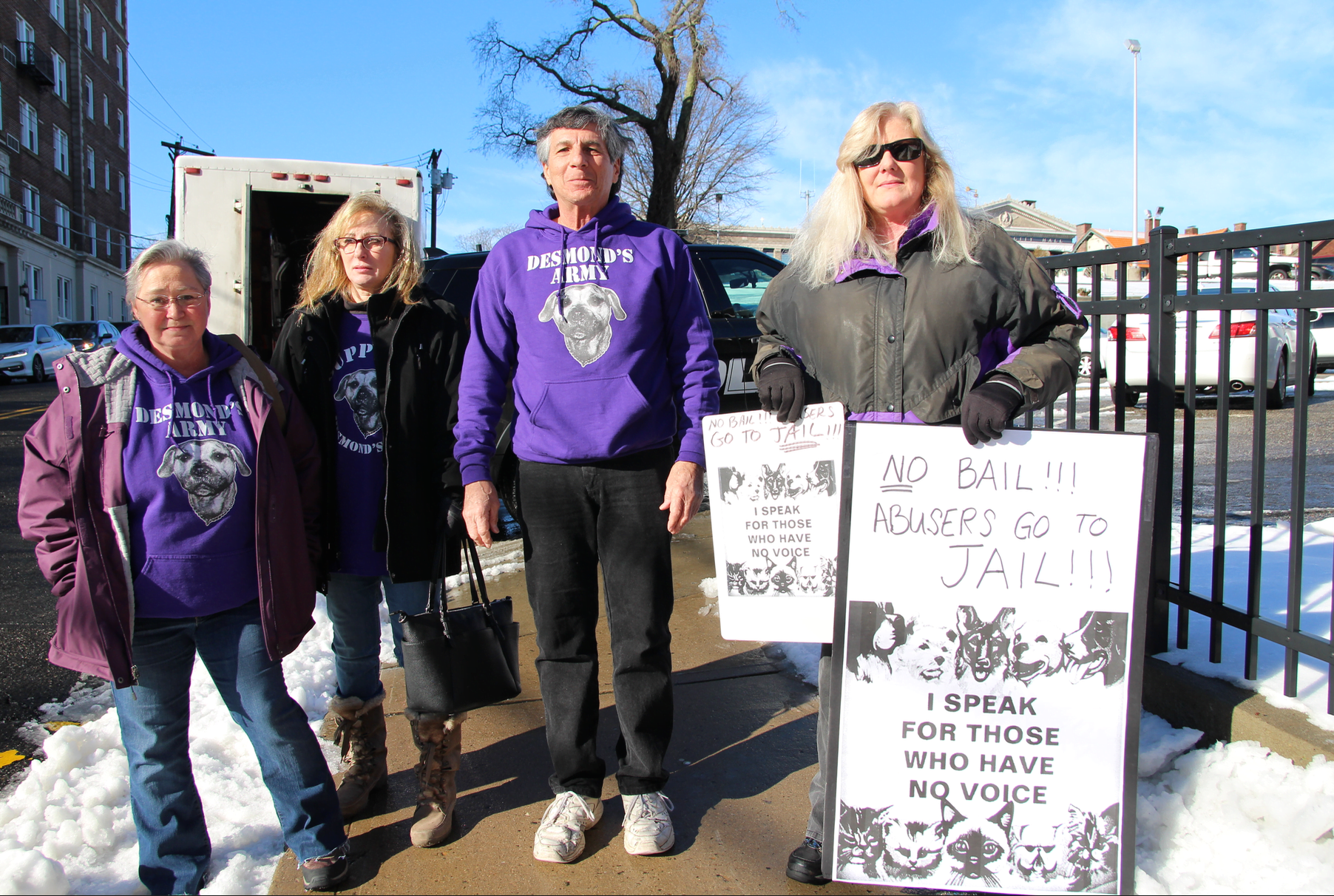 "I have five rescue dogs, including two bully breeds and I just cannot imagine the the torment those dogs endured," said Debbie Ridabock of Redding, who said she had more questions than answers.
"There are a lot holes in this story. How did so much time go by and this horrendous act not get noticed? Where did the money go? How did they (colleagues at Bully Breed Rescue) think she was an upstanding citizen if she was a strung out heroin addict? Why there are no drug charges for Lueders? Is the mom is being investigated as an accomplice?"
Heidi Lueders mother, Peggy is listed BBR's secretary according to a 2016 tax return. That year, the organization took in about $67,000 in contributions, gifts and grants, the 990 form said. Heidi Leuders was listed on the IRS form as working 60 hours per week.
Nicola Improta of Redding joined her mother outside the court house with homemade posters demanding that Lueders' charges be upgraded to felonies.
"I'm here for justice and to show support. This woman needs to be taken down with the fullest extent of the law," Improta said. "Anyone who says it was not intentional is lying. Drug abuse is no excuse."
---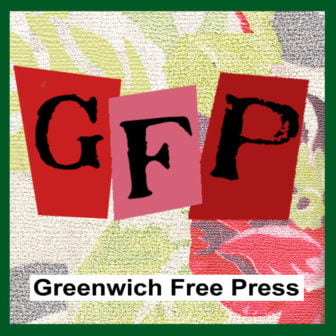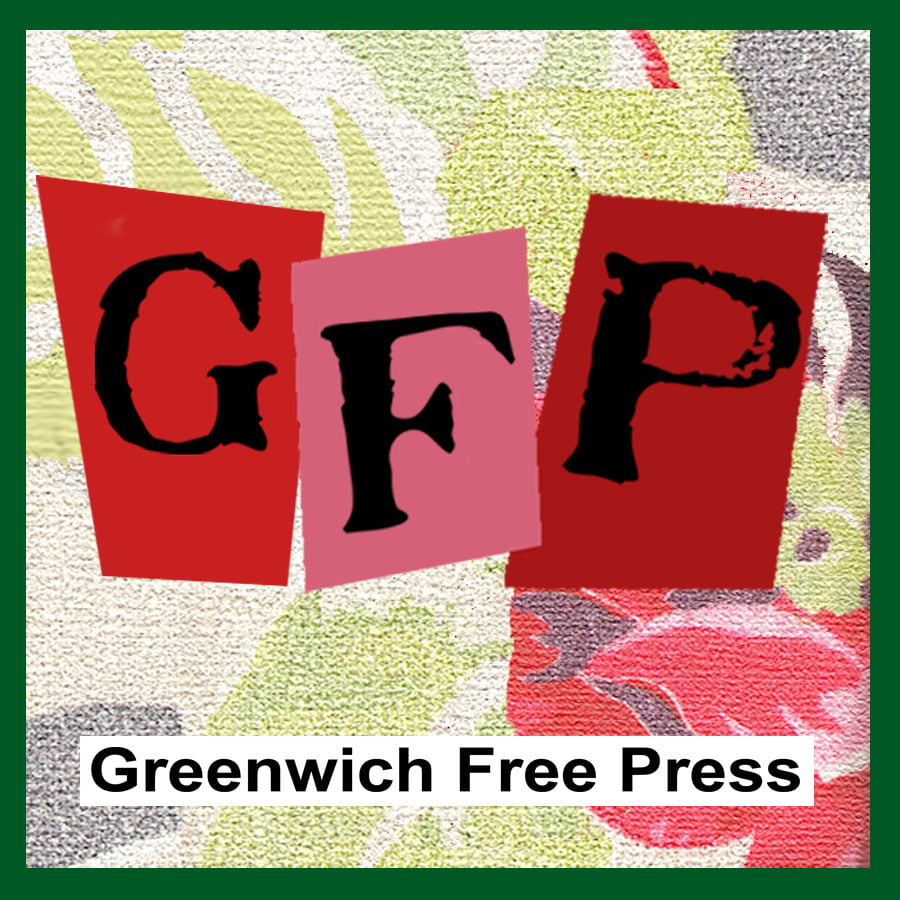 Subscribe to the GFP newsletter here.
---
Linda Pleva, part of Desmond's Army, explained why she traveled to Bridgeport from Plainville Wednesday morning.
"Justice. Justice. Justice," she said.  "Hopefully this case will set a standard. We need regulations for rescues!"
Pleva said members of Desmond's Army is group of animal law advocates, recognizable on Wednesday by their purple t-shirts and sweatshirts. The non profit group is named after Desmond, a pit bull who was tortured to death by his owner.
Desmond was a shelter dog owned by a couple. The woman became a victim of domestic abuse and decided to leave, but she couldn't bring the dog with her. She brought Desmond back to the shelter in New Haven, and he was later transferred to another shelter. Her ex, 22 year old Alex Wullaert, went to that shelter and adopted Desmond and beat and strangled him.
Wullaert was never incarcerated. He was given Accelerated Rehabilitation.
"He's a free man today. He's walking among us," Pleva said.
Pleva said members of Desmond's Army go to court for animal abuse prosecutions as a voice for the voiceless. They say there the link is well-documented between animal abuse, child abuse, domestic violence, and elder abuse.
Pleva said her organization works with Connecticut Votes for Animals and that Desmond's Law was passed in 2016. The law resulted in a program where pro-bono lawyers and volunteer law students provide investigative insight to the courts in animal abuse cases.
Several protesters echoed that sentiment, saying that had regulations been in place, Lueders' past arrest for Assault would have made her ineligible to lead a rescue organization.
In August 2015, Lueders was charged by New Canaan Police with Disorderly Conduct 3, Assault 2 and Reckless Endangerment 2 after she went to a residence to help a friend collect a debt. In that incident, Lueders let her 70 lb dog out of the car and it bit the person she was trying to collect the debt from.
Even as a petition was circulating online during January urging police to up her misdemeanor charges to felonies, Lueders was again arrested for Assault.
Just days after surrendering to Fairfield Police for the Animal Cruelty charges, Lueders was charged in New Canaan with Assault, Threatening and Disorderly Conduct stemming from a domestic dispute at her home. The police report says officers arrived there and found a family member holding Lueders down to prevent her from attacking other family members.
"The whole system failed those five dogs," Ridabock said outside court on Wednesday.
"What's so terrible is we have to fight so hard for justice," said Ms. Pleva from Desmond's Army, who waited patiently in the cold before filing past the court's metal detector.
In the court room, Pleva and other members of Desmond's Army formed a sea of purple.
Around 10:15am, Leuders stood beside her attorney before Judge Dayton in court room A.
Dressed in a white and black v-neck sweater, choker necklace, black jeans and high boots, Leuders pleaded not guilty.
The prosecutor upgraded her misdemeanor Animal Cruelty charge to Felonies, to the delight of animal rescuers throughout the state.
The judge said Lueders must have no contact with dogs, with the exception of "incidental contact" with her parents' dogs, and that she must enroll in a drug treatment program.
Leuders attorney Rob Serafinowicz said in a statement, "I hope when all the facts are out, people will see my client is not a bad person but a victim of the opioid epidemic. And this situation is a direct result of an addiction to opiates."
Judge Dayton also appointed an advocate to represent the victims. This is a result of Desmond's Law.
Lueders is due back in court on March 15, 2019.