By Olivia Luntz
The following was originally published on June 9 on the Greenwich Oral History Project blog and was written by Olivia Luntz, Greenwich High School class of 2017.
The Oral History Project, a collection of interviews with people who have helped to make or witnessed the history of Greenwich since 1890, is sponsored by the  Friends of Greenwich Library.
In keeping with the celebration of the Greenwich Chamber of Commerce's 100th anniversary, the Greenwich Oral History Project is, from time to time, focusing on Greenwich businesses. Olivia Luntz  takes up the story of Chancy D'Elia, who ran the Chancy D'Elia clothing store on Greenwich Avenue, a true landmark, from 1932 until it closed in 2005.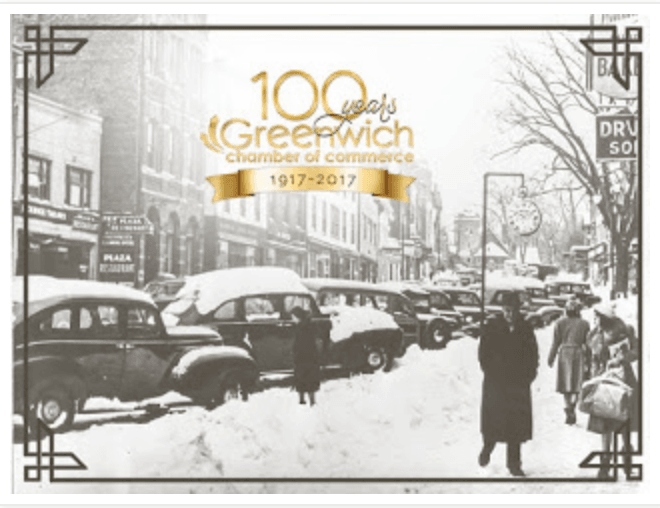 D'Elia's accomplishments are especially impressive when one considers that women were rarely involved in business when she first opened her store, and even though she faced obstacles, she did not give up but rather persevered and was able to become one of the most successful businesswomen in Greenwich.
The interview, from the Oral History Project archives, was conducted in 1975, when D'Elia's store was a booming business.
---
D'Elia was born in 1911 in Greenwich, after her parents immigrated from Italy several years before. She attended the Havemeyer School and the high school on Mason Street. After high school she enrolled in secretarial school and then went to work as a secretary at the New England Carpet Cleaning Company.
After working there for a few years, D'Elia made a dramatic change in her life.
"I was just about 21…and the thought came to me that I would like to start a little business, and then my uncle, A. V. Salvatore, who was a furrier and fine tailoring shop on Greenwich Avenue, had also a little store called Snappy Cleaners, and I asked him, one day could I put in a few ready-to-wear things," D'Elia said in her interview. "And he was reluctant, you know, for a while, and then I kept teasing him. He said, 'All right.' So I did."
D'Elia's next step was to acquire clothes for her budding business. She recounted how "On February 13, 1932, I went to New York with my sister with $270 in the bank. We bought a few skirts, dresses, and sweaters. In those days, you know, you could buy your skirt for about $2.50. You could buy a dress for about $3.75, inexpensive clothes."
D'Elia ended up purchasing "a few sweaters, skirts, and about eight or ten dresses" and put all of her clothes in the front section of Snappy Cleaners.
D'Elia observed that it only "takes … one person to get you started," and for her that one person was Hope Tyson, who bought most of the clothes D'Elia had originally picked out for the store.
Along with Mrs. Tyson, Mrs. Meany, the wife of golfer Bill Meany, also became a regular customer. D'Elia recounted their first interaction. "She had come into this little Snappy Cleaners dressed with furs from the top of her head down to her feet, and she said, 'I'm married to Bill,' and she said, 'He loves to play golf, and he wants me to play golf.' She said, 'So, what do you have for me?' So she just shed all her clothes right then and there. She put on a skirt and a top, and from then on she was another wonderful customer."
Along with the luck she had in acquiring such loyal customers, D'Elia also had quite a bit of luck when it came to buying the clothes for her store. She related how "every time you went into a wholesale house, they would ask again, 'Are you rated?' I said, 'No.' And it was a strange feeling because you couldn't buy anything; you had to be rated before they'd sell to you….So I was borrowing from the tailor in the beginning. I was borrowing from the presser, everyone. The things would be coming C.O.D."
About two years into running her store, D'Elia attempted to go to a credit house in New York City to become established, but, she said, "Nothing came of it. I think he must have had a hearty laugh after we left. He just must have torn the application right up."
However, D'Elia had a stroke of luck when she went to Boeppler Sportswear's wholesale house. "He [the owner] said to me, 'Chancy,' he said, 'I'm going to give you credit on your face value.'"
Her lucky streak continued at another wholesale house, called Harry Segal. According to D'Elia, "He had beautiful sweaters, and I was able at times to buy some sweaters off price. There were two brothers, Harry and Dave Segal, and they liked us. They knew that we [D'Elia and her sister] were perfectly innocent kids and they wanted to help us, and they started extending credit. They were both extending me credit, so when they asked me about the rating, I would say, 'Reference would be so-and-so,' and that way, between the C.O.D.'s and everything else, I was able to get established."
Thanks to the help she received from businessmen who believed in her, after about four years of operating her store out of Snappy Cleaners, D'Elia had enough money and enough merchandise to move into her own store, which happened to be right next to her uncle's own furs and tailoring store.
She described it as "a perfect move." After staying in this store for another eight years, the owner of the building informed D'Elia that he needed the building back and that her store would have to more elsewhere.
Fortunately, her uncle, A. V. Salvatore, was selling his building next door. "The Salvatore Building was an old, old building. It was the Red Cross Building at the time, about 1890 to early 1990's….In the meantime, he's torn this building down and put up a new building, and he said to me at the time, he said, 'I'm going to sell my building.' 'Oh,' I said, 'you are?' So he said, 'I want $65,000 for it.' And I said, 'Oh, $65,000.' That was back quite a few years, and I wrote to my husband right away again (who was in the Army Transport Command during World War II)….We naturally negotiated, and we bought the building in January of 1945."
Buying this building was a huge step for D'Elia and her store, and she was thankful she did decide to buy, as her store was able to remain in this same location for the next 60 years.
D'Elia explained that her business occupied a niche market in Greenwich.
"We had no competition really here, none," she said. Although she remembers other clothing stores, such as "Frances Clark, The Shirley Shoppe…[and] Favorite Shoe, Finch's, Boswell's," she asserted that her store was the only one "that was just for Greenwich women."
Her store also went through many evolutions. Of the first location, she recalled, "It was mostly sportswear in the bank building. We more or less catered to the juniors, to high school and college girls." She added, "Mothers used to come in with their daughters, get them ready for college, selecting their wardrobes. They had their lists with them, and they start from scratch all the way out."
However, when teen's styles and buying habits started to change, D'Elia took her business in a new direction. She did not label what her store then carried as "mature" but rather as "ageless."
She admitted she always had good judgment with what to buy and knowing what her customers would want.
"Well, usually a buyer had a limit to what, you know, they had the regular form that they go by. You buy so much of this; you buy so much of that. I never had, always, a free hand. I never cared what I spent. I just went in and bought it. We had so many sweaters one time that we supplied practically the whole town."
She continued, "I'm a wild buyer. Always took a chance, never hesitated. Even now, I do that now. I don't stop. If I think something is good, I'll go right ahead and buy it."
However, the ever-changing trends in women's fashion kept D'Elia on her toes. "There have been so many changes," she said, "from the Chanel look" on.
"In fact, one year when the skirts dropped way down—they went to your ankles—that time we had taken a beating, such a beating. We couldn't sell what we had in stock," Delia recalled. "I just took the whole mess of them, and I had a nun, a cousin in Italy, and she was with the orphanage, and I packed them all and sent them to her and, of course, I received so many blessings from them." – Chancy D'Elia

Still at the helm when this interview was conducted, D'Elia proudly asserted, "I buy everything that comes in the store. I buy everything, and I go to the New York market in seasons—spring, summer, fall, resort, holiday….For instance, in the wintertime, I go in for about a week to ten days, every day. Then I go in maybe once every month, and then we have many salesmen come in here, many, many salesmen….Sometimes we have them standing out there, four and five deep, all day long….That saves me a trip into New York."
Although by that time, D'Elia acknowledged, there was a lot of competition in Greenwich and the surrounding towns. Even so, she did not believe these stores affected her business, as by then she had customers who had been with her for decades.
Along with the success of her business, D'Elia's reputation as a respected business owner was also confirmed when she was appointed in 1972 as an associate director of the State National Bank, the second oldest bank in America. Noting that she was the only woman on the board, D'Elia described the position as "quite an honor."
Overall, D'Elia stressed throughout her interview the importance of having a good community that can help lead the way to success.
She acknowledged the help of two of her four sisters who were highly involved with her in the store, stating, "without my sisters, without my girls, without my customers, nothing would have been possible. It would not have been possible. You can't do a thing alone. Impossible to do it alone."
She also pointed out the special relationship she had with her customers.
"I call them my friends because I just love them. They've known me for so long, and there's such an affection, and they want to be greeted. Put their arms around you, and listen to their little tales and their little problems. You have to listen to them, and there's always time for it. Once in awhile a customer will come in and say, 'Oh, I saw you back there, but you were so busy.' I'm never too busy to say hello and speak to you, never. I find that's so important really, and I always say to the girls when a person walks in that door, they have chosen this shop to shop in. They deserve every courtesy extended to them, every courtesy. That's so important to me. I'd turn myself inside out for them." – Chancy D'Elia

One can conclude that D'Elia's success as a businesswoman, despite her early challenges and obstacles, was due not only to her perseverance and savvy, but also due to her philosophy that, "You should work for the fun of it no matter what it is….And the money will come later… .Everything in life is enthusiasm."
Chancy D'elia's interview, "Chancy's Background and Business," conducted by Nancy Wolcott, July 31, 1975, can be read in the first floor reference area of the library or in the Oral History Project office on the lower level of the library.
---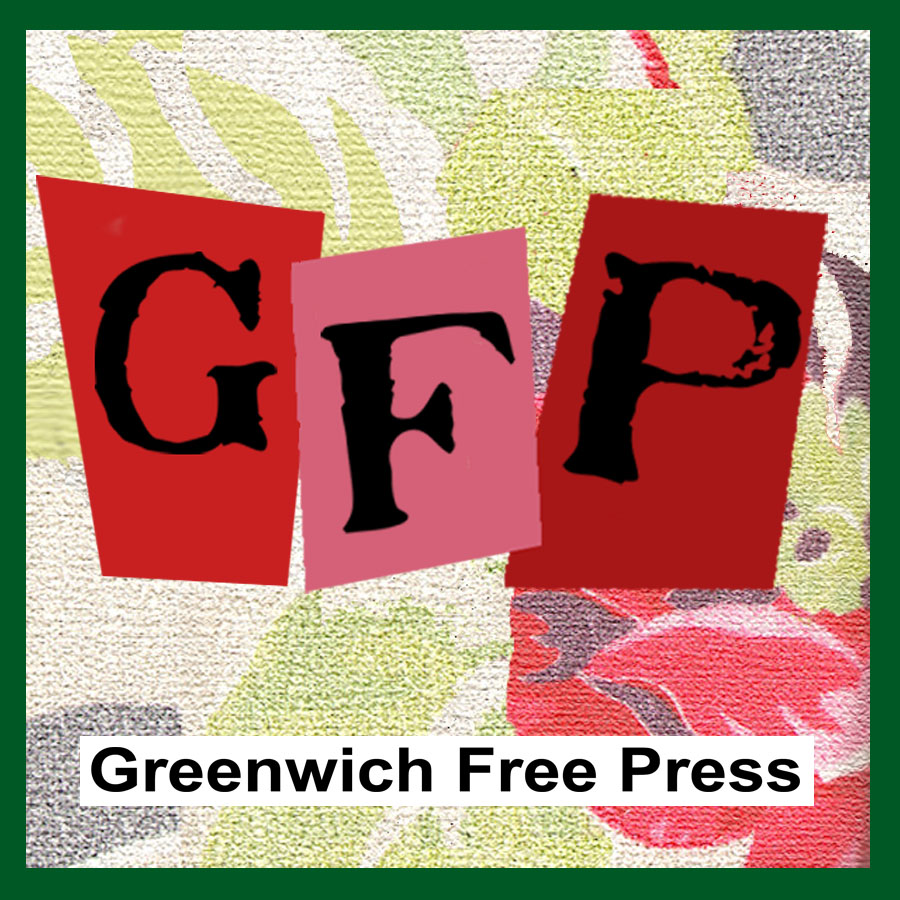 Email news tips to Greenwich Free Press editor [email protected]
Like us on Facebook
Twitter @GWCHFreePress