At Wednesday's Board of Selectmen meeting Alan Monelli, DPW's Superintendent of Building Construction & Maintenance, presented the project to replace the Eastern Greenwich Civic Center building for a "first read."
The Selectmen are asked to confer Municipal Improvement status on the project so it can go forward.
The building is operated and staffed by the Parks & Recreation Dept, who provide a variety of recreation programs for all age groups. They also schedule and rent space in the building for events and programs.
The existing building and property were acquired from Electrolux in 1966 for $432,000. The budget for a new building is $15million.
Originally Electrolux opened the building as an employee recreation center in 1950.
The two story masonry structure is about 31,765 sq ft.
The new building would be slightly larger at 35,482 sq ft.
The Town owned property is about 13.22 acres, including playing fields, though improvements to the fields are not included in the project.
The parking lot across the street on Harding Road currently is 2 acres and holds about 216 cars.
The town originally considered rehabilitating the building back in 2000, but after exploring existing conditions of the concrete structure itself, including lack of air conditioning and non compliant restrooms, windows and flashing and lack of thermal insulation, deteriorating subterranean plumbing, and the non-ADA compliant second floor, Monelli said the Town determined the cost of rehabilitation would be high and replacement building would provide efficiencies in all aspects of operation.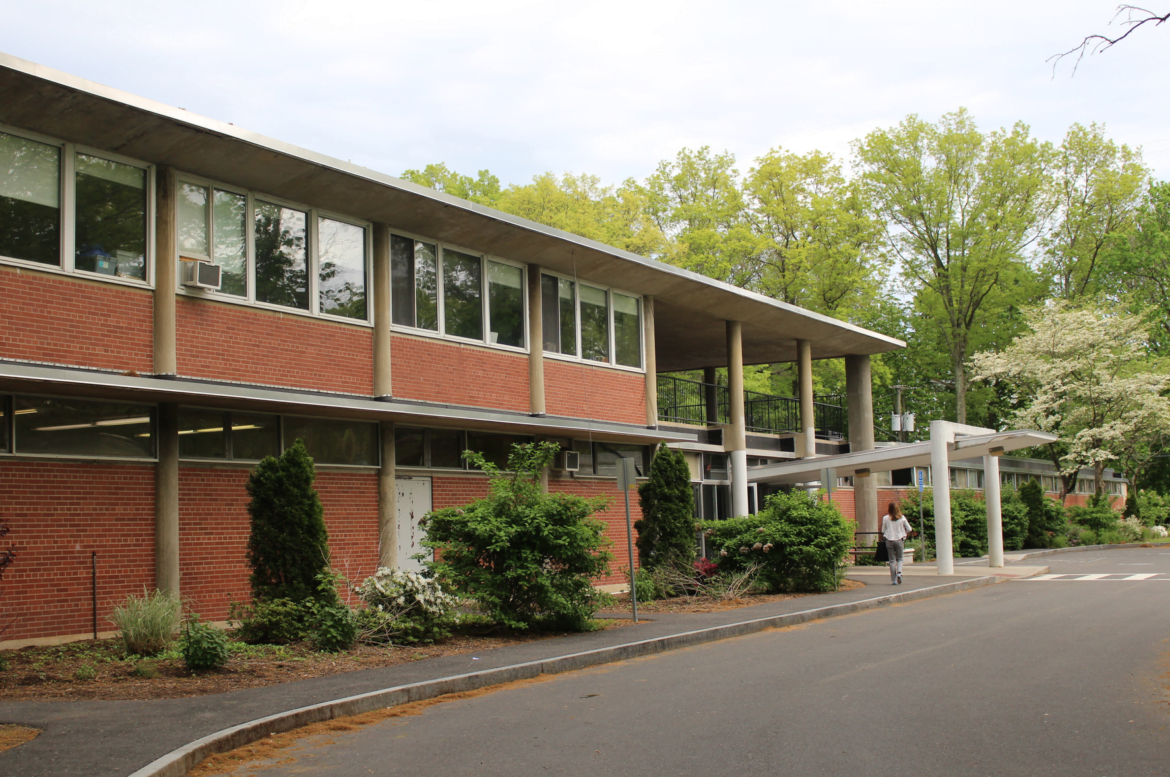 In 2018 the First Selectman established a committee to study desired amenities for a new building. A sport facilities advisor was hired to inspect the existing facility and to interview stakeholders. There was a townwide survey. Public hearings were held including a standing room only input session in June 2019.
Connecticut licensed architects responded to an RFP and Tai Soo Kim Architects (TSKA), the architects who designed the new New Lebanon School, were selected after a months long process.
The new, modern, single story structure will utilize the southern most 4-1/2 acres and be constructed on the location of the existing building.
The building will be a steel-framed structure with masonry and glass exterior walls. It will be entirely ADA complaint.
Monelli estimated the entire project will take roughly 24 to 28 months.
The building will have a beach card window at the front where the public can purchase passes for Tod's Point during the week.
The full size gymnasium will be 8,100 sq ft, which is slightly larger than the existing gym, and will feature roll out spectator seating.
There will be a multi-use event space of 8,100 sq ft with a kitchen. There will be three activity rooms, 1,000 sq ft each, that can hold about 49 people each. Two of them will share a folding partition that can be opened to create a mid-sized room.
There will be an expanding vending area with a lounge area as well as storage room, updated restrooms and separate family restrooms in the building and exterior rest rooms to support the field activities, administrative offices, interior waiting areas and lease space for OGRCC.
Existing children's playground and tennis courts will not be touched.
There will be a new south parking lot with a turnaround to increase vehicle pick-up and drop-off, and a functional loading dock for deliveries, a main vehicle drop off at the front of the building. There will be a vehicle "drop off and pick-up" lane at front of building.
Across the street the parking lot will be regraded into its own retention pond. Parking will be reconfigured to maximize the number of spaces to comply with zoning regulations and there will be aesthetic improvements as well.
The playing fields will remain in use throughout construction and the treeline between building and playing fields will be retained.
An environmental analysis of soils surrounding the building was conducted and there were no issues found.
DPW is working on a storm drain solution for flooding on Harding Road.
The building will be energy efficient and have latest technology to apply both sustainable and energy conservation systems. It will have the maximum insulation to meet or exceed the CT state energy code.
The roof and internal electric system will be designed to incorporate future installation of photovoltaic cells. Systems will be installed by an independent provider of the town's choosing through a power-purchasing agreement.
The presentation was a first read, and will come back before the board at their next meeting. At that time the Selectmen expect to vote on the proposed Municipal Improvement.