On Wednesday Greenwich Schools superintendent Dr.Toni Jones shared her formal request to appoint a Greenwich High School security vestibule building committee.
Initially, two years ago the project was included as part of a larger project that featured changes to the media center to upgrade security. Now, Jones said, described the vestibule as a "quick project" compared to other recent projects such as New Lebanon School and MISA at GHS.
Last November at a meeting for parents at GHS hosted by Dr. Jones and Police Chief Heavey, parents urged the district to secure the entrance to GHS. "I walk in here without getting questioned because kids are passing in the hallway," one parent said.
Dr. Jones explained that the project had to go through both the capital project and permitting processes.
"There are a lot of hoops we have to go through before construction, but we are being as aggressive as we can," she said. "If we get that funding, the design work would be next year. We then have another year of construction," Jones said.
"I am encouraged by the fact that we're going to change the glass hallway," Chief Heavey said. "At one time that was all open, it didn't have glass. And we had cubbies, not lockers."
The GHS entrance dates back to its construction in 1970.
At Wednesday's Selectmen meeting First Selectman Fred Camillo asked the town attorney for clarification about who has jurisdiction to appoint members of a building committee.
"Normally sending us names and suggestions is normal, but if there are some people we thought didn't work, and other people who have skill sets to match it – who gets to establish who the members of the committee are?" Camillo asked town attorney Vin Marino.
Marino said the Selectmen have the appointing authority.
"They have the ability to reject names and approve names regardless of whether they are on a list," Marino said, adding that typically the First Selectman would generate recommendations to the board. "If there was a moment where you could not find consensus between at least two of you, names would have to keep being put on the table until you had that consensus."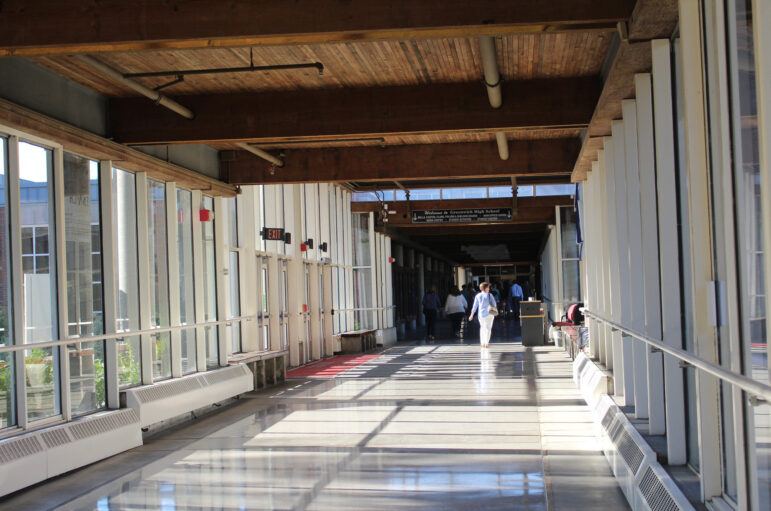 Dr. Jones proposed a committee to include Steve Walko who led the New Lebanon School building committee; Jake Allen, a builder who has served on a previous building committee; and Jackie Welsh Arch who has knowledge of the building committee process.
She also proposed to include BOE member Christina Downey and BET member Leslie Moriarty, as well as teachers Steven Swindler and Carmen Lissett Gutierrez.
The list also included several GHS PTA 20-21 board members including Kim Blank who is an RTM member and GHS PTA vice president; GHS PTA secretary Maureen Bonnano; GHS PTA vp of programs and services Ingrid Winn; and Stephanie Cowie who is both GHS PTA co president and member of the First Selectmans' Advisory on Disabilities Access.
Also, Jones listed staff to serve ad hoc to help advise including headmaster Ralph Mayo, Director of facilities Dan Watson and director of security Tom Bobkowski.
Highlights of the Education specifications for the vestibule project.
Silver/Petrucelli + Associates were hired in January 2020 to conduct a feasibility study.
In 2015 Connecticut issued a report of the School Safety Infrastructure Council (SSIC) that gave districts minimum requirements for designing or retrofitting public school main entrances. The district seeks to comply.
The project will extend the exterior of the main entrance lobby and incorporate the security and accessibility features mandated by code and SSIC requirements.
The design will make sure the main office and security desk have good visibility of the main entry doors, adjacent hallways, and visibility to visitor parking and drop off areas through video surveillance or exterior windows.
Visitors will be required to enter the school through a "buzzer" that is automated by a greeter/guard.
Currently, at GHS the glass corridor is also the main pathway of the school, as students and faculty move freely to and from classes daily.
Thus, visitors immediately cross paths with the students and teachers as they gain access from the outside.
Visitors show ID and a guard signs them in, provides a visitor identification sticker and directs them to their destination.
Throughout the day, students use the front entry to enter and exit the building, allowing visitors to "tailgate" or enter through the same door.
The vestibule needs to be separated from the main access into the school, holding visitors in a secure space prior to gaining permission to enter the building.
Electronic and video surveillance are required to monitor activity in and around the front entry of the school.
These systems will be viewed and controlled by the security guard and/or main office.
Visitors will be guided by signage to a single entry door, and access will be controlled by the security desk. Other doors are allowed for egress only.
The design will take into account the extent of glazing and framing of vestibule and surrounding spaces, and consider bullet, blast, and shatter resistant assemblies.