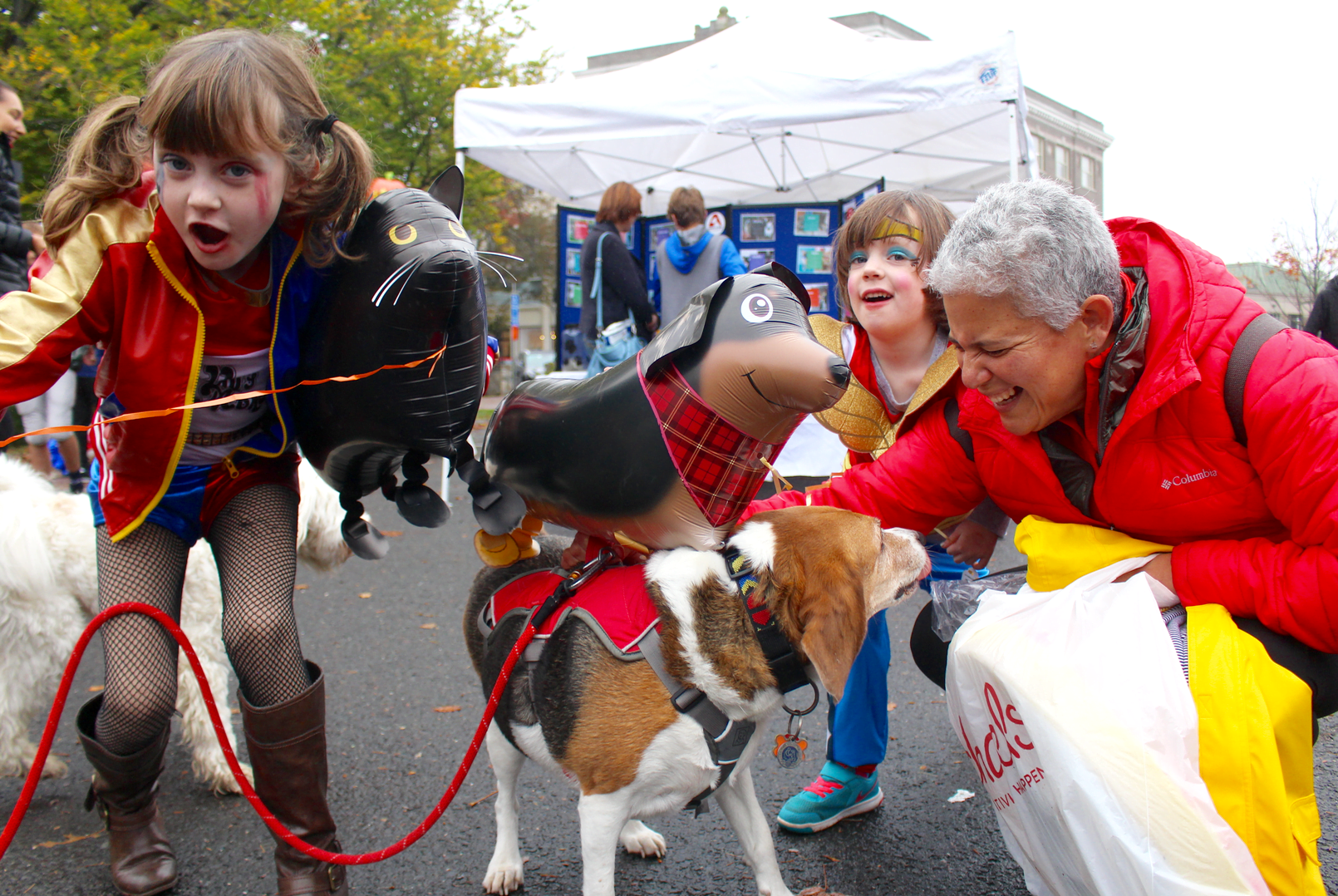 On Sunday October 28, the annual Howl & Prowl, featuring a costume contest for dogs and their owners, will take place from 1:00pm to 4:00pm in the parking lot by the Havemeyer building, 290 Greenwich Avenue (next to Greenwich Commons).
"Now in our 11th year, we are so happy that we have been able to build an annual tradition in the Greenwich community that raises money for such a good cause," said Pet Pantry Vice President Joshua Roth. "Howl and Prowl has been a big part of an initiative that has allowed us to raise well over $100,000 for Adopt-A-Dog."
Pet Pantry created Howl and Prowl in 2008, and the event has become a staple town event ever since. As has become tradition, costume contests are planned for both people and especially their pets, with prizes being given in the form of Pet Pantry Warehouse gift certificates totaling $600. In addition, there will be many free activities.
Pet Pantry will be hosting a "Bone Bar" with assorted treats for the dogs, Photos courtesy of noted international portrait photography outfit Venture Photography, caricature drawings by artist Bill Hernandez, countless samples and giveaways by pet manufacturer sponsors, food trucks, face painting and other fun endeavors.
Themed music will be curated by in demand NYC artist DJ Cochon De Lait.
Lastly, there will be assorted Balloon animals available for "adoption."
Howl and Prowl leading sponsor Blue Buffalo explained why they support Pet Pantry events and pet rescue organizations.
"At BLUE we recognize the contributions that local adoption groups make to their communities," they said. "With so many homeless pets across the country we are here to show our support. We continue to be honored for the chance to sponsor Howl and Prowl and support the initiatives created by Pet Pantry Warehouse and Adopt-A-Dog!"
"Since 2008, Pet Pantry's Howl & Prowl Parade has raised much-needed funds to support the work we do at the shelter," said Adopt-A-Dog Executive director Kristen Alouisa. "Our life-saving impact has increased as a result of this partnership, and we are truly grateful to be the exclusive beneficiary of this incredibly fun and enjoyable event. Pet Pantry Warehouse goes above and beyond to give back to the community, and we are beyond thankful for their generosity and support."
Start brainstorming your dog's or dogs' costumes now. The costumes will be judged on their originality and effort, with extra points for homemade creations and efforts that include humans.
Prizes for winners of the costume contest will total almost $600.
The proceeds from the event benefit Adopt A Dog. The event is sponsored by Pet Pantry which has a new location in Riverside.
For more information and to register go to Pet Pantry's website.
Pet Pantry is located at 1191 East Putnam Avenue in Riverside. Tel. (203) 344-9295
Adopt a Dog is located at 23 Cox Ave in Armonk.