What better place to call attention to childhood hunger than one of the bustling restaurants on Greenwich Ave.
Through October 31st, Meli-Melo is the backdrop for the art exhibit, "The Many Faces of Mixed Media," with proceeds of each framed piece benefiting the Food Bank of Lower Fairfield County.
How the eclectic collection of folk art got to live in Meli-Melo, begins with one woman's accidental discovery of just how many children go hungry in Fairfield County, one of the wealthiest counties in the country.
That woman is Dr. Julia Trebing, Director of Creative Therapies in Stamford, and the sole artist behind The Many Faces exhibit.
As a volunteer within the Stamford Public School system, Julia was shocked to see so many children eating the free or reduced-cost breakfast before the start of each school day. She knew many would go on to take advantage of a subsidized lunch as well.
While ignorance can be bliss, for Julia it was eye-opening, as she put two and two together: No school means no food for so many children.
She began to wonder what happens on weekends and in the summer when school's out? Do those children miss meals?
"Now that I know, I am doing what I can," Julia said in an interview with Greenwich Free Press.
For Julia 'doing' came in the form of showing her art as a fundraiser.  Marc Penvenne, the owner of Meli-Melo, and a friend of Julia's family, was more than happy to serve up cheerful yellow walls on which Julia's art hangs through the end of the month.
 "I would like the Many Faces of Multi Media Show to inform people about the why's and how's to give to the Food Bank. I would like donations earmarked to target educating local families in need, with information of where they can go and what they can do to ensure their child is not only eating, but eating nutritiously." – Dr. Julia Trebing
Julia's exhibit is a compilation of art she created, mostly while vacationing with her family. "They speak to the wonder and magic of women," she said.
Each piece depicts a woman's face, artfully adorned to reflect a place Julia has visited and holds dear to her heart. Each is coupled with a short narrative to support the visual, a unique touch that adds a whimsical story.
The piece entitled, Blue, is from Maui. Noon represents Turks and Caicos…and "Queen Bee," says Julia, "represents Lower Fairfield County."
You really have to see this exhibit. Maybe there's even room in your kitchen for one of Julia's women.
The Many Faces of Mixed Media: Meli-Melo through October 31.
More on the Meli-Melo artist program.
Related Stories:
---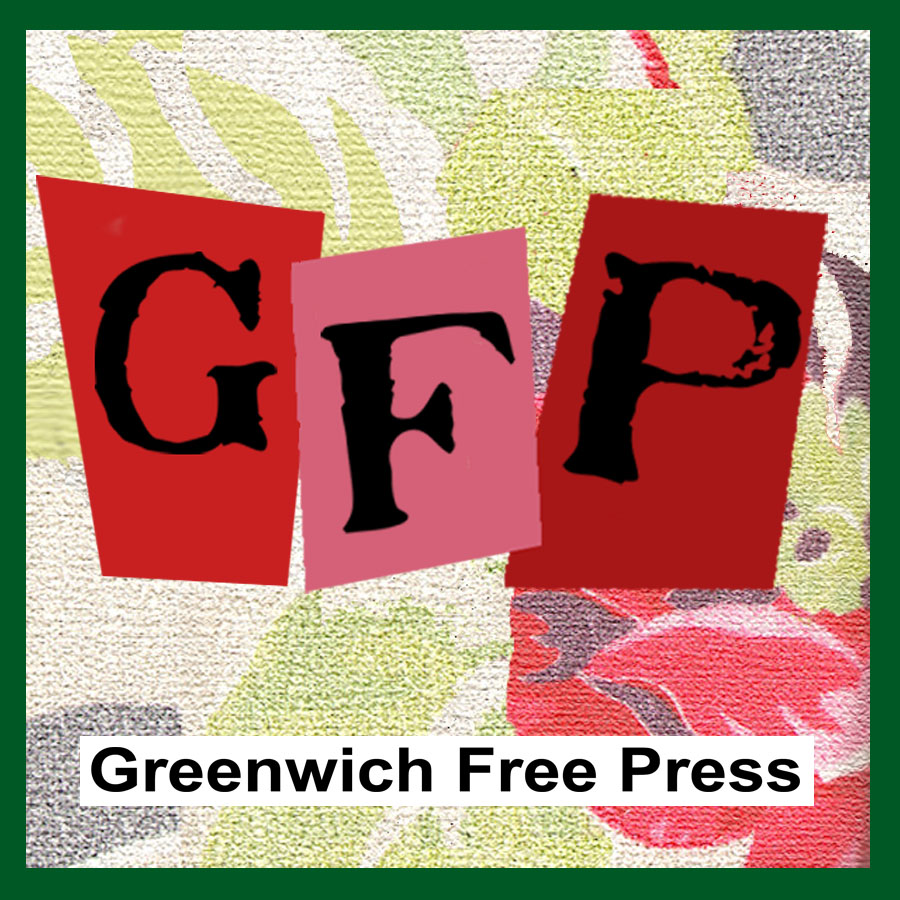 Email news tips to Greenwich Free Press editor [email protected]
Like us on Facebook
Twitter @GWCHFreePress
Subscribe to the daily Greenwich Free Press newsletter.