(Greenwich Public Schools: Friday, February 19 is a Fully Remote day for students due to the predicted unsafe travel later in the day. Students will log on at their usual start time.)
Greenwich Schools Superintendent Dr. Toni Jones and the principals of Old Greenwich, Julian Curtiss and Riverside Schools emailed parents on Thursday to announce all three schools will pivot to fully remote for a short period of time beginning Friday, Feb 19 and most likely all of next week (February 22 – February 26).
The switch to remote will give the district time to inspect the three older buildings. The inspections were deemed necessary in light of the ceiling collapse on Saturday, Feb 13 at North Mianus School after a fire sprinkler line was broken.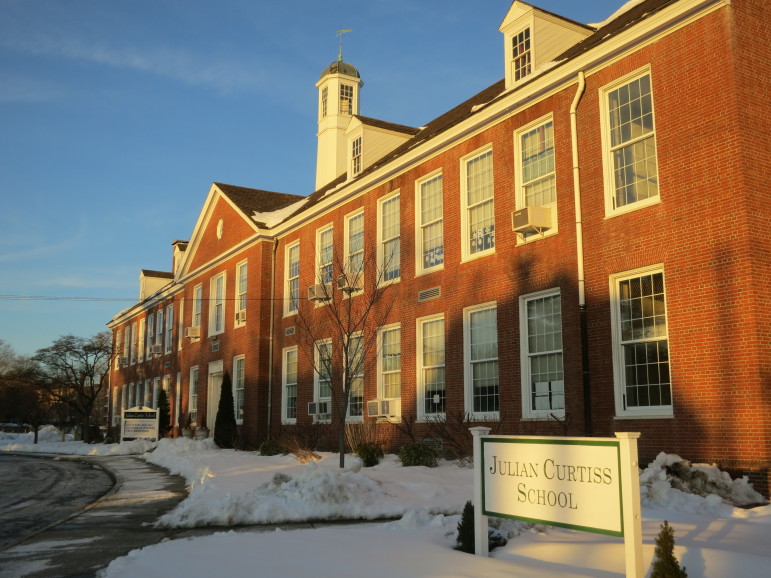 "We fully understand the inconvenience that remote learning may cause some families, and we are not making this decision lightly," Jones and the principals said. "Out of an abundance of caution, a building inspection and some safety testing is being performed on our schools, as a result of the flooding at North Mianus."
They explained that the Julian Curtiss School, Riverside School and Old Greenwich School buildings are of relatively similar age and construction to North Mianus School, and that out of an abundance of caution, the engineering firm will run safety tests on each of these buildings to ensure there are no potential issues.
The Town of Greenwich Building Department advised that the buildings be empty during the safety inspections. Students and staff will be fully remote while the tests are completed.
Once testing concludes, the district will share the findings and confirm the date that staff and students will return to their buildings.
Greenwich Schools Facilities Team, the Greenwich Fire Dept, the Town of Greenwich Building Dept, and an independent engineering firm have all been onsite to investigate this situation, starting with the morning of the flood and continuing daily with the district's contractors throughout the week.
It was determined that more assessment needs to be done on the ceiling, and additional testing will take place over the weekend.
"We have been grateful that the Engineering Teams are working as aggressively as possible, while also taking all of the necessary precautions," Jones and the principals wrote.
The letter said the room where the ceiling fell was initially inspected on Tuesday, February 16. To date, they say it has not been determined with certainty whether the plaster ceiling fell on the sprinkler pipe causing the flood, or if the sprinkler pipe failed causing the attached plaster ceiling to pull away from the floor joists above.
Additionally, the plaster ceiling and pipes sit above the hung ceiling. An inspection of the underside of the roof determined there were no leaks, and no work of any significance had been done recently in that area of the building.