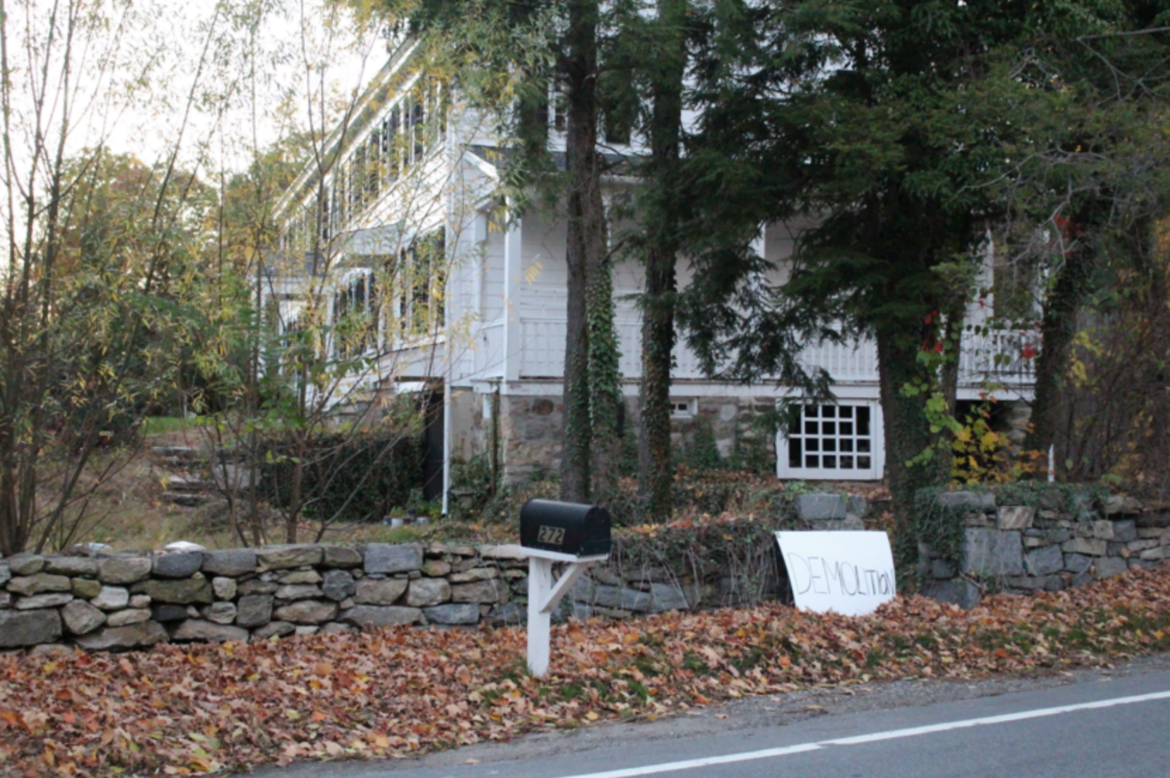 The John Knapp House ready to be demolished on June 2, 2015. Credit: Leslie YagerUpdate June 2, 5:00pm:  the house at 5 Brynwood has yet to be demolished.
Original story: The Greenwich house at 5 Brynwood, a.k.a. the John Knapp House, sold from the Sherer Family Limited Partnership for $3,250,000 on May 28 to 5 "Brynwood Lane, LLC," for which principals are Alex and Karen Kaali-Nagy. The house, which has historically used the address 272 Round Hill Road, dates back to 1760.
At about noon on Tuesday June 2 workers  at Brynwood were removing trees and heavy equipment was parked in the rear yard of the property. The application called for removal of 39 trees.
Reached at his office in New Canaan, Alex Kaali-Nagy said the expected the house would come down on Tuesday, but slowly and carefully, maybe over the course of two days.
"We met with the Historical society for two or three hours, twice," he said. "Only a small portion of the house was the original. It was renovated many times over. There was nothing left that was worthwhile to preserve," he said. "Not even in the basement."
Mr. Kaali-Nagy said there was, however a small metal boot scraper, which  he gave to William Schwartz who Kaali-Nagy described fondly as an 'old house nut.'
Mr. Kaali-Nagy said too is is a fan of old houses, but that often times they undergo series of "renovations" ruin a house. He described one old house he demolished and saved the original wood flooring for re-use in the replacement house.
Estimating the time it would take to build a new home at 5 Brynwood at 18 months, Mr. Kaali-Nagy said he'd like to live in it himself, but that his wife Karen Kaali-Nagy is partial to New Canaan, where she is from.
"People always ask me which of your houses is your favorite," said Mr.Kaali-Nagy, an architect. "I always say, 'The next one.'"
According to the Kaali-Nagy website, the company is a leading architectural and real estate development firm located in New Canaan. "The Company has designed, built and developed hundreds of exceptional private residences and gated communities with prices ranging from $3 million to over $15 million," the website states.
Back in November the applicant's attorney Thomas Heagney said his client posted the house for demolition, but there was a hold up. "Objections were filed," he said. "So rather than waiting 45 days for the permit to be issued, it's 90 days."
In November, Planning and Zoning Commissioner Margarita Alban said she was in possession of a resolution from the Historic District Commission that had been voted on unanimously the previous night (Nov 12) to urge that the John Knapp House be preserved.
"The Historic District Commission believes it is a significant piece of Greenwich history that is fast disappearing," Alban said, relaying the request of the HDC that the house be preserved, possibly with a historic overlay, or a portion of the building be preserved.
"Would your client consider that?" Alban asked, to which Mr. Heagney replied that his clients had looked into that option determined it was "not feasible or possible."
After multiple emails and letters of complaint to Bill Marr, the Building Official for the Town of Greenwich, the demolition was delayed and notice given that the earliest possible date for demolition would be Jan. 28, 2015.
Since then, the house has sat with its hand scrawled demolition sign at first leaning against a tree, and later moved to a gable where it remained affixed all winter.
During Planning & Zoning hearings that drew residents upset to lose a piece of Greenwich's history, there was testimony from people opposed to the demolition who suggested the unfamiliar address might have been used to avoid scrutiny over losing a significant piece of local history.
Because of the large turnout among members of the community who waited patiently for hours to testify against the demolition, the Plannning & Zoning commission's vote took place well midnight.
The vote was voted 4 to 1 to approve the site plan and special permit to build an 11,000 sq ft home on the site of the historic home.
See also: