Update: For the first time in the better part of three decades, Greenwich's 230 member RTM has a new moderator.
And for the first time ever, the moderator is a woman. Alexis Voulgaris defeated Brian Raney in a vote of 150 to 67.
From district 2, Cos Cob resident Kate Lobalbo, who is a member of the town's Architectural Review Committee ran unopposed to replace Voulgaris as moderator pro tem. She received 206 favorable votes.
The RTM voted initially to suspend rules and instead allocate 10 minutes each to Mr. Raney and Ms Voulgaris, including remarks from two nominators and the candidate.
Ms Voulgaris went first. She was nominated by Joshua Brown, who is in his 15th term and has served in four different districts. Kim Blank was her second nominator.
Mr. Brown said in all her years on RTM, and after chairing multiple committees, both standing and special, he knew what it took to be a good moderator. He noted Voulgaris had been a member of the RTM for eight terms, chair of Health and Human Services Committee for 10 years, Chair of the Community Development Block Grant Advisory Committee for six years, Moderator Pro Tem for the last four, and Chair of the Special RTM Governance Committee.
Mr. Brown complimented Voulgaris on her leadership as well as energy and humor, and praised her for leading the transition to remote meetings during the pandemic.
"Many cities and towns reached out to learn what did we do, how did we do it," he said. "It was unique. We couldn't have done it without her."
Ms Blank also praised Voulgaris for getting the RTM through the past two years of the pandemic, describing it as a Herculean effort.
"She can run a meeting. She is very knowledgeable about Parliamentary rules…Other than Tom Byrne, I think she is the only person on this Zoom or in the room who has actually run a whole RTM meeting before. Second, she doesn't just know what the job of moderator entails, she knows what all our jobs entail, and she can be an excellent guide and advisor to committee and district chairs, and new members."
"She has the temperament that we need in a moderator," Blank added. "Let's face it, if we don't have 230 characters among us, we certainly have a large number of strong personalities."
Voulgaris said she had chaired over 100 committee meetings, delivered over over 150 committee reports, prepared the call for the last 32 meetings, but only expressed her opinions on issues before the body less than five times in 16 years.
As moderator she said she would seek input on ways to make meetings more efficient, engaging and participatory.
"This includes exploring ideas about further streamlining the voting process and transitions between speakers, including exploring electronic voting options, allowing people to add or remove themselves from the speaker list during the meetings, and about retaining a remote option beyond the end of the pandemic," she said. "Ultimately any decision on meeting format would be voted on by you."
In his remarks Mr. Raney said he was politically unaffiliated and said having a contested vote for moderator for the first time since 1998 was a historic opportunity.
He said he had passed a test to become a member of the National Association of Parliamentarians, which he joked had the appropriate acronym of NAP.
Raney said he was committed to defending the rights of the membership, and talked about collegiality, transparency and efficiency. For the latter, he proposed offering office hours.
"No one should feel belittled for expressing an opinion or participating in debate," he said. "It's difficult enough to get up here and express a view that is popular, much less one that is not."
Suggesting it was impossible to over-communicate, he said, "I want to stop playing telephone among the committee and district chairs hoping they will share the information."
He said "nothing burgers" led to substitute resolutions, sometimes before a resolution is even debated.
Raney talked about continuing to hold remote meetings via Zoom, and said the idea had caused "quite a flutter of emails in recent days."
"We need to be able to continue remote hybrid meetings on our own authority. We meet this way only due to state statute, which expires in April," he said, noting continuing the option would require a change of RTM rules. "It needs to be in our toolbox. Health concerns can arise. Facility issues can arise. Weather issues."
Raney was nominated by Henry Orphys and Jane Weisbecker.
"Brian understands the RTM rules like few others," Weisbecker said. "He not only studied Robert's Rules, but passed a test to qualify him for the National Association of Parliamentarians."
"If elected he intends to establish regular office hours to assist people drafting RTM call items," she said. "This should reduce the revolving door of items that come to us in poor form and end up on multiple calls."
"Oddly, within the past week, I've seen him labeled a conservative, but I've never known him stuck to one political side. And to this day I'm unaware of his political party affiliation," she added.
After Voulgaris won the election, Mr. Byrne, who described the job as like herding cats, said he was proud to pass the job to her.
Voulgaris said she was proud to be the 7th moderator in the history of the RTM, as well as its first woman, and likely the first independent candidate in the RTM's 88 year history.
As for Lobalbo, after it was announced she would become moderator pro tem, she said, "The role of moderator is about service. At its heart it's a love of democracy – fragile, messy, at times imperfect, but one we're striving always to make more perfect and more representative."
Lobalbo who was nominated by two Republicans, Randy Caravella and Don Conway.
Original story: RTM member Brian Raney in District 9, Delegate, Town Services Committee; Alternate, Legislative & Rules Committee joins Moderator pro tempore Alexis Voulgaris in seeking to succeed Tom Byrne in the position of RTM moderator.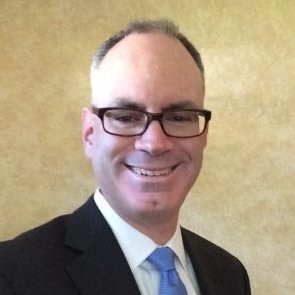 Mr. Byrne presided over the 230-member body for 26 years, and was the longest serving moderator in the history of the Greenwich RTM, having joined in January 1988.
The Tuesday, Jan 18 RTM meeting will be the last for Mr. Byrne to lead. He leaves his post but will remain on the RTM.
The substantive item on the Call was for the Housing Trust Fund, but that was withdrawn by P&Z, leaving the election of officers the highlight of the evening.
Mr. Raney shared some information to familiarize the RTM with his background.
Raney is originally from the western suburbs of Detroit, and still roots for those teams, including the Lions. He moved east in the late 90's, and lived for many years in the LifeSaver building on Main Street in Port Chester, NY.
He studied economics at Northwestern University in Evanston, IL for undergrad and
Raney started dating his wife Kim in 2008 and they married in 2011, When they were expecting their second child, Raney said 800 sqft wasn't enough space, and they moved to a home in Pemberwick.
Kim is from Cos Cob and graduated from Greenwich High School. Her family has been in Greenwich since the 1970s, and Kim's mother-in-law helped organize the rebuilding of Cos Cob School. The Raney children attend Glenville School.
Professionally, Raney is a Data Architect. Per his LinkedIn profile, he has spent much of his professional career as a consultant, focusing on issues of privacy, compliance, and governance, in addition to the business processes and rules.
Voulgaris, who is is completing her second term as moderator pro tempore, announced she would run for moderator back in November. She is a member of District 6 and is Chair of the Health & Human Services Committee.
"I bring 16 years of RTM experience to the job, including extensive leadership positions: four years as the Moderator Pro Tempore, ten years as chair of the Health and Human Services Committee, six years as chair of the Community Development Block Grant Advisory Committee, two years as chair of the Special Committee on RTM Governance and, most recently, chair of the Special Committee for the Affordable Housing Trust Fund," Voulgaris said.
In May, Voulgaris and Burne published a joint letter on the future of remote RTM meetings.
"But when all restrictions are lifted, we believe the full RTM meetings should be held in person with no remote participation," they said. "
Having 230 openings every election creates a low entry barrier, attracting individuals of diverse talents who would otherwise not get involved in the political process. In order to fill all of those positions, we have benefited from many members returning for multiple terms because they have found the work of the RTM to be rewarding and enjoyable. Meeting remotely in the past year has changed that experience.
Where our meeting average used to be 2.5 hours prior to going remote, we now routinely go past midnight, averaging over four hours.
Many members are complaining of burnout and are responding by declaring that either they will not return or will use the meeting time to do other productive work while ostensibly still logged in to the meeting."
For a new Moderator Pro Tempore, Kate Lobalbo, currently chair of the Parks & Rec committee has announced her candidacy, though Mr. Byrne said it's not uncommon for a candidate for Moderator winds up running for Moderator Protempore.
Ms Lobalbo, a resident of Cos Cob, is a member of District 2. She is also a member of the town's Architectural Review Committee. LoBalbo has worked in architecture and design for 17 years.