A Planning & Zoning decision item on a controversial application has neighbors in the Calhoun Drive Association reeling.
At their most recent meeting, the commission voted 4-1 to approve a Stipulation of Settlement in the matter of 21 Calhoun Drive, LLC, v. the Planning & Zoning Commission.
The application had come before the commission several times in 2020. Ultimately the commission denied the application for a Historic Overlay to preserve a historic structure in exchange for maintaining it in perpetuity and building a "carriage house" in front of "Park Hill," a historic Tudor style home constructed in 1923, though the decision was split.
On P&Z, a vote of 2 to 3 is considered "a split vote." It would have taken a vote of 4 in favor to carry, and therefore the vote was a de facto denial.
Two members, chair Margarita Alban and David Hardman who has since left the commission, felt the application was not worthy of the Historic Overlay and voted against the application.
In exchange for the HO, the applicant had asked to build a second dwelling on the property. A requirement would be that the secondary dwelling be secondary to the primary structure, but the commission didn't feel it was adequately "secondary."
All along, neighbors were very displeased with the proposal.
After the July 2020 denial, the applicant sued the town.
As part of the settlement agreement, the proposed structure is lower in height and massing, smaller, and has more landscaping than originally proposed.
With the commission voting to accept the agreement, there was no requirement for public comment, but the commission did allow neighbors to speak.
Alison Troy, a neighbor on Calhoun Drive, said, "It changes the whole characteristic of the road, having such a large structure near the road."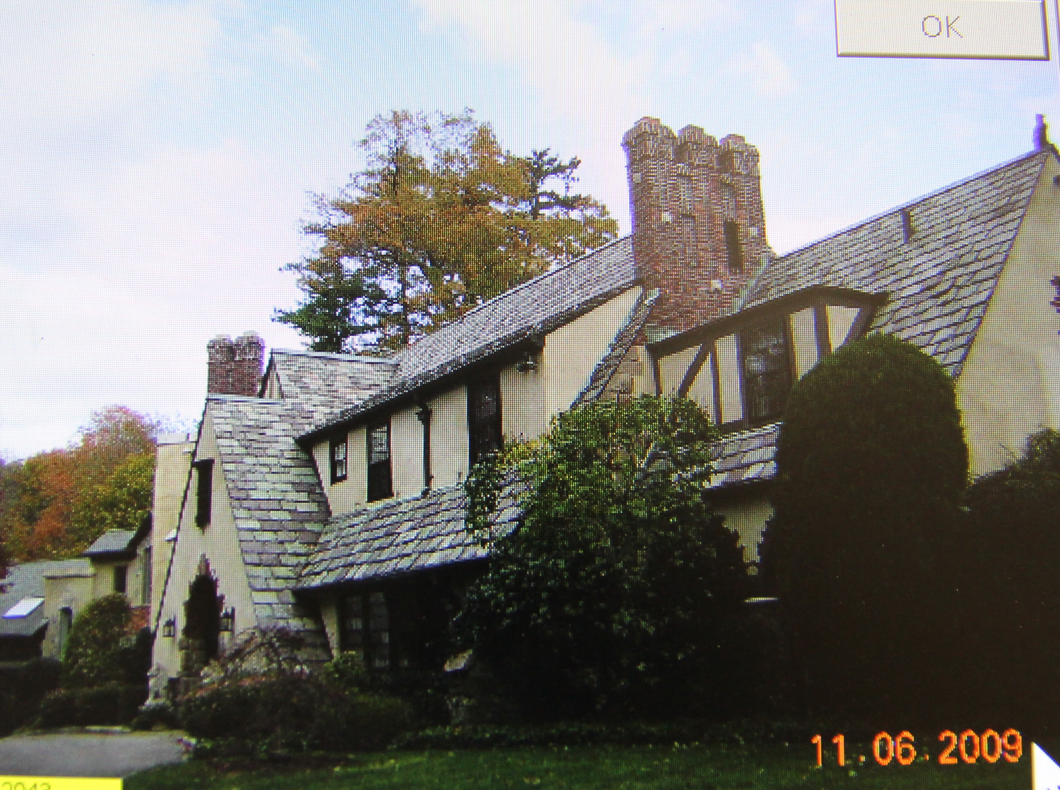 Okan Azmak, whose property abuts 21 Calhoun Drive said, "I think the alarm you're hearing from us is we just found out about this upcoming settlement last Friday."
"My question is does the legal process allow us any time to look at the settlement and raise questions?" he asked.
Ms DeLuca said, "Technically at this stage there is no requirement for any public comment at all. This is a courtesy on behalf of the commission. The judge is the one ultimately deciding on this settlement. The applicant and the commission have agreed to something that is moving to the next step – the court system."
"The commission is here to accept or reject the settlement," she added.
Jim Matthews, also of Calhoun Drive, said he would be more sympathetic to the application if it was a situation where a neighbor lived in the historic house and wanted to add a carriage house.
"What troubles me is this is a developer from out of town," Matthews said. "If you look at their website, they advertise that they exploit loopholes for subdividing properties that otherwise could not be done…In this particular instance, we're caught in the middle. Obviously we want the structure as small as possible so it is subordinate to the main structure. But it sounds pretty obvious that this developer is going to condominium-ize this property and sell it off. So now we're stuck with a sub-scale home that will be sold off and hurt our values, because it's now too small a structure to be in keeping with the values of the neighborhood."
"The regulations don't let us question the motives of the developer," said P&Z chair Margarita Alban. "I hear your sentiment, but it's not something that can come into our decision making."
Ms DeLuca clarified that there could be two owners on the one lot.
"From a zoning standpoint, there is one parcel of land. The Historic Overlay allows a different set of rules that come with conditions. One is the house is preserved in perpetuity and a declaration of restrictions governs what can happen with the main house and the new house."
"If one wants to sell off either the main house or the other structure, they would be doing so with the understanding that they have two owners of one parcel of land," DeLuca continued. "That would be unusual, but that is not to say it is not prohibited….It is one parcel subject to one declaration of restrictions that applies to the parcel as a whole. Whether that is one owner, two owners, a consortium of owners – that's not of relevance to the commission. Whoever it is, is responsible for adherence to the declaration."
Mr. Matthews suggested the commission add a stipulation to prevent having two separate owners of the two structures.
"Maybe condominiumize is the wrong verb, but it feels like it can be done. But now is the time to prevent it if you wanted to, right?" he asked.
"I suppose, yes. That's not what's proposed at the moment. As I said, this is what's been negotiated. Any change to that, should this move forward, would be done at a different stage," DeLuca said.
Mr. Matthews said it set a precedent for eviscerating one-acre zoning in other areas of town where there is a Historic Overlay.
"It's not that unusual to have two owners of one parcel of land," DeLuca said. "I agree it does create a lot of problems, and know about several of then. And I would not recommend it to any of my friends. But there is nothing that prohibits it."
Commissioner Peter Levy said, "A partnership between two different parties sharing the lot is simply not a condominiumization."
"If it was a neighbor doing this to have the grandmother live in the guest house it would be more amendable, but it feels like it's a de facto subdivision," Mr. Matthews said.
Lisa Utschneider from Calhoun Drive said neighbors were questioning that there had been a "significant reduction" in square footage and building height.
"When you take a look at that first floor plan and the square footage, it was reduced by about 6%. When you look at the current plan, the reduction from 2100 sq ft to 2055 sq ft – less than a 6% reduction, I'd not call that significant," she said.
"And if you take a look at the plan, it did look like the height only came down by 3 feet, which again, is not very significant. The entire Calhoun Association has been sharing (that) we completely oppose this plan. I personally think given we live adjacent to the lot and love looking at that historic home very day, it will change the look and feel of the neighborhood. It will change how we use the neighborhood, how our children live in the neighborhood. Even that hill where they plan to build, our kids sled down that hill. The thought of some new development being built, it completely changes the aesthetics of our neighborhood. I do not support it whatsoever."
Ms Alban pointed out that the total square footage of the first floor was close to the original, but the second floor was much more recessed and would result in less massing from the street. Further the area would be heavily landscaped.
"We did our best," Alban said.
Mr. Levy said he felt conflicted that the neighbors didn't feel like the commission had done a good job.
"I have the same reaction," Ms Alban said. "I thought we had done a pretty good job."
Mr. Lowe said he shared the frustration.
"Don't forget that the whole P&Z commission met with the Historic District Commission. We said, 'Wow, we're kind of worried about this Historic Overlay regulation we approved four years ago because we recently had a neighborhood that wasn't crazy about it. The HDC said, 'We worked to develop those changes for almost two years.' And without those changes, every single historic building was coming down. We went back and forth to try to find something that would work. If you want to save anything historic, this is the best opportunity we've got."
"We see a strong trade off – how to save a historic building."
The commission voted 4-1 to approve the stipulation of settlement that includes the zone change from RA1 to RA1 HO and special permit application to construct a single family dwelling.
Dennis Yeskey, Peter Levy, Nick Macri and Margarita Alban all voted yes.
Peter Lowe voted no.
The stipulation has to be accepted by a judge before it becomes official, so there will be opportunity for neighbors to note their concerns at that stage of the process.
See also:
P&Z Watch: Split Vote is Defacto Denial of Historic Overlay Proposed for 21 Calhoun Drive July 20, 2021
Neighbors Riled over Proposed Use of Historic Overlay for 4,000 Sq Ft "Carriage House" in Front of 1923 English Manor January 14, 2020