By Jenny Knoeller, GHS '15
If you've never been to Garden Catering for nuggets, potato cones or fries — and oh, the special seasoning — you're missing out. But don't worry.
According to Frank Carpenteri, Jr., when someone gets in line for the first time, regular customers always explain the menu choices.
Frank said that with the help of 15-20 employees, the fast food business has operated out of a converted Metro-North luncheonette car for decades.
But from the vantage point of the counter, what meets the eye is but a fraction of the overall business.
So deceiving is the tiny Sound Beach Ave storefront sandwiched between Abigail Fox Designs and Darlene's Heavenly Desires, that it takes a walk around back to get a feel for the scope of the operation.
The rear parking lot holds a fleet of delivery vans bearing the familiar giant pineapple. Next door, to the south, there is a building that houses the busy catering kitchen.
The Carpenteris have expanded to the north as well. In what was at one time stables where horses rested in the summertime cool of thick fieldstone walls, the landlords, the Boles family, converted the space to offices and storage.
This space, spread over two stories, serves as the nerve center and office hub for all seven Garden Catering locations. There is ample room for storage for catering supplies as well as offices for behind-the-scenes staff. And, for everyone's safety, the offices feature a series of monitors with live cameras connected to seven locations.
And so, as clusters of teens come and go on bikes, and a rite of passage for GHS students is to drive to Garden Catering in Old Greenwich during an open block, a significant chunk of sales have more to do with the back door.
The thriving catering operation run by Frank's sister, Tina has grown over the years and he estimates it is now a full 50% of the overall business.
"We cater a lot of upscale cocktail parties and private events," Carpenteri said. "They may have filet mignon and steamed clams, but they still want nuggets."
To go back in time, one wonders if Frank Carpenteri, Sr would have guessed his first job at the concession at Playland in Rye would have evolved into a nuggets empire.
The way Frank tells the story, his mom worked at Dress Barn on Greenwich Ave and his dad would walk from his after-school job at Greenwich Poultry, the precursor to Garden Catering, to visit future wife Tami at the women's clothing store.
Indeed, Frank, Sr. had always worked in the food business. "He also owned the Stand By, which is now Dougie's Stand By near the Port Chester border, by Carvel," Frank said.
In 1978, Lou Ianoli bought Garden Poultry, renamed it Garden Catering and moved the operation to Old Greenwich.
Frank said his father would bring him and his siblings there. After Lou died, his family continued the business for a time, but, one day, "We were driving by and saw it had closed. Lou's son Rob was selling the equipment to Arcuri's across the street," recalled Frank, who said he was 11 or 12 at the time. "And my father struck up a conversation with Rob and said, 'Why don't I buy the whole place?' He put everything he had into it, $100,000. But on the first day he took in $1,200, and he never looked back."
No history of Garden Catering is complete without mention of Hotsy, whose real name was Frank Bertino. Known fondly as "Hotsy," he was a longtime employee of Garden Catering until he died two years ago. Known for his character and a work ethic, Hotsy, who ran the Sand Trap at the Town golf course for many years before joining Frank Sr. at Garden Catering, lived to 91.
Though he is gone, Hotsy's name is sprinkled through the Garden Catering menus. In fact, Hotsy's famous homemade chili recipe, heavy on his signature ingredient, chili, remains a carefully guarded secret.
"Hotsy's chili recipe is the same one since 1944," Frank said. "We only make it here in Old Greenwich and send it out to four other locations."
Frank said he and his siblings grew up in western Greenwich. In fact, he said the family lived in an apartment over Tom's Deli, the current home of Little Thai Kitchen on St. Roch Ave. But by the time he went to Greenwich High School, his father's Old Greenwich Garden Catering was in full swing.
"Kids from this side of town were amazed," Frank said of his association with Garden Catering as a teenager. "It helped out as far as popularity points!"
Frank and Kate Truesdell met GHS and started dating the weekend of SRO, their senior year in 1997.
"I think she was impressed with my dancing skills," Frank guessed. But, in Greenwich Free Press's recent interview, Kate, who is set to open a new 5,000 sq ft dance studio in Cos Cob this fall, said the truth was she liked Frank's sense of humor. Who knows, maybe having a direct line to the famous nuggets helped seal the deal. Kate said some of her best memories were riding bikes to Garden Catering on Sound Beach Ave and then bringing their specials down to Tod's Point.
Almost 20 years later, the couple are expecting their third child, who is due later this summer. Everyone is waiting to see if you have a girl or a third boy. Good luck!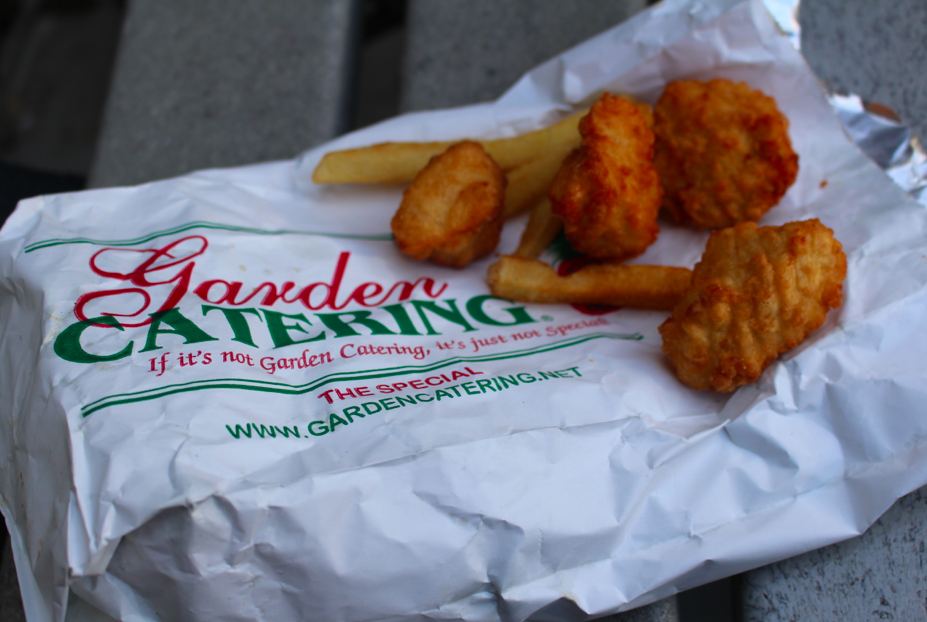 In Greenwich, Garden Catering is located at:
185 1/2 Sound Beach Ave. in Old Greenwich, Tel. 203-637-7699
177 Hamilton Avenue in Greenwich, Tel. 203-422-2555
See also:
Fair is Fowl for Garden Catering in Greenwich
Greenwich Dance Studio's Kate Truesdell Finds Home in Cos Cob