By Scott Simonsen, Owner, Old World Craftsmen, Greenwich
We're often asked by clients about permitting. And while this is a straight-forward questions, the bottom line is that this question can only be answered based on the laws of your local municipality – the town, village or city where you live. Before we dig into some of the factors, let's talk about what it does NOT depend on: feelings.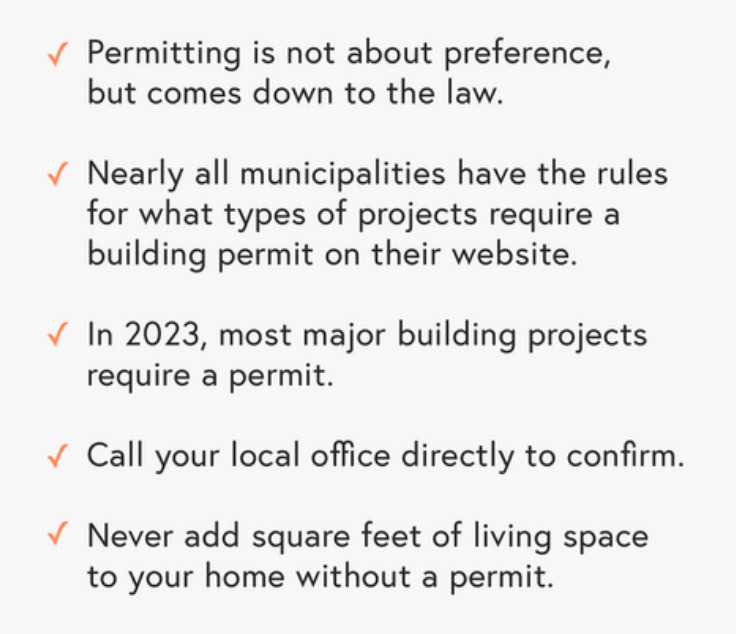 It's not about how strongly the builder or contractor feels:
Over 25 years in the business, something we have heard from customers over and over again is, "The other guy felt very strongly that we don't need a permit." We must understand that this question has nothing to do with our feelings. We might be libertarians or we might be pro-regulation, but the laws of our community exist independent of our views or feelings. In fact, a builder or service provider who is forceful on this issue, seeming averse to filing a permit, is raising a red flag:
• Why would a builder have such strong feelings that may not align with local laws?
• Does the company not have the required license? Insurance?
• Are they not confident in how to navigate the process? New to the permit process?
• Are there no blueprints or documents that define the project for filing, pricing and execution?
• Are they worried that they won't meet inspector quality standards?
It's about local laws:
Nearly all municipalities have the rules for what types of projects require a building permit on their websites. The summary answer to whether your project requires a permit in lower Westchester, NY and Fairfield, CT counties: "IN 2023, MOST MAJOR PROJECTS REQUIRE A BUILDING PERMIT"
Possible Grey Areas:
• Roof Replacement: Some towns require a permit for a roof replacement and others don't.
• Windows: Some towns don't require a permit for direct replacement, but nearly all do if you are changing the window opening size or shape
• Siding: Most municipalities will require a permit to fully re-side the façade of your home, but not all. Siding often goes hand in hand with window replacement, resulting in a major overhaul of the look of the home. Some towns have an Architectural Review Board that will have to review an application for a substantive change in the appearance of the front of the home.
Permit Myths:
"I'm not doing anything outside the house so I don't need a permit." – Having worked with nearly all of the building departments throughout lower Westchester and Fairfield counties over the last quarter century, we have never seen any town, village or city that relates the need for a permit to whether the work is exterior or not. This is a myth that appears to be perpetuated by hearsay and a few realtors eager to make changes appear easy. If, for example, you are renovating your kitchen in its existing footprint, nearly all local municipalities will have a permit requirement.
Getting Started – Call your building department directly:
The best and most impartial source for whether your project needs a permit is the building department itself. When you call, ask to speak to an inspector. Remember, the default answer from the desk staff will be that you need a permit, no matter what your project is. You may have to leave a message, awaiting a callback or set up a time to call – it's worth it.
You can explain the scope of your project to the inspector and get the real answer. If you are not committed to filing a building permit, don't share your address. You have every right to ask questions about your local laws without providing your contact details. Then armed with real information you can make an educated decision.
Do my viewpoints come into play?
Like any law, folks have the option to follow them or not. With millions of laws on the books, we probably commit some infraction every day. Homeowners ultimately decide whether they will file a permit for their project or not, hopefully after getting educated about the requirements. But…beware of the contractor or builder who resists filing. There has to be a reason why they are resisting (see above) and any competent builder should encourage you to follow the local laws. After all, a veteran builder is probably known by the local building department and the community and doesn't want to be caught working without a permit.
What happens if I don't file for a permit?
Maybe nothing! Or…
In any significant renovation, the first step is usually demolition of the existing space, so on Day 1 a dumpster will be delivered to your home for orderly trash disposal. This announces to neighbors that you are doing work. Our experience is that inspectors don't generally drive around looking for "trouble" but sometimes a neighbor will call the building department if they see a project that doesn't have a permit posted. We won't discuss here what motivates people to do this, but we'll let you know it's a reality of today's world. So, what happens when the inspector comes by to see what's going on and it's a project that should have had a permit?:
STOP WORK: The biggest problem is that the inspector will require that all work be stopped until a permit is issued for the work. This cannot be ignored, and they have the legal right to enforce it with the police. Consider this – when do you suppose this issue normally arises? If a neighbor is nosy or looking for trouble, they will generally make their complaint when work starts – say in the first week. This means that you have just demolished whatever room you are renovating. So, if you were doing a bathroom or worse, a kitchen renovation, you now have no kitchen or bathroom during the permit application process, which can take weeks or months.
• FINE: Most towns will have a fine for working without a permit. Frankly, this is the least of your concerns when you end up in this jam.
• APPLICATION FOR A PERMIT: You must now apply for a permit for the work. If you were not planning to file for a building permit, you may not have generated the required blueprints and construction documents. That means now – while part of your living space is demolished- you must have blueprints drawn up and submit for the permit and wait for plan review and approval to resume work. Needless to say, this is a huge inconvenience for you and the builder too.
• PROBLEMS AT SALE: Some types of projects will cause major problems, even if you don't get caught while doing the work! Usually these problems appear at a stressful time: when/if you are selling your house sometime in the future. The absolute top example is finishing the basement without a permit. This results in illegal living space in your house and in the event of a sale, will generally cause a stressful scramble after an accepted offer, when it becomes revealed that there is no certificate of occupancy for the basement (or other illegally finished space)
We recommend: NEVER ADD SQUARE FEET OF LIVING SPACE TO YOUR HOUSE WITHOUT A PERMIT
Permit Costs:
Most building departments will have an application fee between about $200 – $300 to file the permit application for review. Upon approval, there will be a building permit fee as a cost per $1000 construction cost. Each municipality has a different rate, but for example if the rate is $10 per $1000 and you want to file for a $50k project, your building permit fee would be $500. Most building departments also have a small ($150 – $300) Compliance fee or similar name to close the permit upon completion of the project. You will also need to pay for the plumbing and electrical permit fees, which are separate mechanical permits costing around $600 each.
Blueprints Costs:
A cost which could be associated with the application for a building permit is the drawing up of project blueprints. In any significant project, (let's say over $20k) this is money well spent from the point of view of designing, costing, planning and procuring required materials for your project. So we don't think of the blueprint cost as associated with the permit specifically since it has so much other value. (See Top 5 Remodeling Problems and Their Solutions")
Old World Craftsmen LLC
777 West Putnam Ave, Greenwich, CT 06830
Tel (203) 542-2813
Email: [email protected]
Instagram: Old World Craftsmen