Holiday Entertaining just got a little easier with this tempting pâté – the perfect appetizer for Thanksgiving and Christmas celebrations.

This Garlic – flavored pâté (a creamy, composed dip) makes a great start to any meal as it awakens your taste buds! Truly simple to prepare – start by roasting the three garlic heads in the oven with a bit of extra virgin olive oil, a sprinkling of salt & pepper and thyme branches. In about 45 minutes (depends on the size of the cloves) – simply push the softened garlic out of their skins.
Add one head of roasted garlic cloves to the goat cheese mixture, save the remaining two for serving with the pâté – so your guests can schmear them on for themselves.
The Goodness of Garlic:
Roasted garlic adds a wonderful, creamy and gentle flavor.
Throughout history, garlic has been documented for its healing abilities and is used in cuisines from around the world.
Adding roasted garlic to meals gives a lot of flavor and health benefits without added calories. A single clove of garlic contains only 4 calories and less than 1 gram each of protein, carbohydrate and fat.
Most of garlic's health benefits come from potent anti-cancer compounds, immune-strengthening molecules and heart disease-preventing antioxidants it contains.
Enjoy roasting full heads of garlic – I believe you will be using this simple technique in many recipes. Whisk into sauces, vinaigrettes, stews, soups and more. Who doesn't love garlic??
Look for local garlic, or in shops imported from the US. Many supermarkets import garlic from China… the domestic type is preferred.
I'm lucky to have visited the Hudson Valley Garlic Festival in September, and have a good stash that will last me a few months!
Recipe: Goat Cheese and Garlic Pâté with Walnuts and Chives ~ Balsamic-Honey Drizzle
Ingredients:
3

 

large 

heads of fresh garlic

2

 

teaspoons 

extra virgin olive oil

1

 

pinch

 

salt & pepper, use freshly ground pepper for best flavor

4 small thyme sprigs

12

 

ounces 

goat cheese, softened 

3 

tablespoons 

extra virgin olive oil

½

 

cup

 

fresh walnuts, small chop

2 

tablespoons 

fresh chives, cut 1/4″, divided

½

 

teaspoon 

fresh thyme leaves, chopped just a bit

1

 

recipe 

Balsamic Drizzle, see below
Method: 
Preheat the oven to 375 degrees. Remove the outer paper layer of the garlic heads, still keeping the cloves attached.
Add them to a baking dish to fit, drizzle 2 teaspoon of olive oil on top, add thyme sprigs to the dish, and sprinkle a pinch of salt & pepper.
Cover tightly with heavy foil and roast in the oven until the cloves have softened, about 45 minutes.
This will depend on the size of your cloves.. mine were large, and took almost one hour.

Add the remaining 3 T. olive oil, and stir into the bottom of the pan (a lot of flavor there.) Set aside.
In a medium sized bowl, add the softened goat cheese, walnuts, 1T. of chopped chives and thyme. Cream with a fork until combined. Squeeze the softened garlic from ONE garlic head on a cutting board. Mash a bit with the side of a knife. Add this garlic "puree" to the to the cheese mixture, combine well.
Add the flavored oil from the baking dish to the mixture, mix in.
To serve: place the pâté in a decorative bowl. Top with the reserved chives. Serve the TWO reserved roasted garlic heads on a platter with the pâté. Top with a little Balsamic Drizzle. Let your guests smooth the softened garlic on each portion.
Serve with your favorite toasted bread slices and crudité.
For individual portions:
Smooth some pâté on toast slices (baguettes are nice) and top with some Balsamic Drizzle and chives. Arrange on a platter.
Whole Roasted Garlic Heads can be made ahead of time, keep them in an airtight glass container for up to a week.
The pâté can be served warmed a little in the oven as well.
Easy Balsamic-Honey Drizzle:
In a small 6 " skillet, add 3 T. of balsamic vinegar, 2 t. raw honey and a few gratings of freshly cracked black pepper.
Bring to a boil, then turn down to a simmer, stirring with a wooden spoon.
Reduce by half, until thick (but still flowing glaze) about 3 minutes.
This recipe may not be reproduced without the consent of its author, Karen Sheer
Servings: 8 – 10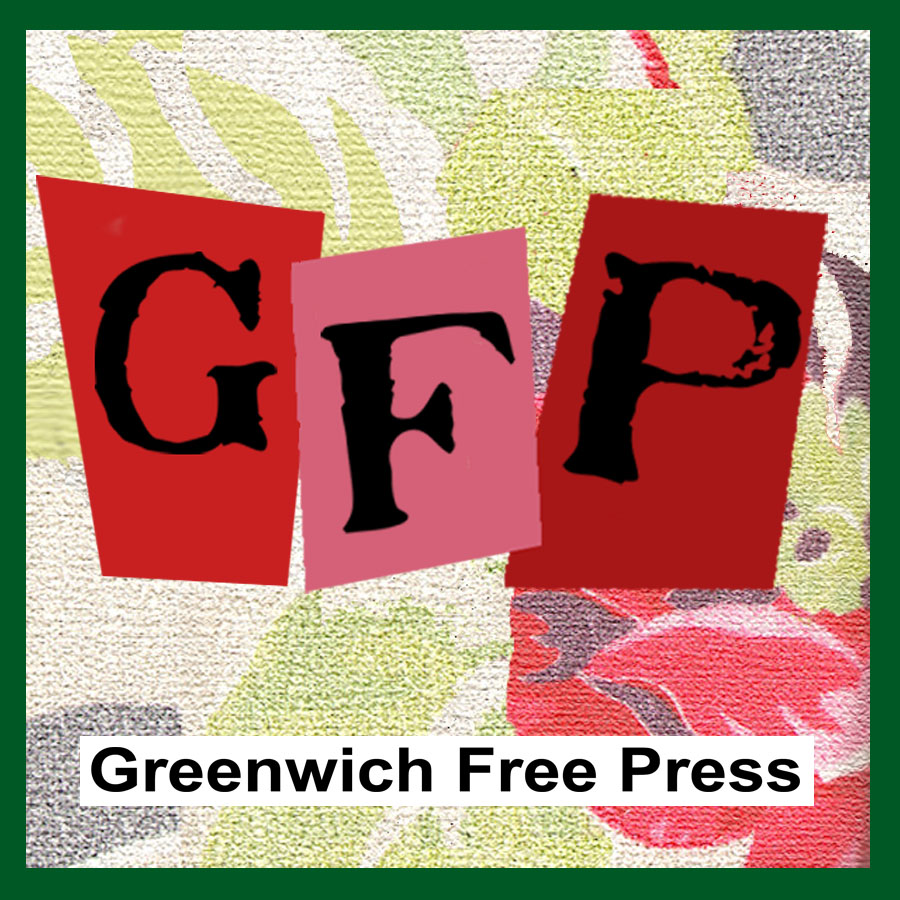 Email news tips to Greenwich Free Press editor [email protected]
Like us on Facebook
Subscribe to the daily Greenwich Free Pressnewsletter.