The year was 1969. Peter Malkin, a real estate investor, said when he and his wife Isabel moved to Greenwich, they had not been interested in joining a country club, though he distinctly remembers his real estate broker Agnes McDonald suggesting more than once that they join Burning Tree Country Club.
Mr. Malkin said the broker finally explained the club had an arrangement that up to 15 Jewish families could join and there was an opening.
"I said, 'Well, thanks a lot but we're not really interested,'" he recalled, adding that he and Isabel's home had a swimming pool.
About a year later, the Malkins' friends from Stamford, Bill and Mugs Zales, also Jewish, bought a house in Greenwich.
"'They're going to want a club for their children. You should do something about that,'" Malkin recalled Isabel saying. "That was pillow talk. You listen to pillow talk."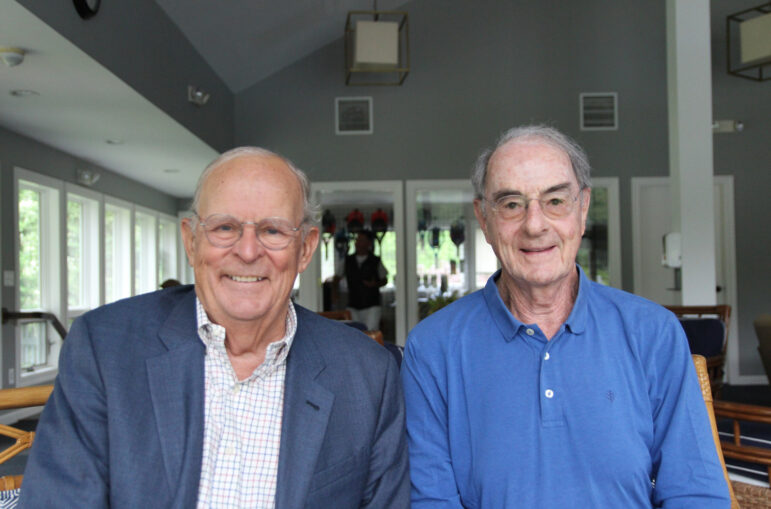 Malkin said he tried to make an arrangement with Eagle Hill School to use part of their land for a tennis club in exchange for the school having use of the facilities in spring and fall, but they were unable to work out an arrangement to share the grounds.
Through Mr. Zales, Malkin met Perry Duncan, a well known architect in the 1930s, who had purchased 200 acres in Glenville at a foreclosure sale during the Depression.
Zales also introduced Malkin to Bruce Warwick, a real estate developer, who is past Chairman of the Board of Greenwich Hospital. At the time Mr. Warwick lived in the Bailiwick association, off Riversville Road.
The men met at the home of Mr. Duncan, who lived in a house down Riversville Rd, at the far end of the property overlooking the lake. Duncan had subdivided much of the property once the economy had recovered.
"It was a Sunday and Bruce had thought this might be a site," Malkin recalled. "It overlooked the Glenville Shopping Center, and was the least desirable part of his property."
The men hatched a plan to create an unrestricted club on a portion of Mr. Duncan's land. To hear Malkin and Warwick share the story of the birth of the Bailiwick Club, which opened in 1971, and is set to celebrate its 50th anniversary on June 27, it is one of several pieces fitting together nicely, but there were many challenges.
"We discussed the concept of restriction on membership and I thought it was crazy," Warwick recalled. "We got together and said this is going to be the first open membership club to be created. With Perry Duncan, we were able to identify this property."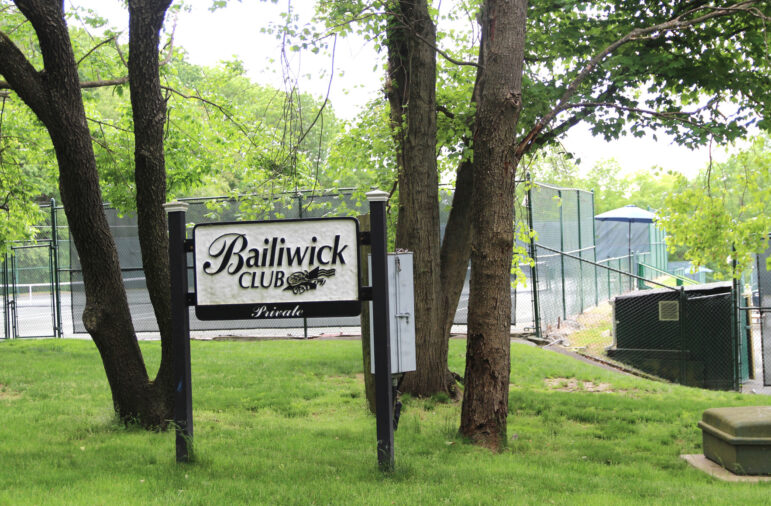 The Vision: A club with no restriction on race, religion or color
Mr. Malkin recalled when he and Mr. Warwick met with Perry Duncan at his house and explained the need for a new, unrestricted club, Mr. Duncan balked.
"I asked him what clubs he belonged to and he said, 'I belong to the Field Club and the Round Hill Club.' So I said they were both restricted by race, color and religion, and he said, 'Oh, no, that can't be.' So the following Monday, he called his two clubs and he found out that in fact they were restricted by race, color and religion."
Warwick said at the time, all the clubs in Greenwich had restrictions except for Burning Tree with its limited slots for Jewish members.
Malkin said the Stanwich Club was also more liberal at the time. The club was founded by Jim Linen who was Chairman of the executive committee of Time, Inc. and chair of the Urban League.
"He wanted to have a club that could have Jewish members. He told me once that from inception they had 10 places for Jewish families. That was 1968 or 1969."
"When Perry Duncan found out about the clubs to which he belonged being restricted, he called me and said, 'I am embarrassed and I want to do something about it.' He said, 'I want to help you.' He gave us an incredible arrangement."
Malkin recalled three acres were purchased for $50K an acre, which was the going rate for a lot at the time.
"When I told him we had to arrange financing, he said he would take a second mortgage for the $150,000 and not ask for any cash," recalled Malkin who then sought a construction loan from Greenwich Trust.
"I told them the story and the then chairman, said, 'We've got to do something about this.' He was very gung-ho. He said I'll give you a construction loan, but it's got to be a first mortgage. And I said that's no problem. We had a first mortgage from the bank, and Perry Duncan's second mortgage. And we had Bruce Warwick who lived here and was a construction person. That's really how we got started."
Malkin said there had been one condition on Perry Duncan's selling the land for the club, which was that he be the architect. The second condition was that he would take no money for doing the work.
Mr. Duncan designed the club house to include a second floor, but it initially they built it with a single floor with lockers and a small snack bar.
Challenge: Topography
After the project received zoning approval from the town, the next challenges stemmed from the site's rolling topography. The land was a series of plateaus and some ledge. Drainage was a challenge around the tennis courts.
Ultimately, the tennis courts were terraced and the pool was situated with a southern exposure.
Once the design was worked out, it took about a year and a half to build the club and start to find people interested in joining.
"When people in Rye Brook (over the state line in New York) heard about a club in Greenwich that was not restricted, all of a sudden we got an overwhelming demand from people in Westchester," Malkin said, adding that at the time the club had no committees. "I put in a (requirement for) standard clothing – acceptable tennis gear that had to be primarily white."
"We had people who joined who had never joined a club before, and never played tennis before. There were some people who said, 'Oh, look it's a restricted club. It's primarily white,' and I said, 'No, it's only the tennis clothes! We had one member who had bought a few hundred dollars worth of colorful tennis outfits."
Setback: Economic Recession
Warwick and Malkin said the club opened in 1971, just in time for the economic recession in the US and other clubs lost a lot of members.
Suddenly there were openings for membership in all of the other Greenwich clubs, so prospective Bailiwick Club members had other options.
"It was tough in the beginning. We lost some of our original group that I thought would join," Mr. Malkin recalled, adding that the period of economic stagnation impacted the club's membership drive for about several years.
"We had to keep our fees very reasonable," Warwick said. "They're still reasonable. It's part of the philosophy: a family, affordable club that is completely open."
Recruiting a Diverse Membership
The original concept for the club was to open membership regardless of race, color, religion or creed. Bailiwick was the first club to have Asian members, then the first to have Black members.
A very interesting story is that of Bailiwick Club member Thomas Sung.
"He came to the US in 1948 during the Communist revolution in China," Malkin said. "He came to law school and became a leading lawyer dealing with immigration of Asian people in New York, and then he founded Abacus Bank, which became very successful."
For Mr. Sung and his wife Hwei Lin and their four daughters, Bailiwick was the first club in Greenwich they could join.
"It meant a great deal to them," Malkin said.
Next, Malkin said he set out to recruit Black members.
"I couldn't find any," said Malkin.
"The president of the Urban League said, 'You don't understand. We don't grow up playing tennis or swimming,'" Makin said. "He accepted a free membership."
There was an African-American tennis pro who gave tennis lessons in Scalzi Park in Stamford. I arranged for him to come to play with our pro, Louis Camino, who was Peruvian.
Malkin was able to recruit a few Black members, including some New York Nicks players, in addition to the president of the Urban League.
Full Membership and a Waiting List
"This club has meant a lot," said past club president Bill Laufer, who is from Rye Brook. "It's a family club. We're not a pretentious club. We're a seasonal club. We're not a golf club. It's not a country club."
Today, interest in the Bailiwick Club has spread by word of mouth.
"You can live down the street and not know we're here," said Peter Grabel, vice president of the club's board of directors, adding that the club has 245 families as members, and more than half of them joined in recent years.
In fact, the club has maxed out its capacity and a waiting list has formed.
"I think Covid has renewed interest," Grabel said. "People aren't sending their kids away, and are home a lot more. I think it's worked in our favor."
Members are about 50-50 from Greenwich and Rye Brook, with many living in the Bailiwick neighborhood.
And while the club is considered seasonal, paddle tennis has become so popular that the courts are busy most of the year. Also there are a half dozen family events throughout the year.
At Bailiwick, members make reservations online to play tennis, paddle tennis and pickleball. The pool is open typically open by Memorial Day.
Dues and fees for families and singles are featured on the club's website. There is a one time fee of $7,500 paid over three years, which goes toward the construction plans which include upgrading the snack bar and a new pool.
"The great thing here is, everyone regardless of their background, people got along well," Malkin said. "It was an example of how everyone could come together and families became friends. We loved everybody. Everyone enjoyed the whole experience."
"We've all enjoyed contributing to spending 20 percent of our time for a good effort for society," Warwick said. "Everyone is welcome to apply to join, including people who are gay, Jewish, Black, Asian. Everyone is welcome."