Fans of boxing will rejoice that Greenwich's waterfront park, Roger Sherman Baldwin Park, will be the venue for the upcoming "Glove Up Greenwich" charity boxing event on Sept 30 from 4:00pm to 10:00pm. The event will showcase nine sanctioned boxing matches, and fighters will be chosen from Greenwich and nearby communities.
Kastriot Xhema, who was born and raised in Greenwich is organizing the event with his longtime friend Michael Vranos.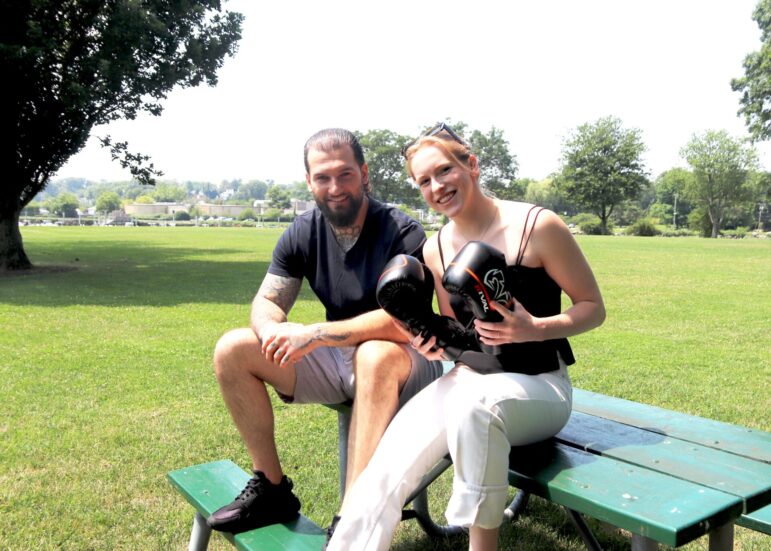 We first interviewed Mr. Xhema, who goes by "Kas," back in 2019 when he shared his redemption story, having done time in prison for fighting at a young age. He regained his freedom in 2014 and said he was grateful the courts had steered him toward boxing as part of an anger management program. Afterward, it was a relief not only to shed his anger but to make a living from fighting.
Over time Xhema switched from boxing to mixed martial arts, and at the time of our 2019 interview he had shed 30 lbs on a diet he joked was kale and chopped salad in anticipation of an upcoming professional MMA fight at Madison Square Garden, which he would go on to win.
Unfortunately, Xhema endured another setback, contracting Covid in 2020 and enduring a lengthy recovery from brain, heart and GI inflammation, and hasn't fought since then.
"I don't want to rush it," he said.
Still his relentless enthusiasm is contagious, and this week Xhema smiled as he looked across Roger Sherman Baldwin Park envisioning the upcoming event.
"There will be a 40 x 40 truss, about 40 ft high, with a roof over it and a Jumbotron hanging from the center just above the ring," he explained. "We'll have seating all around the ring and a VIP tent."
Xhema said the tickets have tiered pricing (Ticket page includes FAQ's) starting with $150 general admission standing, reserved seating from $250 to $2,000 depending on proximity to the ring, and the option of VIP tickets which bring access to free food, open bar and luxury trailer restrooms.
Xhema said Glove Up Greenwich is approved for up to 4,000 attendees.
"I've been trying to do this since 2015," he said. "There's a lot that goes into the planning."
Joined by Susie Moore of Moore Strategies who is helping with marketing, Xhema said they connected while boxing at Revolution Training in Stamford.
In fact, women will also fight in the Glove Up Greenwich event.
As for the charity aspect of the event, Xhema said the beneficiaries dovetail with his desire to give back to his town.
"I want Glove Up Greenwich to be a force for social impact in our town, promoting mental wellness and giving kids and adults a positive athletic outlet," he said, adding that all proceeds will go to local non-profits, starting with The Rowan Center, which is based in Stamford, but serves several towns including Greenwich.
Sharon Walker Epps, chair of the board at The Rowan Center, a provider of sexual assault services, expressed her gratutide on Glove Up Greenwich's Instagram @gloveupgwch.
"We provide free crisis counseling to any victim or secondary victim of sexual assault. And soon we will be offering free long term therapy," she said. "We have 24/7 hotline. We provide free advocates to go with all victims to the hospital, to the police station, and to the court house – whatever they need."
"We are the only organization to provide state certified services to Greenwich," she added. "We've been doing this work for over 40 yeas. It's our only mission."
Also, Ms Walker Epps said, "We want to continue to expand our justice advocacy program, which is focused on working with our local law enforcement to ensure that perpetrators of sexual assault suffer the consequences of their crimes. We know that perpetrators of have sentenced victims to a changed life path – a path that is often filled with trauma, PTSD, depression, anxiety, self-harm and more."
Xhema said that Greenwich United Way was selected for their focus on the mental health needs of the community.
"Mental health, per our needs assessment, is one of the top needs in the town," said Greenwich United Way CEO David Rabin in his Instagram testimonial. "We are very proud to be partnering with Glove Up Greenwich to raise awareness about mental health in the Greenwich Community."
Greenwich First Selectman Fred Camillo has encouraged Xhema and supports the event. On Instagram, Camillo recalled watching boxing on TV in his youth and "fight nights" in Pemberwick Park.
"If you haven't been to a boxing match, I highly recommend going there, it will be a top rate production in a beautiful venue here in Greenwich," Camillo says on Instagram.
On Thursday Camillo said, "What is being planned here takes it to the next level. It certainly brings back a lot of memories for me, and I am proud to support what I hope will be a new era here in town where we see a lot of these events in the future."
"Kas and the many town residents that are supporting this have done a terrific job putting it together," he said. "Using the proceeds to donate to some wonderful causes in Greenwich makes it even more special."
Other non profits to receive proceeds from the event include Greenwich Emergency Medical Services, Byram Volunteer Fire Dept, and Glenville Volunteer Fire Co.
Tickets are now available for purchase on the Glove Up Greenwich website. Other ways to get involved include becoming a sponsor, volunteering at the event, or donating to support the charity partners.
Sign up for the newsletter on the Glove Up Greenwich website to be notified of event updates. To sign up to be a sponsor, please email [email protected].