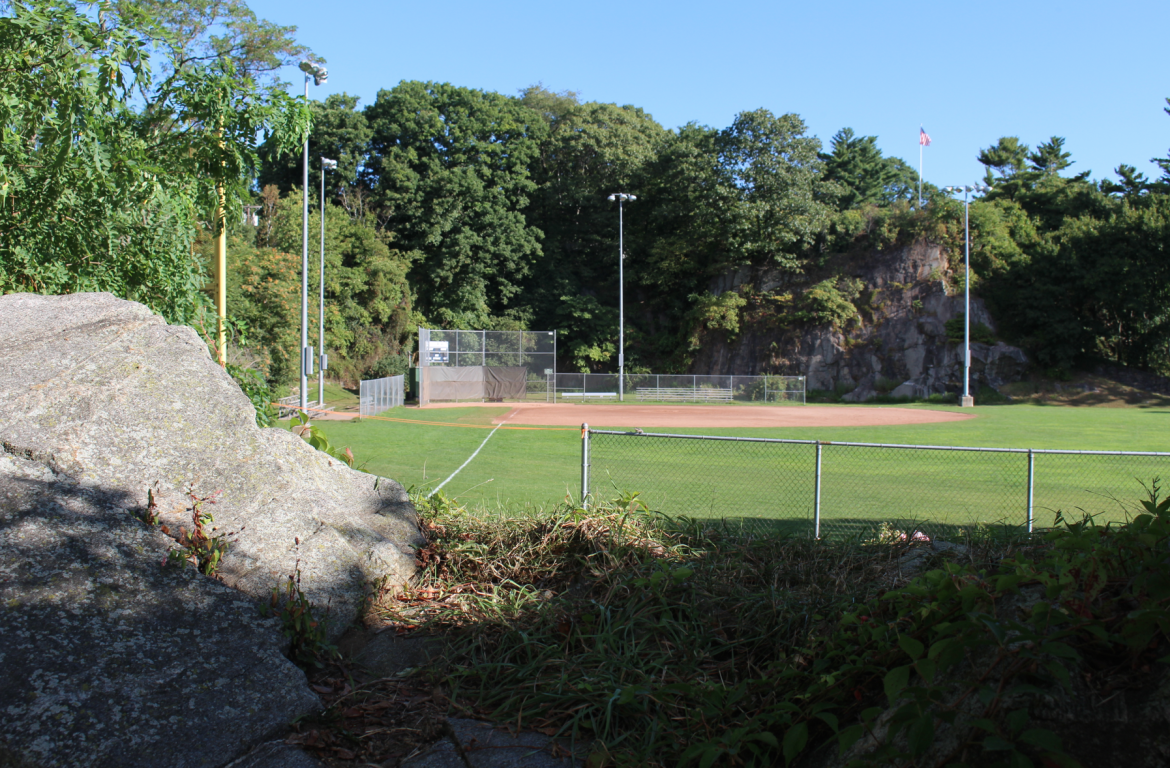 Longo Carting won its first Greenwich Men's Town Softball Championship as they rallied to defeat defending champ Premier Lighting Group 25-21 in an exciting final game at Teufel Field.
The third time was the charm for the Carters who were runners-up last year to Premier. In  2013 they were runners-up to Huddle Up Sports.
Longo's won the winner's bracket of the double elimination tournament, so Premier, who came out of the loser's bracket and had to win two games to take the title. The Lighting Group forced a final and deciding game after defeating the eventual champion 26-14 in the first game of the evening.
Premier scored four times in the first inning, but the Carters quickly responded with seven runs taking a 7-4 lead. The Lighting Group picked up 11 runs in their next three turns and led 15-9 going to the bottom of the fourth. Then Longo's exploded with 13 runs and 14 solid hits taking a 22-15 lead. While Premier continued fighting with six more runs in the final three innings, the Carters added three insurance runs along the way as well. It was still close as the Lightmen had the bases loaded with the tying run at the plate when the final out was made.
Jim Jagodzinski and Tyler Herrmann were the hitting stars of a Longo's attack, which saw every player contributing at least two hits.
Jagodzinski's five-for-five included four runs scored and three runs batted in. Herrmann was also perfect, going four-for-four, including two homers, four runs scored seven RBI's. Tommy Bisignano, Antonio Lio and Jamie Longo all went four-for-five as the Carters combined 32 hits with outstanding team speed to keep their rallies alive. Frank Santoro and Jason Garbowski each pounded out three hits for Longo's and Chris Marullo, Teddy Lorch and Jason Herrmann were each credit with a pair of hits. Longo, Marullo and Lorch all homered for the new Town Champions.
Premier battled hard the entire game, led by Mike Fesko's six-for-six effort including the runs batted in. Justin Valenti also had a big day, going five-for-six and drilling a home run. Frank Currivan and Casey Allen helped the cause with four hits apiece, with Currivan belting two homers and driving in four runs. Kris O'Hara and Pete Gasparino added three hits apiece to the Lighting Group offense, while Aaron Valenti and Mike Mohrin chipped in two hits each.
Antonio Lio was the winning pitcher for Longo's Manager Teddy Lorch was extremely pleased with the way his team rallied for the victory. The Carters made the key stops in the field and grouped hits together at the right time for the hard fought win.
The Championship Game was necessary due to Premier Lighting Group's 26-12 win over Longo Carting in the first game of the evening. Premier put up seven runs in the third inning and scored 11 more in the fourth to keep the game well in hand. The Lighting Group showed why they've been extremely successful in recent years, pounding out 28 hits. Aaron Valenti's perfect five-for-five sparked Premier and included a homer and five runs driven in. Mike Fesko had a major supporting role with four hits in five trips, four runs scored and four batted in. Pete Gasparino, Casey Allen, Mike Mohrin, and Ish Hernandez each pounded out three hits, with Gasparino adding four RBI's. It was two hits apiece for Manager Justin Valenti, Frank Currivan, Eric Dralle and Ish Hernandez as the Lighting Group displayed an extremely potent offense.
The Carters brought their bats to the game as well. Antonio Lio, Frank Santoro and Jim Jagodzinski paced Longo's with three hits apiece, as Lio and Santoro also cracked home runs and driving in three runs each. Tyler Herrmann, Chris Marulo, Teddy Lorch and Jason Herrmann supplied two hits, with Marullo being credited with four RBI's.
Pete Gasparino picked up the win for Premier. It was one of the most exciting Championship Evenings in recent memory in Greenwich Men's Softball, and with three different Town Champions in the past three years, the hopes are high for continued excitement.