Enter the Town Clerk's office on the main floor of Town Hall and it's hard to miss the angels. While the office is neat and tidy, there are dozens of angels, mostly of the plush stuffed variety. They are everywhere except suspended from the ceiling.
"My staff are fantastic. They're angels," said Town Clerk Carmella Budkins of her all-women team. Budkins, who has held the position for 28 years, and is running for another term, said the angels were gifts from happy customers, but none of them block the staff's view of the service counter.
"I'm proud of my staff. They work 110% all the time. They're angels." – Town Clerk, Carmella Budkins
Inside her tidy office, the theme changes. The shelves are lined with 28 years of mementos including newspaper clippings and memorabilia of Greenwich's history.
One sign says 'St. Roch Ave,' a reference to the hub of Chickahominy where Budkins lives and is a familiar face volunteering at St. Roch Roman Catholic Church.
A plaque over her office door was a gift from a friend that says Drama Department.
That may be a reference to Town Hall previously being home to Greenwich High School. In fact, when Budkins attended GHS, the space that is her office was part of the guidance department. Or it might be a reference to the year-and-a-half long internal audit of her department, which she said turned up a discrepancy of just $28.01 in favor of the Town.
"We handle millions of dollars, and not once have we had a problem. And we do a lot of state reports," she said. "The audit was loaded with over 150 errors, which were corrected. …We never used any system that was not approved by Treasury or Finance."
---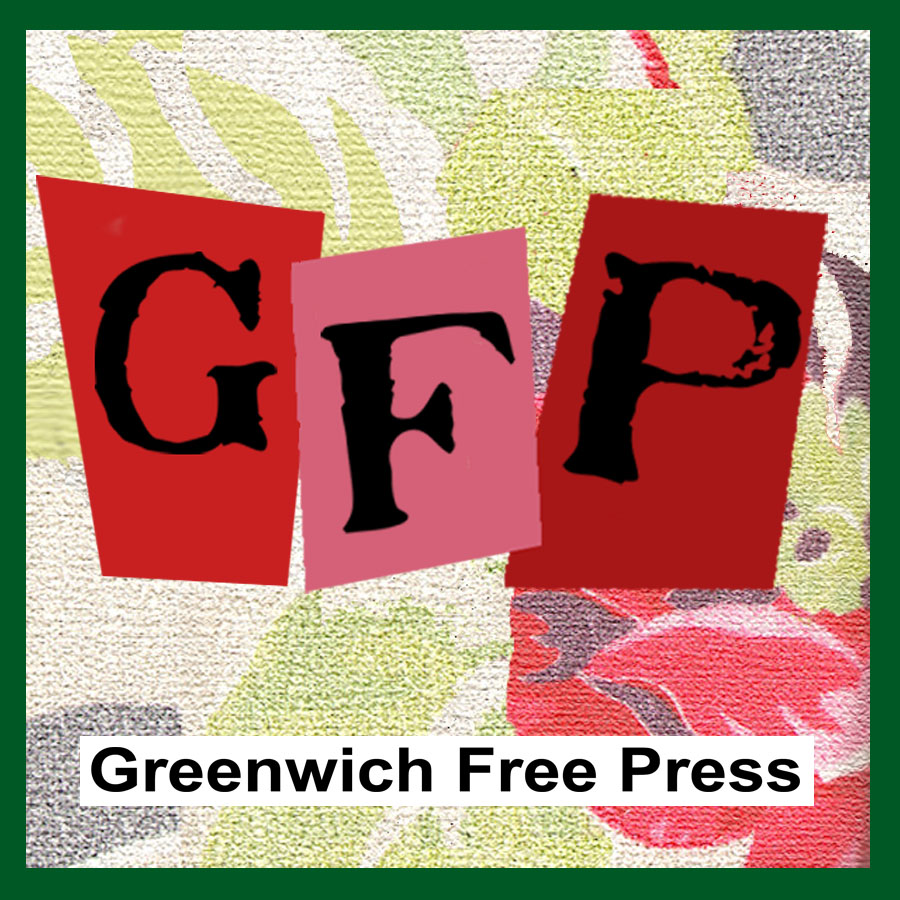 Subscribe to the daily Greenwich Free Press newsletter.
---
"The problem was cash. We bring up our money every day, but Treasury does not go to the bank every day, unless they have a certain amount," she continued. "They don't have separate deposit slips for our department, 150. Therefore the auditor who was fired for lying is gone. That should say something right there."
"We have a very good record. Every penny is accounted for," Budkins added. "We have a great new system that we started to use a year and a half ago."
On the topic of recent SEEC fines against Democrats, including $52,000 fine against Tony Turner, Budkins said in 2015 she was out for a knee replacement and failed to send a certified notice letter to Debra Hess, who missed filing deadlines when she was Treasurer for a BOE candidate.
"It was an innocent mistake," Budkins said.
But about those elephants, also gifts from happy customers.
"The elephants are not because I'm Republican. It's not political," Budkins explained, though there is that one donkey that was a gift from longtime Greenwich Democrat Mary MacNamee.
"They're for good luck," she said of the elephants.  "Trunks up: Good luck."
Indeed, in feng shui, elephants are depicted with the trunk up, symbolizing the showering of good luck.

Certainly Budkins said she is lucky to have a job she loves for 28 years, and she intends to keep it.
The irony is many residents still don't know much about the Town Clerk's office.
"The State dictates everything – even our fees," Budkins said. "We really are not under anyone. The voters decide who is here, but the State has its statutes and mandates."
"We record every land transaction that comes in – warranty deeds, quitclaims, mortgages, liens, lis pendens, and tax liens," Budkins said. And while her opponent in the upcoming election, Democrat Molly Saleeby, has talked about putting more of the office functions online, Budkins said it's already being done.
"We are converting the index onto on the computer. We're already online back to 1953," she said. "When you buy a piece of property, you do a title search to see if the title is clean. The searches have to go back 40 years."
Budkins said the index includes grantors and grantees and whether there is a mortgage. People can access the information  on the internet from their homes or offices 24 hours a day.
---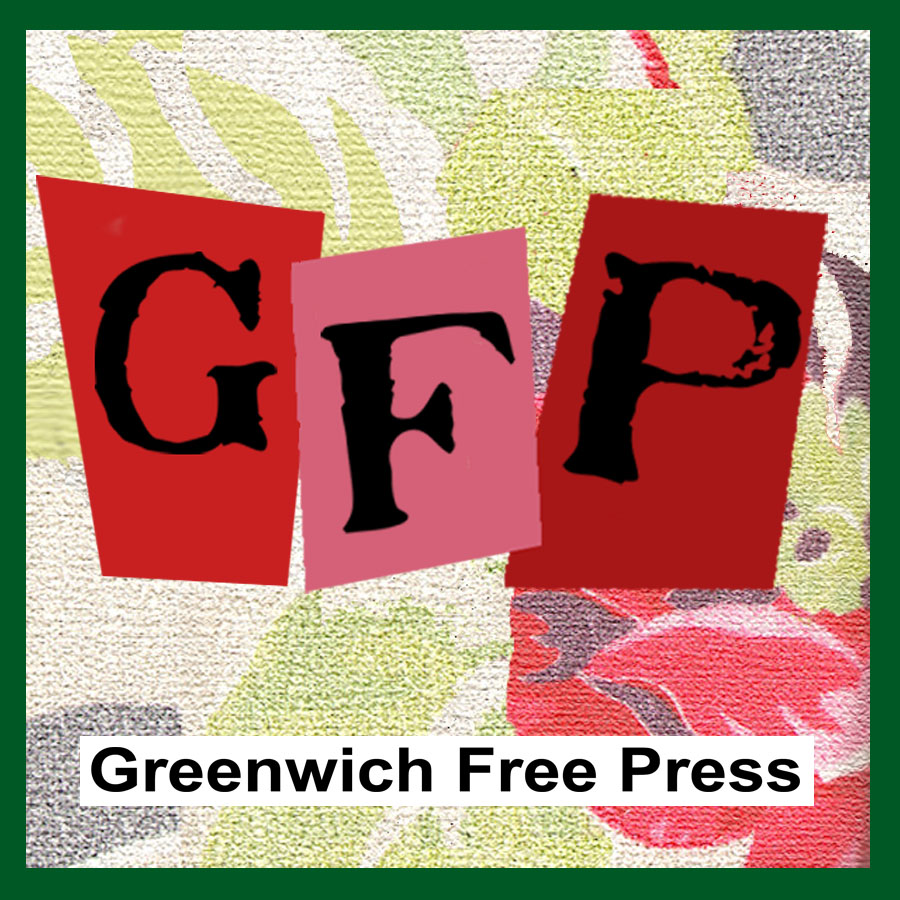 Subscribe to the daily Greenwich Free Press newsletter.
---
"Everything is public," she said, adding the most popular time for online searches of the index is Sunday night, when attorneys like to view documents online.
"And it's at no cost to us," she said. "If they print it out at home there is a fee. We average $1,500 a month. But some people still like to come in in person."
As for the online index, Budkins said as more grant money comes through, the index will go back further than 1953, adding convenience for the public.
In addition to recording all the land transactions, the Town Clerk's office issues and collects absentee ballots.
"Then, on election day we turn over the ballots to the Registrar of Voters to be counted," she said.
Space on the lower level of Town Hall is also part of the Town Clerk's office, and includes the vault and land records.
"The white books are all the recordings we take in. The first 100 are all hand written and date back to 1640," she said. "We have preserved them."
She said each of those books cost between $5,000 and $10,000 to redo. The BET allots $20,000 a year for the task.
"It's amazing what you can find out in our vault," she said adding that people who do historical research are attracted to the trove of information.
The Town Clerk's office also issues dog licenses. While her opponent Saleeby said the State offers incentives for more dogs to be licensed that could be taken advantage of, Budkins said it's not the Town Clerk's job to count how many dogs are in Greenwich.
"That's a job for Animal Control, not us," she said. "The Police Dept has a list of all the licensed dogs."
"Our job is to license, collect the fee the State tells us, and give out the tags," she said.
The dog license application is available on the town website to be downloaded, filled out, and mailed in with a rabies certificate. The annual licenses and tags are mailed to dog owners, and rabies certificates are returned by mail as well. Licenses run July 1 to June 30.
Budkins said dog licensing takes place in June, and while other towns hire seasonal help to process dog licenses and absentee ballots, her office has no seasonal help.
"We are a small office. We have five full time and two part time employees," she said. "Our work has to stay up to date."
Again, Budkins praises her all-women staff, who are all cross-trained and have worked for her for many years.
"We are an all women office, except the mandated checker of indices, John Sabia who works part time about 5 hours a week. "His work is mandated by the Sate," she said.
"Dee has been with me 60 years and now works part time," Budkins said. "Kim (Kimberly Jordan, assistant Town Clerk) has been with me at least 22 years. Barbara – 25 years. Lynn – 18 years. Lena – 10 years. Elaine – 2 years. Melissa is new, working part time, and has been here few months. We work with one another. Everyone is willing to help."
Another task her office handles is recording Trade Names. Budkins said recently banks cracked down on business owners, making sure the businesses were legitimate before they could open a business account.
"At one point there was a line of landscapers," she said, pointing to the service counter.
As Budkins lists all the responsibilities of the Town Clerk office, her phone rings constantly. "It rings at home too," she said.
"I was on vacation in Disney World and got a call at my hotel room from a lawyer with a client stranded in Mexico," she said. "He needed his birth certificate."
There have been times she has come in on a holiday or Sunday for a person needing a document.
Then there was the military discharge papers needed for a veteran to have a military funeral.
And the papers a local woman needed in the process of adopting a child.
"They come in and tell you their life story. That's what I like about the job. It's the people," she said. "It becomes like a family. You see the regulars who get their pensions from overseas. I certify that they are still alive and give the Town seal. Sometimes twice a year, they have to prove they are alive."
Budkins is also a notary public. She said many parents come in to have their documents notarized to verify they live in Greenwich so their children can enroll in Greenwich Public Schools.
The Town Clerk's office also processes religious exemptions for school vaccinations. Yes, there is a form for that too, and Budkins estimates she's processed about a dozen recently.
Budkins said most people leave the Town Clerk's office with a smile, though there are exceptions.
She said someone might frown if they are refused a birth certificate.
"A lot of families will send their nanny in for a birth certificate. Or a boss will send a secretary. But unless you are the parent or grandparent, or it's for you, or if you have power of attorney, it's considered confidential," she explained.
As for the November 5 election, Budkins said she reports to the voters.
"The voters realize that I relate to them, and that I've done a good job," she said. "We give 110% every day."
As for the cancelled League of Women Voters debate between Budkins and her challenger Saleeby, Budkins said she will be out of Town that day.
In a press release with the schedule of debates, the LWV wrote, "The debate between Molly Saleeby (D) and Carmella Budkins (R) was cancelled due to the last-minute response and inability of Carmella Budkins (R) to participate.
"I followed the process but will be out of Town. They told me that it was too late," she said.
GFP offered to host a debate on a night she might be free. Budkins said, "We have so many things happening, there is not one night free."
Budkins said that in 28 years she was challenged in 1991 and again in 2011. "Steven Ng was gracious," she recalled of her last challenger. "He came to the Milbrook Club afterward and congratulated me."
In 2011 she also declined to appear in a LWV debate.
Budkins whose 2018 salary was $101,923.68 said her salary is set by the BET. "It has to be in the budget before the election," she said, adding that if Saleeby is victorious she would be paid the same salary.
Budkins is also at every RTM meeting. "I am not paid for the RTM nights. My staff gets paid. I'm salaried, that's it. It's a full time job," she said adding that previously there were seven meetings a year, which has increased to eight.
"We are in charge of getting the call out. According to the Charter and from our town attorney, we must mail the call. If you want you can request to have the Call emailed to you. Last term we had 29, this term below 50 requested it by email. But especially when the call is longer, they ask they request paper copies. Nobody wants to use their toner," she joked.
Also, she said, "We're taking over all the appointments from the appointments committee: SNAC out of first selectman's office. We're keeping track of all the boards and commissions, when terms expire. And all the RTM votes and minutes are up online – You can look up any vote and how people voted. Through the RTM we work with every town department."
Budkins said every day on the job is different."I love this job and the people. I don't want to retire, and people are always grateful for our help," she said.
She recalled bumping into the woman who needed documents for an adoption, and said said years later she was out for dinner with her husband and the woman approached her.
"She came up to me and said I want to show you what you help me get. It was the baby. It was very gratifying."
See also:
LWV Greenwich to Host Debates for Municipal Election Candidates
Meet Molly Saleeby, Candidate for Greenwich Town Clerk