A group of retailers, store managers and Greenwich Avenue landlords gathered Thursday afternoon at the last block of the Ave before Railroad Ave to meet with Greenwich First Selectman Fred Camillo.
They had a lot to say about the closure of their block to traffic to create restaurant outdoor dining.
The closure is in place until December 21 and the First selectman has said he hopes to make the arrangement permanent from April through December on an annual basis.
Camillo explained he hoped to alleviate parking challenges by raising funds for a trolley that will allow people to park at town hall and get a ride to Greenwich Ave and to the waterfront. The big picture is to tie a reimagined waterfront at Greenwich Harbor to a pedestrian friendly Greenwich Avenue. A major overhaul of Roger Sherman Baldwin Park is in the works including walking paths and a new building that will include a harborfront restaurant.
The block at the bottom of the Ave has about 20 retailers and nine restaurants, including Mediterraneo, Abis, Harvest, South Bay, East End, Putnam Restaurant, Little Beet Table, Steam and Le Pain Quotidien.
Since the block was closed to traffic on June 2, it has been a destination for people drawn to great food and drink, and an exciting vibe has blossomed after months of forced shutdown to slow the spread of Covid-19.
But for retailers on the block, the transformation has been painful.
With parking spaces out of commission, they say business has plummeted.
Three landlords attended the meeting and said they worried their buildings would become devalued, and that they're experiencing difficulty securing retail tenants.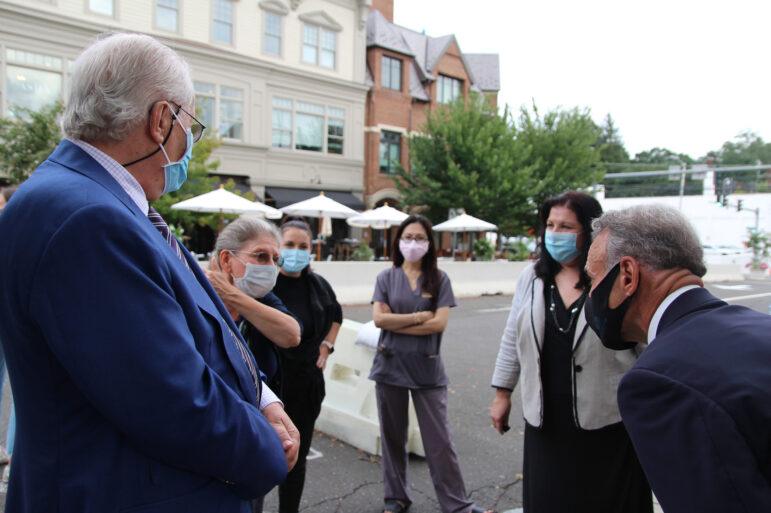 Initially, two blocks of Greenwich Avenue were closed to traffic. But in response to retailers complaints, the block between Havemeyer and Fawcett/Grigg was reopened, and restaurants were provided individual "nodes" fabricated from jersey barriers for outdoor dining.
Camillo listened, but pointed out that only nine parking spaces were at stake.
"People love this," he said gesturing to the plentiful outdoor dining. "This is the most exciting thing to happen in downtown Greenwich in decades, and everybody is calling and emailing and saying so. People are coming from all over. I don't want to undo what's worked, but if it's not working for you, I want to hear ideas."
"Last year, 2019, was our best year ever," said Gail Pappa who along with her husband Mike has been operating Michaelangelo at various locations on Greenwich Avenue for 41 years.
Gail said the loss of parking and exposure had taken a toll. "The outdoor dining shouldn't be at the cost of the retailers," she said. "If we could (we'd like) nodes for the restaurants and have people able to park."
"Even if it's only nine spaces and make them 15 minutes, at least people could come in and out," Mike Pappa said. "People are calling and saying, 'What did they do to you down there? I can't get in and out.'"
Camillo said his understanding was there was an arrangement for Michaelangelo customers to use the private parking lot of People's United Bank.
"No. It's only for the bank. They won't let us use it at all," Gail said.
"And I pay more rent down there than I paid up there, Mike said, gesturing toward 353Greenwich Ave. (Michaelangelo was located at 353 Greenwich Ave for 30 years. Before that the business was located at 370 Greenwich Ave from 1979 to 1987).
"But it's not just me," Mike said. There are 20 retailers down here. They're are all people who have been here 10, 20, 30 or 40 years. We're thrilled about the restaurant business, but why should we be put out of business?"
"The thing is you're going to undo everything that is working," Camillo said. "I'm never going to make everybody happy."
"But I come out here on a sunny day and I see two people there at lunch time, and three people there – and the whole street is closed," Mike said gesturing to scores of empty tables. It was 4:00pm.
"Maybe keep the street open until 5:00pm and then close it," Gail suggested.
"Could you even give us to 3:00pm to get customers to come in," Mike asked. "I don't know how St Moritz (bakery) is even still open. Who is going to schlep two blocks down to buy a cake when they can go to one of the side streets?"
The Pappas asked if the town might set up jersey barriers made of plastic rather than concrete, so they could be moved to open the block at night.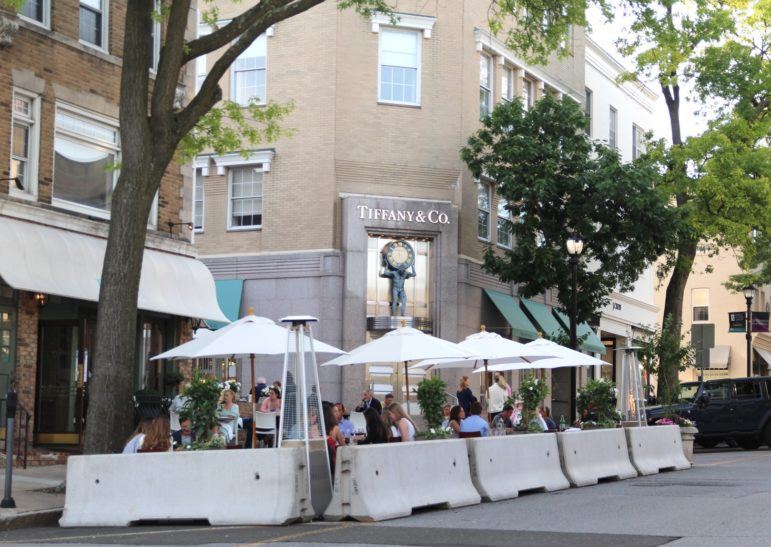 Bob Dietrich who owns the building where St Moritz bakery operates at 383 Greenwich Ave, said the closure was wrong. "God bless America. Power to the people," he said, adding that he and his attorney would like to visit Mr. Camillo in his office.
Landlord Charlie Hubbard, who owns 375 Greenwich Ave, where Avenue Nails operates, said he also had a number of residential tenants. "What do I do for them when they're taking in groceries or taking out laundry or taking kids to school? What is your plan for them?"
"Has has anybody thought of the loss of tax revenue from the devaluation of the buildings?" Hubbard asked. "If you don't have a mix, and you make it all food oriented, the restaurants effected will be 28 instead of eight."
Landlord Linda Kuback, who owns 371 Greenwich Ave said, "If you make everything into a restaurant, there's going to come a point where everyone is doing a little business, but nobody is doing enough."
"That would be my concern too," Camillo said.
Mr. Pappa said Cavalier Galleries had closed and was moving to a new spot up the Avenue, and that a barber and hair dresser were impacted as well. "It's not just us," he said.
Amanda Mata, the manager at Theory, said her store traffic was down 30%.
"I like it at night. It's fun. It's packed," she said. "But during the day it's dreadful. My clients don't like it. During the day there's six people sitting outside across the street. How is this fair to the retail stores?"
"We've been here 20 years and I've never seen something so terrible," Mata continued. "Could you open up the block during the day and then we have the whole day to have people park here or even drive by. Theory is the only high end retail clothing store down this block. Our competition is up there by Richards. We can't get out of our lease."
Sugie Koo, manager at Avenue Nails, said her nail and waxing salon had been on the Avenue 16 years and business was down under 50%. She said parking had always been a challenge, but had become impossible with the closure.
"We have a lot of elderly clients we don't see any more," she said.
Reached via phone, broker Patricia Valenti, executive managing director at Newmark Knight Frank, who represents landlords on Greenwich Ave, said, "Everyone is sympathetic to restaurants, but landlords and tenants are suffering as well. There has to be a better balance. It's outrageous."
"There is going to be a tenant landlord riot," she added. "How is St Moritz going to sell a coffee cake if you have to walk 15 minutes to get it. You can't sell clothing either. It's one thing to close (the block) from 6:00pm on. But during the day it makes absolutely no sense whatsoever."
Valenti said it should be possible to make everyone happy. "Let these poor people earn a living. If they're able to let traffic through on the top of the Ave, these people should not be penalized on the bottom."
Paulo Lanfredi, owner of a salon of the same name, was at the meeting on Thursday, but had a slightly different perspective since much of his clientele travel from New York City. He said they like to hang out at the restaurants. "In my experience they're very happy. They're from the city and they're used to having no parking. You just park somewhere and walk."
"We're not New York City," Ms Mata said.
Mike Pappa said on rainy days, when he typically did a brisk business before the closure, that the outdoor dining is empty.
"If it rains the whole street is closed," he said. "After 40 years in Greenwich, if it's raining they're shopping. If it's a sunny day they're at their club playing tennis, golf or sailing. Now, the people shopping on Greenwich Avenue – they're the ones saying can you do better on the price? And what have you got for $10.00?"
"We don't want to take away what's really changed the look of Greenwich and people love the vibe down here at night," Camillo said. "We have town workers who are already working all day long. And we want something to look a little bit nicer (than barriers)."
"I don't understand why we can't get pods (in front of restaurants instead of the road closure). We did it up the street and it works well," Mr. Pappa said. "I go to Pasta Vera and it works great. I go down to Ginger Man – it's great."
"We're not going to have any Christmas. What should we do?" Gail asked.
"Nodes are very popular," Camillo said toward the end of the meeting. "We're trying to adjust… They wanted a couple more 15 minute spots down here and some at the top of the Avenue by Putnam Variety. The issue now seems to be this restaurant row with you guys here during the day, but there are some merchants on this block who are doing well."
Mr. Camillo said he would discuss the situation with town departments and loop back to the group early next week.
See also:
Selectmen Modify Greenwich Ave Vehicle Closure; Diane's Books Says "We Will Not Survive"
June 16, 2020
Restaurants, Merchants Comment on Closure of Bottom of Greenwich Ave
June 21, 2020