In Greenwich two funeral homes are making news with the announcement that Fred D Knapp & Son Funeral Home, which has operated at the same location at 267 Greenwich Avenue since 1906, has relocated to shared facilities at Coxe & Graziano Funeral Home at 134 Hamilton Avenue.
The Coxe & Graziano location is a much larger facility and benefits from a large on-premises parking lot, including garaged parking for funeral home vehicles, beautifully manicured grounds and spacious chapels.
Fred D Knapp & Son owner Matt Murphy said the move resolves his parking and space deficiencies on Greenwich Avenue.
This week Mr. Murphy and Coxe & Graziano owners Jen and Vincent Graziano Jr were busy hanging family portraits that previously hung at Fred D Knapp's Greenwich Avenue location, including one of Fred D Knapp.
"After 117 years on the Avenue, we're moving but will continue to operate independently," Murphy said.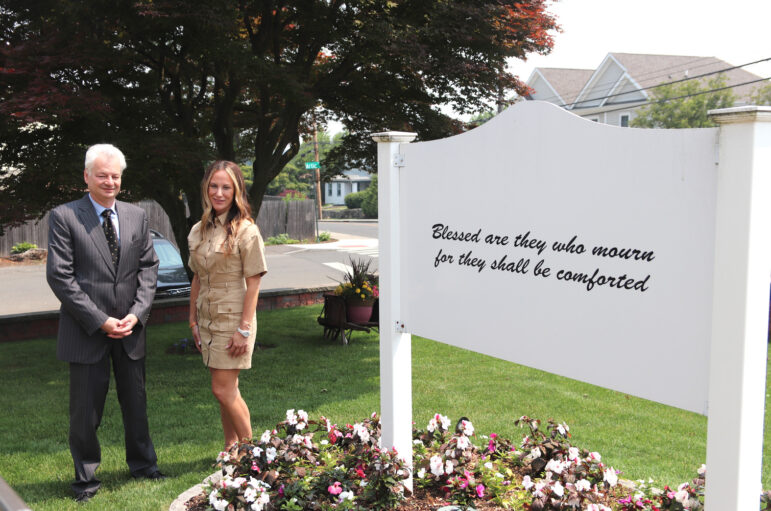 "The Knapps are a founding family in the town of Greenwich and have operated out of Greenwich Avenue for over 100 years," Graziano said. "With this move, the legacy of that family will carry on."
All pre-arranged accounts are protected and will carry over to the new location where Mr. Murphy will operate independently.
"Matt knew our reputation," Graziano explained, adding that both families had known each other for many years. "We love what we do and our hearts are in it. Matt knew we dot our i's and cross our t's. He did his research before he came to us. We are honored that he selected us to continue the legacy of Fred D Knapp & Son."
Also she said, "If you add up our combined years of service, it's several hundred years," she said, adding that members of the community are welcome to tour the facilities.
"We are all committed to giving every family the highest level of service in the most beautiful facility in town, "she added.
Fred D Knapp Funeral Home (203) 869-0315 and Coxe & Graziano Funeral Home (203) 869-5968 are now both located at 134 Hamilton Ave in Greenwich.