Here's a recap of the top stories of summer 2018 on Greenwich Free Press. Happy Labor Day.
June 28 was the anniversary of the collapse of a large section of the Mianus Bridge onI95.
Lt. Keegan, whose uncle Tom G. Keegan was Chief of Police back in 1983, recalled that in addition to horrendous local traffic congestion, there was another consequence to life in Greenwich.
"Crime plummeted in the Town of Greenwich!" Keegan said. "Statistically, across the board, you name it, it plummeted. Nobody wanted to come here."
Still, according to the retired Lieutenant, the police were busy as ever. "We directed traffic seven days a week," he said, adding that Greenwich residents, including local police, went out of their way to avoid  the area of River Rd and Strickland Rd all the way to Exit 5.
Sergeant Jeffrey Moran recalled how the accident started a bridge inspection program across the state and nation. Keegan joked that millions of people who claim to have gone over the Mianus bridge just before the accident.
Anniversary of Grim Event: Collapse of Mianus River Bridge, June 28, 1983
---
After years of waiting, the Greenwich Pool at Byram Park opened on June 29.
Among a crowd of about 150 invited guests, the ribbon was cut by the Junior League of Greenwich's capital campaign co-chairs Carisa Sykes and Debby Lash, as Parks & Rec director Joe Siciliano along with Superintendent Building Construction and Maintenance Al Monelli and First Selectman Peter Tesei looked on.
After a night of thunder storms, followed by morning showers, the clouds parted as if on cue and the steam began to rise from the brand new pool deck. Guests gravitated to the shimmering blue pool as lifeguards took their stations.
PHOTOS, VIDEOS: Greenwich Pool at Byram Park is Open with Its Breathtaking Setting, Stunning Vistas
---
Customers of Whole Foods Greenwich as well as passers by on East Putnam Ave have been unable to stop talking about at the massive red flowers that seemed to have popped up out of nowhere this August. Massive Red Flowers at Whole Foods in Greenwich Subject of Much Gawking
---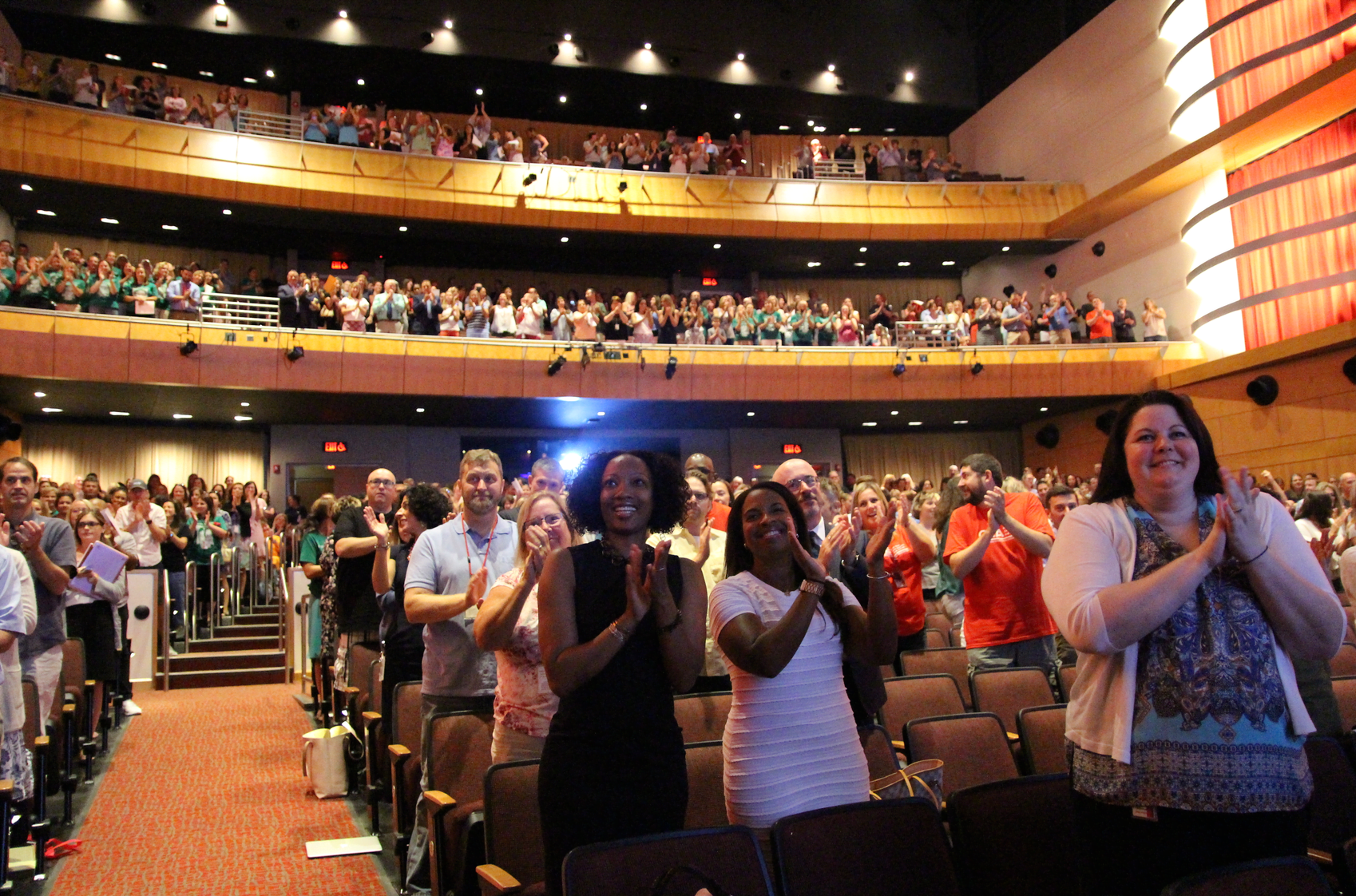 Greenwich Schools Convocation Kicks off with Standing Ovation for Ralph Mayo At Convocation last Monday, interim superintendent Ralph Mayo, who grew up in Greenwich and worked for Greenwich Public Schools for 41 years, was upfront about the need for the District to rebuild community trust.
---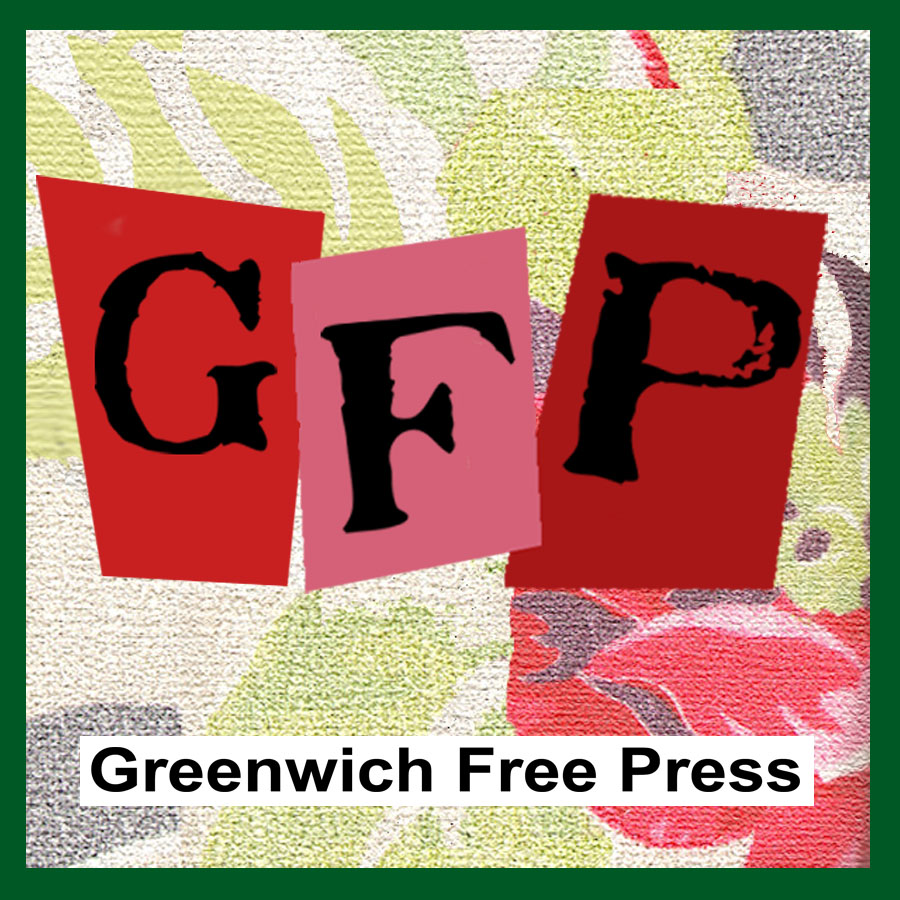 Subscribe to the daily Greenwich Free Press newsletter.
---
"We do care a lot but some times we don't show it," he said. "We need to go out this year and show them how much we care about them."
---
A trip to City Carting in Stamford traces the route of Greenwich's trash and recycling.
Materials weave their way through a massive $10 million multi-story machine custom made in Germany by Van Dyk.
The single stream recycling goes through a series of conveyor belts where metal, glass and plastic are separated. Jay Greco of City Carting said Greenwich residents are really good about rinsing and sorting metal, glass and plastic containers.  Residents keep trash apart from recycling, and the ratio of trash-to-recycling continues to improve. PHOTOS, VIDEO: A Close-Up Look at City Carting's Single Steam Recycling
---
At Island Beach's 100 year anniversary celebration, residents learned about the island's  rich history. It once had an excellent restaurant and amusement park. Later it had a tower and high dive and popular float to rest and socialize after swimming. It has weathered many storms and now has new bathrooms, dock, plantings and more. Greenwich Celebrates 100th Anniversary of Island Beach in Style
---
Animal lovers were moved by the story of a dog now named Henry who was found roaming in Bruce Park. In a statement released on Aug 17, police say the mastiff type dog displayed signs and symptoms consistent with having been abused.
An investigation by Greenwich Animal Control determined that the dog had been adopted in May 2018 by Christian Dilworth of 30 Brookside Drive in Greenwich from an adoption center in Connecticut.
Police say when Dilworth was contacted about his dog, he told investigators that the dog had died. He provided misleading and contradictory information concerning the dog's alleged death.
Fortunately, the dog, now named "Henry," has a forever home with a Greenwich Police officer. Greenwich Man Charged with Animal Cruelty after Abused Mastiff Found in Bruce Park
---
In August, local commercial realtor Diane Roth brokered a deal for a new tenant in the space formerly home to IGA.
Though hopes were dashed by residents who would appreciate a supermarket, they were pleased to learn Greenwich Fitness is set to open in the North Greenwich Shopping Center in the fall. Just 3,000 sq ft of the former home of IGA remains for lease.
North Greenwich Shopping Center Gets a Major Tenant
---
Over memorial Day weekend, the Greenwich Town Party was enjoyed by thousands of residents and their friends.
PHOTOS: Steaming Hot Greenwich Town Party 2018
---
In July, residents were upset to see the MTA clear cutting hundreds of trees along the railroad tracks between Exits 3 and 4 along the I-95 corridor.
State Rep Mike Bocchino explained there is a wastewater (sewer) force main project taking place along the CT Dept of Transportation right-of-way between I-95 Exit 4 Indian Field Road to Bruce Park.
The wastewater main carries wastewater for the entire Old Greenwich, Riverside, and Cos Cob service areas. It is required to be replaced through a US Environmental Protection Agency consent decree based on its condition.
In order to install the force main, the area had to be cleared to provide access for construction.
Bocchino Explains "Sudden and Unexpected Clear Cutting of Trees along I-95"
---
An article about an illegal apartment in Byram was popular. The owners had received a cease and desist order from the Town. They then evicted the tenants, and asked Planning & Zoning if they could bring it up to code and rent it out as an "affordable" unit under the 8-30g statute.
In Illegal Basement Apartment, P&Z Lets Byram Landlord Bring Unit up to Code, Create Affordable
---
Residents were saddened to learn in July that Green & Clean, the non profit group that raised funds for lights on Greenwich Avenue, would call it a day. Following a unanimous vote by their Board of Directors, a decision was made to discontinue the challenging task of installing holiday lights on the trees in Downtown Greenwich to focus their energies and our limited dollars on their primary mission.
Green & Clean to Discontinue Holiday Lights on Greenwich Ave
---
New Greenwich Recycling Rules: What You Need to Know
Greenwich implemented new single stream recycling rules on July 1. According to Patrick Collins, the Environmental Operations Manager at Holly Hill Resource Recovery Facility, three key items no longer accepted are plastic bags, shredded paper, and Styrofoam.
Collins said many people are under the impression they cannot recycle pizza boxes.
"A little oil stain is okay. As long as the wax paper is removed and there is no food left in it," said Patrick Collins the superintendent of Holly Hill.
As for aerosol cans, if they are empty, they also may be recycled. However, if there is any liquid remaining, it's trash."