If you're never been to the Bruce Museum, or used to go before pandemic and the renovation, you should make it your destination soon.
In fact, the new Bruce Museum will welcome the public to a day of free admission and grand opening festivities on Sunday, April 2. (The grand opening ceremony which will take place beginning at 12:00 p.m. The grand reopening is free to the public, courtesy of Bank of America.)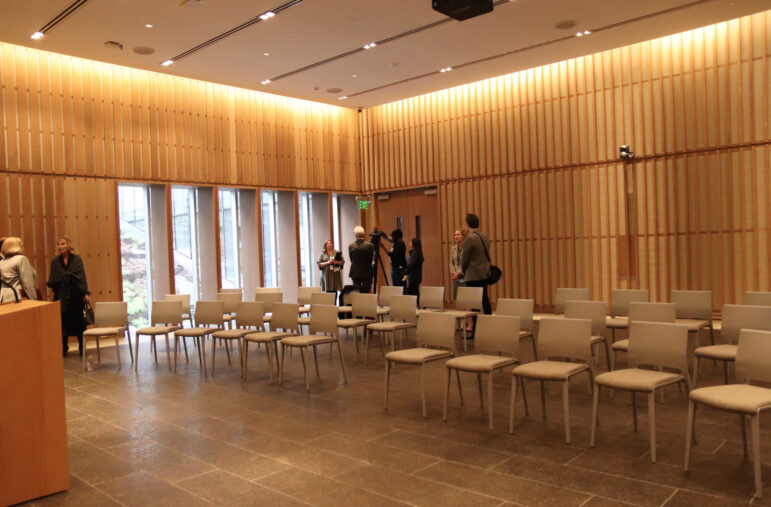 The new museum features a gift shop and café open to the public, an auditorium intended to serve as a community space for rent with a capacity of 150-200 depending on the event, three new classrooms and vast new exhibit spaces.
On Tuesday the museum held a press conference to share plans, goals and opportunities at the expanded and re-imagined museum.
"It's a big day for us," said Robert Wolterstorff, the museum's executive director, who noted the press conference was the very first event in the brand new auditorium on the museum's ground floor opposite the playground on Museum Drive. He said all kinds of events can be held in the auditorium – everything from talks, conversations, poetry slams, music, dance, film, juggling acts.
"Upstairs you'll encounter art and science, but down here you'll meet people and exchange ideas. You're going to make connections here," he said.
He said the museum didn't previously have a café.
"Nobody in Greenwich has said to their friend or partner, 'Hey, let's go down to the Bruce and have a bite before we catch the show.' Now they can say that. That's new and transformative for this museum, an all these spaces can be rented by the community."
"People across the region I predict are going to come to the Bruce way more than they think because they won't come here just for museum events. They'll come for friend's birthday parties, for anniversary celebrations, for corporate retreats, for weddings and bar mitzvahs."
Community Hub at the Intersection of Art and Science
Wolterstorff said the museum's superpower was that is both a museum of art and science.
"Art and science are two different ways of looking at the world," he said. "They're not dissimilar because they both involve empirical observation and they're both involve creative disciplines."
Wolterstorff said "education is in our DNA."
The original museum had just one classroom, and yet the they had 25,000-26,000 school contacts a year, and they expect that to double with the Steve and Alexandra Cohen Education Wing with three classrooms.
He said the intention is for museum to be a community hub.
"We think of museums and libraries as community institutions," he said. "We think they belong to the community and reflect the community, but I want to argue that museums create community. People come here and meet and make connections."
And while people can encounter art at home, museums provide a shared common space.
"In this present and fractured and fractious world it is more important than ever to gather together. We long for that as we come out of the pandemic."
Steve Dumez, lead designer of architectural firm EskewDumezRipple, said the the day was long in the making.
"The realization of a cultural institution such as this new Bruce is a significant undertaking. Our firm has been working on this project for 10 years now," Dumez said.
"Great projects require great clients," he said. "Robert Wolterstorff has definitely steered this complex project from from construction to completion, with a pandemic thrown in just to keep things interesting."
Dumez explained that the new museum connects the new and expanded museum more directly to the park outside. It invites the public in to an open lobby café and new community amenities such as the auditorium.
"Our vision was for a project that powerfully connects to its place, that literally grows out of the site around it, both architecturally and socially, to become a beacon for the entire Greenwich community," he said.
Art
Museum curator of art Dr. Margarita Karasoulas said for the first time the museum had the necessary gallery space to mount temporary art exhibitions of a greater scale than ever before. They are debuting the largest survey devoted to the work of Lois Dodd, who is best known for her observational approach to painting. The exhibit, Lois Dodd: Natural Order, is the artist's first major museum show.
Also, Karasoulas said for the first time the museum now has dedicated gallery spaces for specific media, including works on paper and sculpture galleries, which feature works by the self-taught deaf artist James Castle and the modernist sculptor Elie Nadelman.
The exhibition "James Castle: Thresholds" explores the theme of thresholds and in-between spaces that predominate in his work. While Material Matters: The Sculptures of Elie Nadelman, focuses on the artist's experimentation with materials as a defining aspect of his practice.
The expanded galleries will also allow the museum to feature large scale cutting-edge works of modern and contemporary art that the existing building had simply not made possible.
Karasoulas said that in the William L Richter art wing enabled the museum to showcase works of art in a brand new permanent collection galleries. They are showcasing a selection of paintings by Connecticut Impressionist artists, whose works form the nucleus of the museum's collection.
In addition, many of the works on view have either been promised to the Bruce or generously loaned by the members of the community.
For instance, one of the galleries features two major promised gifts of work by Pablo Picasso and Henri Matisse from William L Richter, along with additional selections of French Impressionist and Surrealist art from the the Richter collection.
Also on view are selections from another major promised gift to the Bruce, which includes 70 works by American and European artists ranging from Edward Hopper and Andrew Wyeth, to Alberto Giacometti, Camille Pissarro and Mary Cassatt.
"These promised gifts have already had a transformative impact, and it is our sincere hope that these new installations will further donations of works of art for the Bruce Museum's permanent collection," Karasoulas added.
Science
Dr. Daniel Ksepka said that for a long time the museum had tacked big ideas in a relatively modest space.
"Today we are more than doubling that space by adding two new galleries," Ksepka said. "Today we're adding the rotating science exhibition gallery and the Robert R Wiener mineral gallery.
The first show in rotating science will be "Penguins Past and Present."
"This is a show that is very special to me personally," Ksepka said. "I have had dedicated most of my research career to understanding the evolution of penguins. Finding their fossils in places like New Zealand, recently helping sequence all the 20 living species genomes. And we are happy to share these discoveries and others that have happened in many instances in the last two years, that have helped us learn about these remarkable birds."
"I promise you, if you enter this gallery you will learn something you did not know about penguins. You will meet a 200 lb Kairuku penguin, a species that went extinct 27 million years ago. You will see, possibly the cutest animal alive today, the Little Blue Penguin. This animal creates blue color with nano-structures that are so small that you need a microscope to visualize them."
In the Robert R. Wiener Mineral Gallery visitors can expect to see about 200 stunning minerals, most of them donated to the museum's permanent collection by Mr. Wiener.
The exhibit is located at the nexus of arts and sciences, right between the sculpture gallery and the penguin gallery.
Education and Visitor Engagement Programs
Kathleen Holko said the audience engagement department works with the public utilizing inquiry and object based learning to make make exploration and appreciation of the arts and sciences to accessible and equitable to visitors.
This will be furthered through the three renovated classrooms, a dedicated education entrance, and an expanded exhibition spaces.
"The museum's educators will be able to accommodate visitors like never before," Holko said.
Museum educators will aim to expand program offerings to reach new audiences, including translative labels and materials for the Spanish speaking community, employment and programming opportunities for teens, and increased options for hands-on workshops for adult audiences.
They will also be better able to serve longstanding and strongest visitation groups, including hosting entire grade levels from local schools, increased scholarship programming for educational groups demonstrating financial need, engaging gallery tours for senior groups and dynamic opportunities for young children and their caregivers.
The lead partner in Bruce Museum's inaugural year is Bank of America.