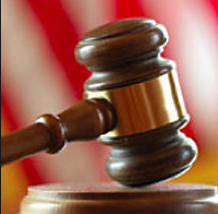 An upstate New York man was found guilty on Thursday of extortion after a scheme in which he and another man impersonated organized crime figures to extort money from a Fairfield County small business.
Edward Memoli's conviction was announced by US Attorney for District of CT, Deirdre Daly on Thursday following a federal jury trial in Hartford.
Memoli, 65, who hails from Unadilla, NY, was found guilty of federal extortion charges after evidence was presented at trial that between approximately Sept. 2010 and Dec. 2011,  he and Joseph Casolo of Norwalk threatened the victim in person, in phone conversations and in text messages using multiple personas, repeatedly stating or implying that if the victim failed to make the extortion payments, the victim, the victim's spouse, and the victim's daughter would be harmed with violence.
Casolo enlisted the assistance of Memoli who identified himself as "Lorenzo," the organized crime family's "enforcer," and made at least 20 threatening calls to the victim at Casolo's direction.  At the time, Memoli was living in Greenville, S.C.
Memoli specifically threatened to cause the business owner's daughter, who was pregnant, to have a miscarriage.
The investigation revealed that the victim made more than $200,000 in cash payments to Casolo as a result of these threats.  Casolo shared a portion of these funds with Memoli by sending them to him via Western Union money transfer.
Casolo and Memoli also targeted another Fairfield County resident for extortion.  Posing as "Lorenzo," Memoli called the victim both on his cellular telephone and at his place of work, and made veiled threats to the victim's wife and two children.
Law enforcement learned of Casolo and Memoli only after information regarding their extortion scheme came to light on a court-authorized wiretap investigating organized crime activity in Fairfield County.
Memoli was found guilty today of one count of conspiracy to obstruct interstate commerce by extortion, and one count of aiding and abetting the obstruction of interstate commerce by extortion, both of which carry a maximum term of imprisonment of 20 years.  He is scheduled to be sentenced by U.S. District Judge Vanessa L. Bryant on January 20, 2015.
Casolo pleaded guilty to one count of extortion and, on October 24, 2013, he was sentenced to 57 months of imprisonment.
This matter was investigated by the FBI Fairfield County Organized Crime Task Force and the Stamford Police Department, with the assistance of the FBI's Binghamton Field Office.  The case is being prosecuted by Assistant U.S. Attorney Hal Chen and Special Assistant U.S. Attorney Charles Rombeau.