414 Riversville Road
Greenwich, CT 06831
Bedrooms: 4
Bath: 3 Full
Garages: 2 car attached
Square feet: 3,316
Acres: 1.9
Renovated: 1990
Listed at: $1,275,000
Listed by: Carolyn Anderson
Anderson Associates, Ltd.
164 Mason Street
Tel (203) 629-4519
A Home to Make You Feel Refreshed & Inspire Your Creativity
Picturesque 4 bedroom, 3 bath home on 1.9 acres of woodland paradise. Designed and built as an artist's retreat, the home's interior, accented with pine walls, is harmonious with the profuse, always changing nature surrounding it.
The spacious interior 3,316 sq.ft. (not including the upstairs playroom or the freshly painted basement with a fireplace) has 2 Great Rooms on the first floor and a charming playroom on the 3rd floor with views of the woods and the stars above.
Abundant storage and home office spaces – the room behind the great room or the studio building behind the house. Freshly painted, polished wood floors, a full house generator, and new carpets, this home is ready for your immediate enjoyment. Located in the heart of backcountry Greenwich with a feel of being far away from the world and yet it's only 11 minutes from downtown Greenwich and 6 minutes from the convenience of Glenville shopping. Excellent private and public schools are close. Plus a multitude of outdoor activities nearby such as golf, horseback riding, tennis and hiking in the Audubon's many trails.
414 Riversville Road is a Convenient Place to Live!
When you pull into your drive at 414 Riversville Road, you may feel you are far away from the world. Though it may feel that way, you are only minutes from Greenwich amenities and charming New York villages.
Greenwich
– Downtown Greenwich 11 minutes
– Glenville 6 minutes (Stop & Shop Grocery, post office, G'Ville Deli, Rebeccas & Glenville Pizza make Glenville a quick, convenient spot)
Nearby New York Villages
Banksville 12 minutes
Bedford 18 minutes
Armonk 9 minutes
Purchase 9 minutes
Port Chester 12 minutes
Manhattan
43 Minutes (on Hutchinson Parkway)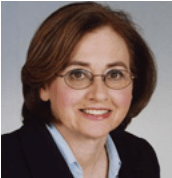 Carolyn Anderson
Office: (203) 629-4519 x118
Cell: (203) 253-5562
Email: [email protected]
Carolyn Anderson is the Managing Broker of Anderson Associates. She has her B.A. in Sociology from Boston University and holds a Masters in Social Work from Columbia University. Carolyn has a degree from the New York School of Interior Design. She is certified as a professional member of the American Society of Interior Designers and holds a license as a designer. She has a Real Estate Brokers' license and has been active in Real Estate for more than 15 years. Before becoming a Realtor, Carolyn bought and renovated homes in Greenwich. She has lived in Greenwich for over 30 years.