5 Putnam Hill
Unit 3A
Greenwich, CT 06830
Bedrooms: 2
Bathrooms: 1
Sq ft: 1,037
MLS: 117514
Listed at: $450,000
Listed by:
Carolyn Anderson
Anderson Associates, Ltd
Greenwich Specialists
164 Mason Street
Office: 203-629-4519 x 118
Cell: 203-253-5562
www.GreenwichLiving.com
Enjoy this special Putnam Hill apartment with open living room and dining room.
Step into the entry hall with the columns, high quality crown and baseboard moldings and you will feel the elegance.
It has pretty hardwood floors, a balcony for summer dining, plus a second bedroom perfect for guests or an office.
This apartment makes you feel happy and peaceful. Putnam Hill is ideally located in a secluded park-like setting with many specimen trees and sidewalks for easy walking.
Best of all, it is close to downtown Greenwich shops, the library, Whole Foods, Starbucks, restaurants and transportation.
The co-op common charges, $993.45 per month, include heat, hot water, snow removal, trash, building maintenance, grounds and taxes. Putnam Hill has plans to redo the balcony. A complete laundry room is in the basement.
Underground parking space is available on a first-come, first-serve basis for $75.00 a month.
At purchase, the Buyer is required to pay a one time assessment .05% of the selling price of the unit.
Residents can have one dog or cat, not larger than 24 pounds or stand more than 18" at the shoulders.
Why Residents Love Living in Putnam Hill
"When my company relocated from New Jersey to NYC, I wanted to live in Greenwich near my sister. I didn't think there would be any place I could afford. My sister said I should see if anything was available in Putnam Hill, as she had heard it was spacious and affordable. How right she was. I love it here and it's an easy commute to NYC. My sister intends to sell her Greenwich home and move here, too."
"I have an apartment in Paris as well as my apartment here in Putnam Hill. When I am vacationing in Paris, I lock my Putnam Hill apartment and tell the Super I will be away. Everything is always fine when I return. This is a very safe place to live."
"Nine years ago I moved to Putnam Hill. I love it here. I had been looking for places to rent and my accountant said it would be much wiser to buy a property which would continue to rise in value. I know my home has grown in value and I am happy about that, but what I like most are the friends I have met on my hallway and all over the Putnam Hill campus."
5 Putnam Hill, Unit 3A Bathroom.
---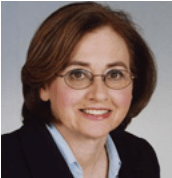 Carolyn Anderson
Office: (203) 629-4519 x118
Cell: (203) 253-5562
Email: [email protected]
Carolyn Anderson is the Managing Broker of Anderson Associates. She has her B.A. in Sociology from Boston University and holds a Masters in Social Work from Columbia University. Carolyn has a degree from the New York School of Interior Design. She is certified as a professional member of the American Society of Interior Designers and holds a license as a designer. She has a Real Estate Brokers' license and has been active in Real Estate for more than 15 years. Before becoming a Realtor, Carolyn bought and renovated homes in Greenwich. She has lived in Greenwich for over 30 years.