Connecticut Democrats came out in force on Saturday to support the candidacy of Greenwich's Alexis Gevanter, an attorney and gun violence prevention advocate now running to represent the 36th district in the State Senate.
Volunteers and elected officials from across the state packed the Stamford Democratic headquarters for Gevanter's campaign kickoff event.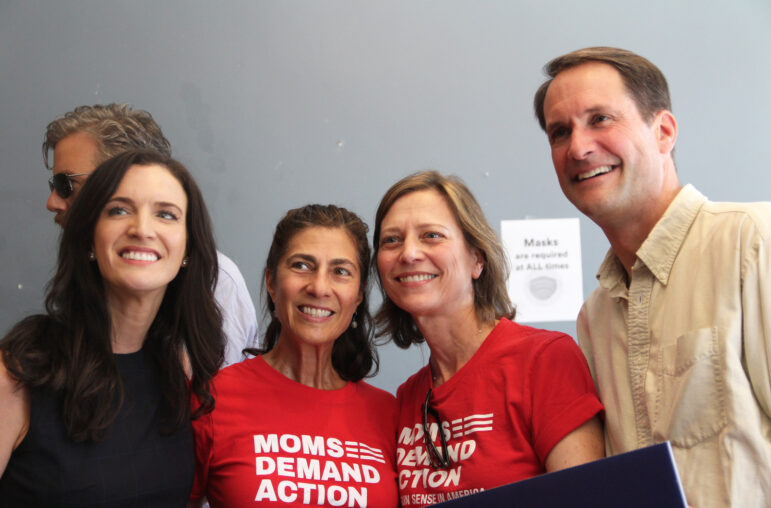 In addition to Jim Himes, who has served as US Representative for CT's 4th congressional district since 2009, Gevanter received endorsements from State Senators Jorge Cabrera (D-17) and Will Haskell (D-26), State Representatives Matt Blumenthal (D-147), Corey Paris (D-145), and Caroline Simmons (D-144).
Each speaker urged volunteers to work hard and get out the vote for the August 17 special election. The winner will fill the seat recently vacated by State Senator Alex Kasser.
State Representative Simmons praised Gevanter's advocacy of gun safety reform as the CT State Leader of Moms Demand Action.
"She's brilliant, she's full of integrity, she's a mom with young kids," Simmons said, adding, "If you know how to navigate two young boys, you're going to be incredible in the legislature."
Simmons noted the importance of electing a woman to represent the 36th district.
"I know firsthand that we need more women at the table," she said, adding, "We need more women in the Senate. We need more votes for gun safety in the Senate. We need more champions for women and reproductive rights in the Senate. We can't take [these issues] for granted, in this election or any election."
In his remarks, Congressman Himes underscored the local and national importance of the race for State Senate 36th district.
"There is still very much an argument in this country, and in Connecticut, over what kind of democracy we are going to be," he said, citing his presence in the House of Representatives on January 6 as one reason he supports Gevanter's campaign.
"Because of all of you, we are no longer dealing with a President who is dedicated to nothing but his self interest, and to advancing that self-interest by eroding our democracy," Himes said. "But if you think you're done, you're crazy."
Himes suggested that a victory for Republican opponent Ryan Fazio would send a message to Republicans.
"If the other side wins this seat, that is a signal to them that the politics of Donald Trump—the politics of division, the politics of disenfranchising African-Americans—is maybe not so bad," Himes said. "Alexis's opponent—he's run before, he ran against Alex [Kasser]—he never repudiated Trumpism. He did this little dance. He facilitated. He aided and abetted. And I can't afford, where I work, to see my state say 'that's not so bad' by giving them this win."
In her remarks to volunteers, Gevanter focused on what motivated her to get involved with politics.
"When I had my first son, Jamie, I took some time to be with him, and when he was just six months old, literally my life changed. I get chills thinking about it. He was sleeping right next to me peacefully and I just turned on the TV and saw the Las Vegas shooting unfolding. Five hundred people shot within minutes. It disturbed me to my core."
After the deadly mass shooting in 2017, Gevanter joined Moms Demand Action, a grassroots organization that fights for public safety measures that can protect people from gun violence.
"I knew that if anyone is going to be able to stop the stranglehold that the gun lobby has on Washington and in our State capitals across our country, it is going to be a group of dedicated women," she said.
Several volunteers from the organization were in attendance at the kickoff event, wearing red Moms Demand Action shirts and holding Gevanter lawn signs.
If elected, Gevanter said she would bring her skills of listening, finding common ground, and building coalitions to the State Senate. "Over the last two sessions, we have passed eight gun safety and gun violence prevention bills in a wide, bipartisan manner. […] Gun violence prevention is going to remain a huge priority to me because we need to make sure our children are safe in our schools, on our playgrounds, in our homes."
Above all, Gevanter spoke of the importance of values. "Republicans often offer a false choice: there's the economy, or there's feeling really good about your vote on values. That's obviously nonsense. That's a false choice. I'm here today because I want to make sure that we can rely on both, as the Democratic party has, and that we don't go backwards. We cannot go backwards."
Echoing Himes's concern for Trumpism in state politics, Gevanter warned, "Trump may be out of the White House but he is looming large everywhere, and especially here in Connecticut. We need to be so vigilant to make sure that we are continuing to protect all of these rights, to protect the vulnerable, to protect our families, to make Connecticut a place where families like mine want to come and raise their kids, where everyone who is here has opportunity."
The race for the 36th district Senate Seat will be competitive. Local Republicans chose Greenwich RTM member Ryan Fazio to represent them in the special election. John Blankley, a Democrat and former member of the Board of Estimate and Taxation, is also running as an independent.
See also:
Attorney, Moms Demand Action for Gun Sense Leader Seeks Democratic Nomination for State Senate, 36th District
Republican Delegates Vote 20-9 on Candidate for Aug 17 Special Election for State Senator
Democrat Blankley Goes Rogue; Petitions for Spot on Aug 17 Special Election Ballot as Independent
Blankley Gets Enough Signatures to Appear on August 17th Ballot for State Senator, 36th District
State Senator Kasser Resigns, Citing Personal Circumstances