Tucked away in Cos Cob is a new cottage kitchen where busy baker Cheryl Farley creates gourmet pet treats. Farley explained that she is licensed as a Cottage Food Operator, meaning she can cook at home and do direct sales rather than retail. Customers order online or place custom orders to pick up in Cos Cob or have delivered locally.
For now, she said, The Pampered Pup Patisserie is growing via social media and word of mouth. It helps that pets love her products.
In fact, she said, the treats are people-friendly too. Farley's recipes, including pupcakes, barkin' bites, doggie donuts, bacon cheddar bites, woofles and bundt cakes, are all organic, and include ingredients such as honey, flour, carob, apple sauce and coconut oil.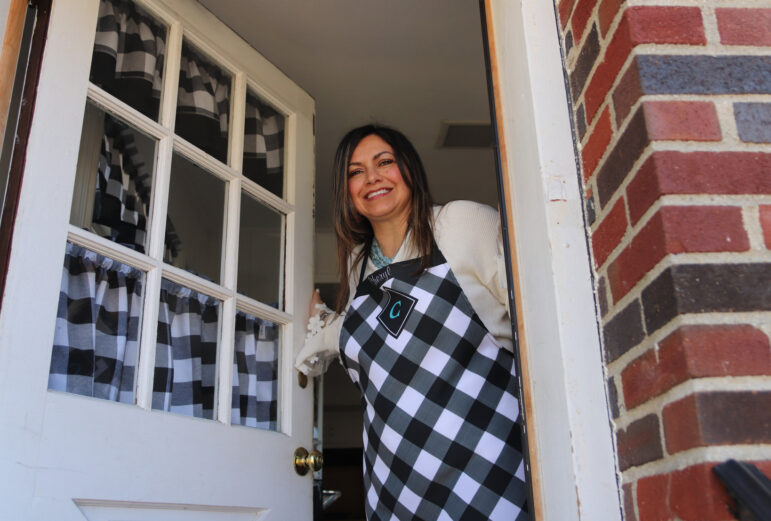 "Everything is organic, including whole wheat flour," she explained. "We use honey as a sweetener, and to make the cake batter moist, we use unsweetened apple sauce."
Rather than cooking with corn or vegetable oil, she uses coconut oil.
The icings are usually yogurt based, but it's possible to use sour cream. Even the food coloring and sprinkles are plant based.
A popular treat is "pupcorn," which comes in small and large sizes.
"The white kernels tend to be smaller easier for them to eat," Farley said. "I spray on different flavors that include electrolytes and vitamins. Flavors include steak, bacon and chicken."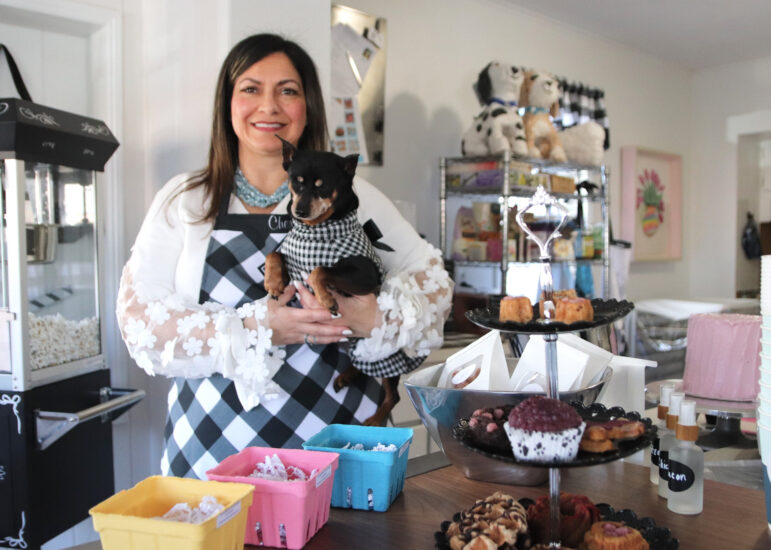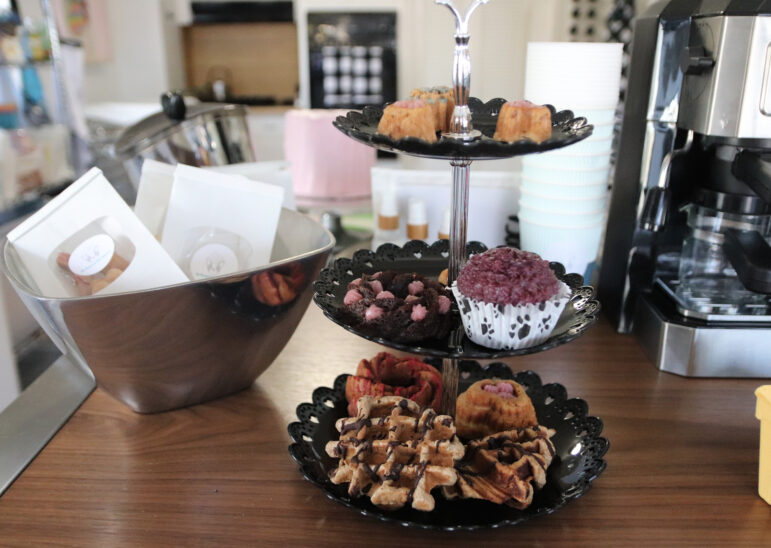 Farley said as her dogs got older she became increasingly concerned with what they were eating.
"I became interested in baking my own dog treats when I looked at the content of treats you buy in the store," she said. "There include a lot of fillers and garbage."
As she developed her recipes, she consulted Dr. Philip Putter of Spot On Veterinary Hospital in Stamford, who reviewed and approved all the recipes.
Farley, a licensed realtor who did marketing and leasing for Harbor Point in Stamford, said she put her business skills to work when she established House of Maxx, named after her beloved Min Pin.
Though Maxx is gone, his memory lives on through Farley's pet treats efforts. Also she has Maxx's brother Skyy and a second Min Pin, a rescue named Storm.
"They're my taste testers," she said.
For House of Maxx, Farley designed a dog-themed logo and created a black and white checker pattern for her marketing materials. Packaging is just like you'd expect from a pastry shop, with white boxes tied with string.
She said customers like to celebrate their dog's "bark day" or rescue dog's "gotcha day" with a party, complete with a pet friendly cake, piñata and party favors.
The piñatas are filled with little individually wrapped pairs of crunchy barkin' bones.
Farley said for Min Pin Skyy's 16th birthday, in addition to cake and treats, there were little party hats and a banner that said, "Happy bark day."
Farley said she welcomes custom orders.
"Because I'm baking and decorating them myself, I'm very flexible," she said, adding that she can even make a cake in the shape of a ball.
Follow The Pampered Pup Patisserie on Facebook or Instagram
Call or email to customize an order:
Reach Farley by email at: [email protected]
Tel. (203) 539-6447